Marie Claire Beauty Editors Share Their In-Flight Beauty Routines
Go ahead, call us *extra*.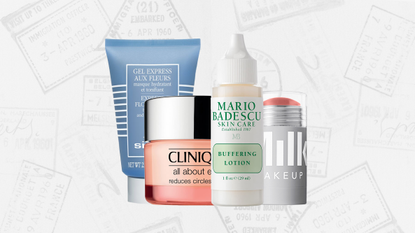 (Image credit: Design: Morgan McMullen)
We're catching flights, not feelings this summer (because it's a #HotGirlSummer, ICYMI). As beauty editors, traveling is an important part of the job, and living a jet-setting life is all fun and games...until your skin freaks out and jet lag overtakes your body. To ensure our skin survives the moisture-sucking air, Team MC has got in-flight beauty routines down to a TSA-approved science. Sure, tending to your skin more than the average person on a plane may bring on stares from strangers. But, who cares? All you should worry about is investing in a carry-on that can fit all your new must-have skincare products.
Maya Allen, Digital Beauty Editor
I am a person with perpetually dehydrated skin so just imagine what cross-country flights do to my poor pores. As damage control, I chug a 1-liter bottle of Essentia as soon as I get to my gate. I'm not sure how hydrated it actually keeps my skin (dermatologists can't seem to agree on this claim), but my body generally feels a bit off after flights and lots of water makes me feel better. When I get to my seat, I slip my hair into my favorite massive silk Shhh Scrunchie because it is so gentle, I forget it's there. Then, I pop in my Airpods, turn on a jam, and immediately get to spritzing my skin with Glow Recipe's Ultra Fine-Mist. It doesn't feel like I'm squirting my face with a water gun like other facial sprays (I'm not going to name names), and it smells like the tropics, which mentally transports me to vacation mode.
Tip: Use Glow-Inducing Products
I'm forever aiming to glow, even on flights, because I never know who I'm going to run into while traveling. Patting in my end-all-be-all Dr. Barbara Sturm Hyaluronic Serum keeps my skin supple and radiant for hours. Then, I lather Lanolips Face Base Aussie Flyer Mask all over. It's incredibly potent, so I get maximum moisture with a subtle amount. Before I close my eyes, I glide the heavenly-feeling Bite Beauty's Agave Nighttime Lip Therapy lip sleeping mask back and forth on my lips twice. It keeps my lips pillow-soft while I'm up in the clouds. Right before landing, I double-up on hydration with Dr. Barbara's Sturm's face cream and dab her Glow Drops on the high points of my face (cheek bones and top of forehead) for a naturally dewy finish.
Try Maya's In-Flight Beauty Routine
Jennifer Goldstein, Beauty & Health Director
Pre-flight, I massage Weleda Skin Food all over my face, including my lips, then apply a tinted moisturizer with sunscreen (Dermalogica and Laura Mercier are my favorites). I curl my lashes with the Surrat Beauty lash curler, and then apply La Mer lip balm. Sure, a little color on my lips would be nice, but I haven't found a tinted balm that works as well as La Mer. I don't apply any other makeup because I like to give my skin a chance to chill en route. And I just mist my hair with a moisturizing styling spray, like Pantene Conditioning Hair Mist, then put it in a low braid so it doesn't snag and get knotted on the tweedy seat fabric.
Try Jenn's Pre-Flight Beauty Routine
I carry a 32 oz. wide-mouth Nalgene, and I drink a whole bottle of tap water while I'm waiting to board. Then I fill it up (they never give you enough water in economy!) and drink another 8 ounces for every hour I'm flying. I know that sounds excessive, but it's the only thing that keeps my skin normal and my lips from getting chapped. (Real talk: It also prevents some of that inevitable bloating.)
At my seat, I mist the surfaces with Dr. Bronner's Organic Lavender Sanitizer. It makes everything smell nicer, and I like to think it's killing some of the germs. I also spray it during the flight when the air starts getting stale. And it's great to have on hand in case there's a bathroom malfunction or a smelly seat mate. On travel days, I wear Tata Harper's Aromatic Stress Treatment on my pulse points instead of perfume, and I reapply it on the flight a few times, just to keep me feeling human. It smells like the cleanest, most expensive spa you've ever visited.
Try Jenn's In-Flight Beauty Routine
If I'm on a long-haul, I will absolutely put on a sheet mask. Charlotte Cho turned me on to the Missha The First Treatment Essence Sheet Mask, which is a less-expensive dupe for my all-time favorite mask, the SK-II Facial Treatment Mask. I agree it's similar, but there's something about SK-II that is special. When I use it, I arrive completely radiant and moisturized—not dehydrated at all.
Tip: Opt for Easy, Multitasking Makeup
Right before landing, I give myself a mini face massage with some more Weleda Skin Food. The massaging action is definitely more important than the product you use; it boosts your circulation and brings some life back to your skin. After that, I rub Milk Makeup Lip + Cheek Stick in Werk on my cheeks and lips—the rosy color is foolproof, so you don't even need a mirror. Final step: Sunglasses, like my favorite Ray-Ban Wayfarers. Sunglasses are a beauty editor's best trick for looking good while traveling.
Taylore Glynn, Associate Beauty & Health Editor
I've taken dozens of flights this year alone thanks to press trips and photo shoots, so I've got air travel beauty down to a science, and it includes three pillars. First, hydration: Grab a supersize water bottle before you board, and force yourself to drink at least half before you take off. (You'll thank me later when you don't look dryer than E.T. at baggage claim.) Then slather on a potent hyaluronic serum and a thick overnight mask: I'm rarely seen in the window seat without Sisley's cooling, jelly-slick gel option.
Tip: Carry a Few Vitamins and Supplements
Next is immunity, because breathing in strangers' air for six hours is a fast track to strep throat. I keep baby baggies of elderberry gels, glutathione capsules, and vitamin C stocked at the bottom of my favorite backpack (the comfy straps never dig into my shoulders during long waits at customs). Finally, fighting high altitude-induced inflammation keeps you comfortable inside and out. This CBD tincture does the trick for me, but turmeric gets the job done, too.
Try Taylore's In-Flight Beauty Routine
Hana Hong, Beauty Assistant
Did you know that if you pour water on a dry surface, it evaporates about 50 percent faster in air than on land? The idea of that happening to your face is pretty freaky, so I always hydrate in excess before boarding any plane. And I mean several layers of thick creams. The key to in-flight skincare is quick hydration. On longer flights, I pack these Dr. Jart+ sheet masks in my carry-on so I can whip them out on the plane and scare all my fellow passengers.
Tip: Apply Extra Layers of Moisturizer Before Your Flight
Skincare ampoules are another godsend; I'll layer one on my face and rub the excess into my neck and chest. Barbara Sturm's Hyaluronic Ampoules are jam-packed with hyaluronic acid to draw water into the skin before plane air sucks it out. If I'm flying a shorter distance, face mists are my primary defense. The Innisfree Vitalizing Skin Mist with Aloe and Tatcha's Luminous Dewy Face Mist are my personal holy grails; just a few spritzes will instantly bring thirsty pores back to life. I top everything off with an essential oil roller from Native Nectar Botanicals to knock me out for the rest of the ride.
Try Hana's In-Flight Beauty Routine
Brittney Ho, Beauty Intern
The dry air and high altitude of a long plane ride ruins my skin. I hate feeling oily and gross when I land, so beforehand I opt for no makeup, only extra moisturizer and sunscreen. I love using Clarins UV PLUS Anti-Pollution Sunscreen Protection Broad Spectrum SPF 50 Tinted Sunscreen Multi-Protection because it gives enough coverage for me to look alive, but not so much that it feels heavy when I'm mid-air. A must-have is Fresh's Vitamin Nectar Antioxidant Face Mist.
Tip: Use SPF-Packed Products
When there's no time or space to do a whole cleanse, this mist feels so refreshing and leaves my skin dewy and smelling sweet. After landing, my first stop is to a bathroom—any bathroom—to apply Eczema Honey Co.'s Skin-Soothing Cream to any eczema that's been worsened by the stale air. I love the natural, calming ingredients in this cream. Lastly, being on a plane tends to make cysts erupt from my face, so a quick application of Mario Badescu's Buffering Lotion helps clear that right up! Happy traveling!
Try Brittney's In-Flight Beauty Routine
Julia Shabshis, Beauty Intern
I'm a huge germaphobe, especially when it comes to flying. I carry hand sanitizer and reapply at least 10 times during the course of a longer flight, following with a moisturizing hand cream to prevent flaky skin. I like to keep things simple: Moisturize like a mad man and drink plenty of water to keep my skin hydrated. If it's an overnight flight, my beauty routine starts with removing my makeup with two of the Clinique micellar cleansing wipes (just to make sure I get it all!).
Tip: Try a Lip Mask for Long-Lasting Hydration
Next, when they turn the lights off on the plane, I apply a hydrating sheet mask while letting my lips soak in my favorite Laneige Lip Mask. After disposing of the mask, I apply an extremely hydrating moisturizer and eye cream: I've been loving the Dior Hydra Life Cream paired with the Clinique All About Eyes Cream. Finally, I slip on my favorite eye mask, slather on another layer of my lip mask, and (hopefully) pass out. In the morning, I sneak to the bathroom to perform a mini version of my daily skincare routine. To make cleansing a bit easier inside those tiny airplane stalls, I opt for the Clinique Micellar cleansing wipes, which save me from trying to shove my face in that tiny sink while simultaneously spraying water everywhere. Next, I'll tone my skin with Clarins Toning Lotion and finish off with the same moisturizer, lip balm, and eye cream.
Try Julia's In-Flight Beauty Routine
For more stories like this, including celebrity news, beauty and fashion advice, savvy political commentary, and fascinating features, sign up for the Marie Claire newsletter.
RELATED STORY
The Best Vacation Shoes for All Your Summer Trips
Maya Allen is the former Digital Beauty Editor at MarieClaire.com where she covered makeup, skincare, haircare, wellness, you name it! She has a 15-step skincare routine, owns over 200 red lipsticks, and enjoys testing the latest and greatest in beauty. On most weekends, you can find her at her happy place, which is her makeup vanity. There, she's usually blasting her speakers while singing along to lyrics at the top of her lungs, and making sure her highlighter is on point.