Marie Claire Beauty Editors Share Their In-Flight Beauty Routines
Go ahead, call us *extra*.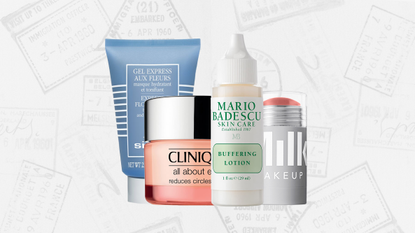 (Image credit: Design: Morgan McMullen)
We're catching flights, not feelings this summer (because it's a #HotGirlSummer, ICYMI). As beauty editors, traveling is an important part of the job, and living a jet-setting life is all fun and games...until your skin freaks out and jet lag overtakes your body. To ensure our skin survives the moisture-sucking air, Team MC has got in-flight beauty routines down to a TSA-approved science. Sure, tending to your skin more than the average person on a plane may bring on stares from strangers. But, who cares? All you should worry about is investing in a carry-on that can fit all your new must-have skincare products.
Maya Allen, Digital Beauty Editor
I am a person with perpetually dehydrated skin so just imagine what cross-country flights do to my poor pores. As damage control, I chug a 1-liter bottle of Essentia as soon as I get to my gate. I'm not sure how hydrated it actually keeps my skin (dermatologists can't seem to agree on this claim), but my body generally feels a bit off after flights and lots of water makes me feel better. When I get to my seat, I slip my hair into my favorite massive silk Shhh Scrunchie because it is so gentle, I forget it's there. Then, I pop in my Airpods, turn on a jam, and immediately get to spritzing my skin with Glow Recipe's Ultra Fine-Mist. It doesn't feel like I'm squirting my face with a water gun like other facial sprays (I'm not going to name names), and it smells like the tropics, which mentally transports me to vacation mode.
Tip: Use Glow-Inducing Products
I'm forever aiming to glow, even on flights, because I never know who I'm going to run into while traveling. Patting in my end-all-be-all Dr. Barbara Sturm Hyaluronic Serum keeps my skin supple and radiant for hours. Then, I lather Lanolips Face Base Aussie Flyer Mask all over. It's incredibly potent, so I get maximum moisture with a subtle amount. Before I close my eyes, I glide the heavenly-feeling Bite Beauty's Agave Nighttime Lip Therapy lip sleeping mask back and forth on my lips twice. It keeps my lips pillow-soft while I'm up in the clouds. Right before landing, I double-up on hydration with Dr. Barbara's Sturm's face cream and dab her Glow Drops on the high points of my face (cheek bones and top of forehead) for a naturally dewy finish.
Try Maya's In-Flight Beauty Routine
Jennifer Goldstein, Beauty & Health Director
Pre-flight, I massage Weleda Skin Food all over my face, including my lips, then apply a tinted moisturizer with sunscreen (Dermalogica and Laura Mercier are my favorites). I curl my lashes with the Surrat Beauty lash curler, and then apply La Mer lip balm. Sure, a little color on my lips would be nice, but I haven't found a tinted balm that works as well as La Mer. I don't apply any other makeup because I like to give my skin a chance to chill en route. And I just mist my hair with a moisturizing styling spray, like Pantene Conditioning Hair Mist, then put it in a low braid so it doesn't snag and get knotted on the tweedy seat fabric.
Try Jenn's Pre-Flight Beauty Routine
I carry a 32 oz. wide-mouth Nalgene, and I drink a whole bottle of tap water while I'm waiting to board. Then I fill it up (they never give you enough water in economy!) and drink another 8 ounces for every hour I'm flying. I know that sounds excessive, but it's the only thing that keeps my skin normal and my lips from getting chapped. (Real talk: It also prevents some of that inevitable bloating.)
At my seat, I mist the surfaces with Dr. Bronner's Organic Lavender Sanitizer. It makes everything smell nicer, and I like to think it's killing some of the germs. I also spray it during the flight when the air starts getting stale. And it's great to have on hand in case there's a bathroom malfunction or a smelly seat mate. On travel days, I wear Tata Harper's Aromatic Stress Treatment on my pulse points instead of perfume, and I reapply it on the flight a few times, just to keep me feeling human. It smells like the cleanest, most expensive spa you've ever visited.
Try Jenn's In-Flight Beauty Routine
If I'm on a long-haul, I will absolutely put on a sheet mask. Charlotte Cho turned me on to the Missha The First Treatment Essence Sheet Mask, which is a less-expensive dupe for my all-time favorite mask, the SK-II Facial Treatment Mask. I agree it's similar, but there's something about SK-II that is special. When I use it, I arrive completely radiant and moisturized—not dehydrated at all.
Tip: Opt for Easy, Multitasking Makeup
Right before landing, I give myself a mini face massage with some more Weleda Skin Food. The massaging action is definitely more important than the product you use; it boosts your circulation and brings some life back to your skin. After that, I rub Milk Makeup Lip + Cheek Stick in Werk on my cheeks and lips—the rosy color is foolproof, so you don't even need a mirror. Final step: Sunglasses, like my favorite