Why Chloé's Atelier Des Fleurs Jasmine Fragrance Is Worth It
This fragrance will become your new signature scent.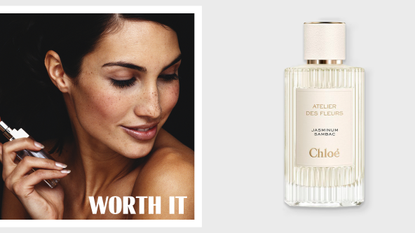 (Image credit: Design By Morgan McMullen)
Hi you beautiful human, welcome back to Worth It, my bi-weekly breakdown of the absolute best new beauty product I've tried. Sure, splurging on makeup or skincare is a risk, but trust that this beauty editor will only recommend something I wholeheartedly believe is worth every penny. Because you deserve the best of the best. Keep reading to discover the one product you do not want to miss out on, and catch up on the latest Worth It breakdown, here.
Chloé Atelier Des Fleurs Jasminum Sambac
The Promise:
If you're a fragrance fanatic, or just, you know, enjoy smelling divine from time to time, chances are you're familiar with the aromatic fragrance magic created by global fashion and fragrance house Chloé. The brand has gained global recognition and awards for Chloé Eau de Parfum ($105)—a cult classic—and Chloé Nomade ($72). Last week, Chloé launched nine brand-new fragrances. Yes, nine, not one, so you have more than enough options to choose from. With the help of six skilled master perfumists, the brand created a cohesive collection of single note fragrances, which are meant for you to layer and cocktail as you please. Or, do as I'm doing and find the one, then wear it until you can't anymore. Each perfumist picked their favorite flower or organic herb fit to be the heart and top note of each fragrance. (Cedrus, herba mimosa, hibiscus abelmoschus, jasminum sambac, lavanda, magnolia alba, neroli, rosa damascena and verbena make up the family of nine feminine fragrances.)
It's rare for a heritage brand, like Chloé, to come out with so many scents at once. But who is complaining? More for us. Whether your nose gravitates towards musky or floral, there's one you'll love—trust me. After putting my nose through a lot of sniffing, I settled on Jasmine. To say I'm thrilled with my decision is an understatement. Let me tell you more.
Why I'm Obsessed:
I've never liked a single note, jasmine-based fragrance before. You'll find jasmine notes in most fragrances, though. (According to Fragrantica, an online encyclopedia of perfumes, about 80-percent of fragrances created in the first half of the 20th century had natural jasmine raw materials in them.) It's a signature note, but it's usually coupled with other top, middle, and base notes for a fully blended fragrance. Here, though, it stands on its own.
"Jasminum" comes from the Persian word "yasamin" which means "gift from God." And man, is this true. What drew me to this scent is how sensual and rich the jasmine smells once it settles into my skin. It's seductive and heady, and reminds me of an exotic sunset somewhere far away from my desk, mentally transporting me there. When creating the scent, perfumist Louise Turner "thought of the exquisite jasmine sambac she smelled on Mother's Day in Bangkok, where it is the gift of choice for that occasion," the brand notes. "The delicate jasmine petals bring soft and sunny notes to the fragrance." To me, the scent reads as both intense and soft at the same time. No fragrance wardrobe is ever complete. So I plan on layering this with whatever I want and seeing how it plays out. But I guarantee you don't have to. Spritz on.
For more stories like this, including celebrity news, beauty and fashion advice, savvy political commentary, and fascinating features, sign up for the Marie Claire newsletter.
MORE PRODUCTS I STAND BEHIND
Maya Allen is the former Digital Beauty Editor at MarieClaire.com where she covered makeup, skincare, haircare, wellness, you name it! She has a 15-step skincare routine, owns over 200 red lipsticks, and enjoys testing the latest and greatest in beauty. On most weekends, you can find her at her happy place, which is her makeup vanity. There, she's usually blasting her speakers while singing along to lyrics at the top of her lungs, and making sure her highlighter is on point.