These 4 Drugstore Products Completely Changed My Skin
Two words: foundation-free.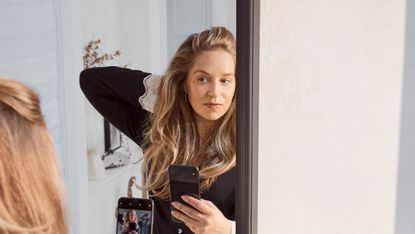 (Image credit: Jeff Allen)
Marie Claire newsletter
Celebrity news, beauty, fashion advice, and fascinating features, delivered straight to your inbox!
Thank you for signing up to . You will receive a verification email shortly.
There was a problem. Please refresh the page and try again.
"Wow, you're glowing." Those are the three words that make my heart skip a beat faster than an ILY. Especially when they're said after I've run out the door with barely-there makeup. And they're exactly what I've heard on repeat over and over for the last few weeks, thanks to my new skincare routine.
Here's the thing: Youth is no longer on my side when it comes to having naturally filter-worthy skin. With my 40th birthday approaching, I can't wake up without much sleep (and the occasional one too many glasses of vino), down a Venti, slap on some face moisturizer, and call it a day.
Until now, my skin and I have had a good relationship—I take pretty darn good care of her. Falling asleep with makeup on? So 20-something. I slather on SPF every day even in the winter, because that's what every dermatologist I've ever interviewed has drilled into my beauty-editor subconscious as non-negotiable.

And that's only the beginning of my super strict, by-the-book skincare routine. Now, there would need to be a very good reason I am not sticking to my thorough 5+ step: eye cream, an essence or face mist, glycolic serum or retinol, serum, moisturizer and maybe even a mask if I have an extra 20. Like, I don't know, I have the flu. Or the apocalypse?
And what does she go and do? Turn on me in the form of sunspots that leave my face and chest speckled and uneven, making going foundation-free nearly impossible, not to mention the perma-lines around my eyes and mouth. But what I notice most: the overall blah look that only layers of CC cream and my go-to rosy-tinted gel on my cheeks can attempt to conceal.

I thought my only course of action was to book a dermatologist appointment and start mapping out weeks of peels, laser, injectables. But after I hauled home every one of the latest Olay (opens in new tab) skincare launches that landed on my desk, I discovered that all I actually needed was a skincare overhaul. Hallelujah.
THE SCRUB CLEANSER
Truth: I was wary of the Olay Pore-Perfecting Face Scrub Vitamin C + Dragon Fruit (opens in new tab) because of the scrub aspect and almost didn't put it in the rotation. I normally don't like scrubs because they can feel rough on my skin and I prefer silky textures.
But that's not the case with this formula. The scrub is non-scratching and the creamy texture of the cleanser leaves my skin feeling clean but hydrated—instead of in dire need of moisture like it was with other scrub-based face washes. I'm a convert.
THE SERUM STICK
The first product that initially caught my eye was the pressed serum stick. Yes, you read that right—a solid serum. What I love about the Olay Refreshing Pressed Serum Stick (opens in new tab) is it's essentially straight-up glycerin (a super hydrating humectant that attracts—and keeps—water in skin). It also has vitamin B3, an ingredient that strengthens the skin barrier helping it to retain more moisture.
It feels so soft as I swipe it on, it isn't sticky, and it makes any makeup I do apply afterward go on like a dream. Sometimes I wear it solo and literally apply it over my entire face, and other times I'll do a swipe over my forehead lines and under my eyes and then apply a face moisturizer on top.
THE AHA MASK
I've been a diehard glycolic acid serum user for over a decade. The gentle chemical exfoliator keeps my pores clear, helps with my pigment issues, and never irritates my skin. But I was blown away by how my skin looked—and felt—after using the two-step Olay Resurfacing Peel Vitamin C + AHA (opens in new tab)twice a week for a month.

After two minutes, it feels like I've erased a gazillion layers of dead skin cells and several sunspots allover. That's because alpha-hydroxy acids are a chemical exfoliant that gently loosens up and gets rid of older, damaged skin cells sitting on the surface of skin (in this case the aha used is lactic acid), while vitamin C helps to brighten. Then there's just how amazing my skin feels during and after. The gel slightly foams and warms as I massage the mask and the AHA activator together. And after I rinse it off, my skin is legit baby smooth.
THE OVERNIGHT MASK
Now, my skin needs more moisture than it ever did before (yet another factor that naturally occurs within skin as it gets older). But I am not the biggest fan of OG night creams, which are typically thick and rich and suffocate my skin.

With the see-through Olay Overnight Gel Brightening Mask with Vitamin C (opens in new tab), I can give my skin tons of hyaluronic acid (which holds 1000 times its weight in water within skin) plus skin-strengthening vitamin B3 in a super light formula that won't make me break out. (And according to Olay: That combo of ingredients was shown in studies to actually hydrate for full 24-hours.)
Yes, all of these drugstore buys can be used solo, but incorporating all of them into my daily skincare routine over the last four weeks is what I believe really upped my glow game. And while the good news is that keeping up with this routine won't drain my bank account, what really matters is that the fact that I can once again go foundation-free is, without a doubt, priceless.
Nicole Catanese is a beauty and wellness editor.