Zendaya Just Likes to Keep Her Life Chill
The actress and face of Lancôme's newest fragrance dishes on how cosmetics can be a source of positivity.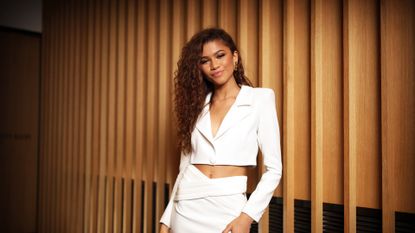 (Image credit: Newspix)
Every role and new thing that you try in your career is an adventure. You have to take risks and see how things work out. But in my real life, sometimes just getting out of the house is adventurous for me! On work days, my miniature schnauzer, Noon, wakes me up when he needs to go outside. After that, I check my phone, and my morning routine is very quick: roll out of bed, brush my teeth, get into the car, and sleep more on my way to work. If I can sleep in, I will; I'm not really a morning person. When I'm not working, I don't really like to do anything at all. It takes my family forcing me to leave the house, since I'm more of an introvert. My perfect Saturday would be relaxing with my dog, watching TV, and enjoying some time with myself. I work and travel so much that it's nice to just be on my own sometimes.

That's one reason I think it's important to have friends who understand your life's pace and what it means to be busy and who have their own things going on. What's good about the female friendships I have is that all of my friends are working on their own things, but it's essential to us that we make time for each other. We can go weeks at a time without talking, and then when we get on the phone, it's like no time has passed.
The women in my family are important to me too. My grandmothers are my idols. They're fearless, strong, kind, loving, nurturing, and only getting more beautiful with time. I appreciate their wisdom and knowledge above all else. Learning from others, especially women like them, inspires me. That's the beauty of being a storyteller and the best part of being an actress: I can put myself in other people's shoes and tell stories that stem from experiences different than my own. For example, we're all refining what femininity means right now. I think that word can mean so many things and you can make it whatever you want. Fragrance can have the same effect. It's about self-love and self-empowerment. It's about creating memories and the positivity and happiness that should radiate from within when you spray on your perfume. That's really how I define success: doing what you love, and being happy while doing it.
Shop Zendaya's Favorite Products
This story appears in the Holiday 2019 issue of Marie Claire.
RELATED STORY
Taylore Glynn is the Beauty and Health Editor at Marie Claire, covering skincare, makeup, fragrance, wellness, and more. If you need her, she's probably roasting a chicken, flying solo at the movies, or drinking a bad Negroni at JFK.