I'm Allergic to Cold Weather. Here's How I Survive Winter in NYC
Brrrr.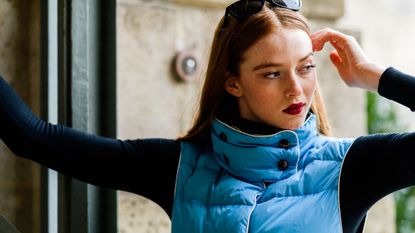 (Image credit: Tyler Joe)
So, I'm allergic to the cold. Apologies to my classmates, coworkers, and friends who have heard this before. It's my eternal "fun fact," a formidable ice breaker, and a huge pain in my ass. Also, men love to tell me how it's impossible, particularly on lame dates. But it's not! I was diagnosed when I was 13.
I had been waiting for a delayed train, standing on the platform for an hour in the middle of January. As soon as I boarded and felt the warmth of the heat hit my skin, I felt an eerie, prickly sensation spread across my whole body: hives rippled up over my arms, face, and ears. I looked at myself in my compact and realized that I had morphed into that neurotic tomato from Veggie Tales. My chest had been tight and my breathing shallow for the hour I waited, but I thought that happened to everyone in the winter (no surprise that I sucked at winter track). My mom took me to an allergist the following day, and he confirmed the diagnosis: cold urticaria, and it could be deadly if I wasn't more careful.
Cold urticaria is both the name of the allergy and its biggest symptom. While cold urticaria is commonly accompanied by low blood pressure, join pain, and wheezing, its most identifying signature is hives.
"Urticaria, also known as hives, is an allergic reaction in the skin causing red, itchy bumps caused by your blood vessels dilating and becoming leaky, thus swelling in the skin," explains NYC-based dermatologist Josh Zeichner. "In most cases, an allergen causes release of a messenger known as histamine. But physical urticaria is a rash, causing hives in the skin as a result of exposure to conditions like pressure or cold." According to Zeichner and the Rare and Genetic Diseases Information Center, most cases are mild, but in severe cases, those afflicted can develop a systemic and potentially fatal allergic reaction known as anaphylaxis.
Needless to say, this makes dashing around Manhattan in the middle of winter a total bitch. I've noticed that the hives worsen on windy days, and I can pretty much tell within two minutes of being outdoors if I have to just go back inside or catch a cab. But I always have tools on-hand to help stymie an incident.
"It easier to prevent the rash than to treat it; regular use of antihistamines can keep histamine levels low," says Zeichner. For that reason, I usually carry Benadryl and, if it's lower than 20 degrees outside, a prescription steroid that will work quickly. But even when I manage to keep the hives to a minimum, my skin feels awful afterward: red, tight, and dry as leather. That's why keeping my skin hydrated the second the temperature drops is so important: The moisture barrier is key for keeping myself—and everyone else with dry skin—feeling normal.
"To provide comfort, keep the skin fairly moist to prevent the skin from cracking," says celebrity esthetician Renée Rouleau. She suggests using a lightweight lotion. And all those new at-home peels and acids promoting glowing, youthful skin? Definitely off the table, at least for the immediate future.
"Since the skin is very inflamed, there should be nothing abrasive, like scrubs or acids, on the skin at all. The skin barrier is compromised, and exfoliants will only add to that, which will potentially keep the skin looking irritated for longer," says Rouleau.
There are plenty of products I do use to get my wimpy winter skin back to baseline. Anything with oat in it—Rouleau herself is a fan—is known to sooth irritation. She also recommends a calming plant-based anti-irritant called bisabol. And you know, this jacket helps, too.
For more stories like this, including celebrity news, beauty and fashion advice, savvy political commentary, and fascinating features, sign up for the Marie Claire newsletter.
RELATED STORY
Taylore Glynn is the Beauty and Health Editor at Marie Claire, covering skincare, makeup, fragrance, wellness, and more. If you need her, she's probably roasting a chicken, flying solo at the movies, or drinking a bad Negroni at JFK.