How Marianna Hewitt and Lauren Gores of Summer Fridays Nail a 10-Minute Morning Routine
The influencers-turned-entrepreneurs talk skincare staples, LED treatments, and workouts with kids.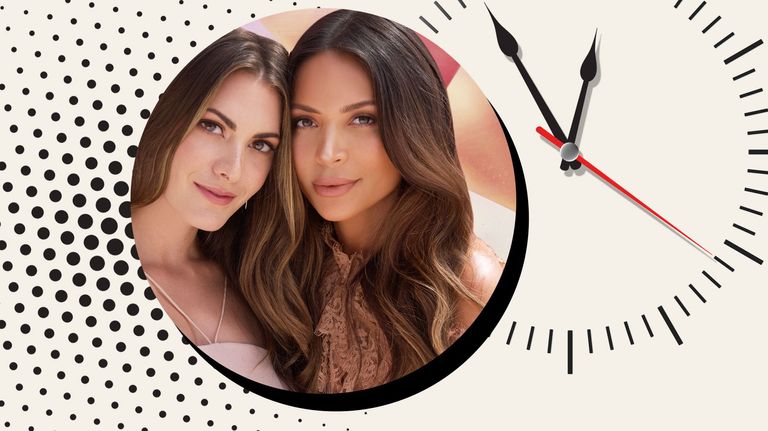 (Image credit: Hearst Owned)
Welcome to Beauty Around the Clock, Marie Claire's weekly peek into the daily lives of some of the most game-changing women in their industries. Ever wonder how they get it all done in a day? Here's your answer.
In 2018, LA-based influencers-turned-entrepreneurs Lauren Gores and Marianna Hewitt took their love for skincare and wellness and channeled it into Summer Fridays—a clean beauty brand with glowy skin, Instagram-worthy vibes. What started off with a single ultra-hydrating Jet Lag Mask has since grown to a complete range which includes cleanser, serum, a lip butter and multiple masks. Here, the two beauty bosses talk self-care rituals, motherhood, and finding balance.
Rise and Shine
Lauren Gores: I typically wake up around 6:30 a.m., to the sound of my toddler's feet running across our wood floors. He hops into bed with us for a few minutes, and then insists on a family cereal date... that's when I pour myself a cup of coffee. It's not as zen of a start as it was pre-mom life, but my son is a great morning workout buddy. He'll play while I do a morning mat workout, or bring toys next to me while I run on the treadmill. If it's a busy morning, I'll stretch for 10 minutes while manifesting what I want out of my day.
Marianna Hewitt: I wake up around 7 a.m. during the week, the first thing I do is check my phone. It's a terrible habit ... I would love to stop!
Morning Maintenance
LG: I get ready really quickly. My skincare and makeup routine is about 10 minutes, because I have it down to a science. Hair is usually only five minutes: I putt a little product in and let it air dry.
Skincare: In the morning, I cleanse with Summer Fridays Super Amino Gel Cleanser, followed by our CC Me vitamin C serum (which also gives me an instant glow that makes me appear like I am very well-rested). I'll then apply a thin layer of our Jet Lag mask as a moisturizer, or mix it with a water cream in the morning. Lastly, I try to always remember sunscreen, even on days indoors! Oh, and Lip Butter Balm. It's feels like a vanilla cloud on my lips!
Hair: If I shower the night before, I typically let my hair air dry overnight, and add in a little Ouai hair oil to the ends to smooth out any frizz, and a small amount of wavy spray or texturizing spray to give it some body. If I shower in the morning, I'll apply some Moroccan Oil curl cream to the ends, and follow up with the products listed above once it's a bit more dry. Pre-COVID, I would get a weekly blow dry that would last a few days, with some Playa dry shampoo and Oribe texturizing spray. I am also obsessed with Briogeo's Charcoal and Tea Tree Scalp treatment. I find that using this prior to a blow dry makes my hair last longer and my scalp is in much better shape all week.
MH: Currently about 10 minutes. I've cut down my morning routine since I've been at home!
Skincare: Summer Fridays Super Amino Gel Cleanser, followed by our CC Me Serum then moisturizer and our Lip Butter Balm. If I'm going out for a walk that day, I'll add Supergoop Everyday Sunscreen.
Hair: I've been air-drying almost every day! I'm washing with OUAI Detox Shampoo, followed by Briogeo Don't Despair, Repair! Mask and then a leave-in hair conditioner and oil.
Signature Beauty Look
LG: Clean skin combined with dewy blush and highlighter, minimal eye makeup but full brows.
MH: Armani beauty luminous silk foundation, NARS radiant creamy concealer, Mascara, KKW lip liner & Lip Butter Balm. And I love anything that smells sweet and summery. I mix a vanilla oil I found on amazon with Salt from Ellis Brooklyn.
Power Start
LG: Hot lemon water followed by coffee at home, and to eat I usually have hard-boiled eggs and tomatoes on toast, or a protein smoothie.
MH: My breakfast is always a Fab Four smoothie from Be Well By Kelly, my nutritionist for many years. It's got protein, healthy fats, fiber and greens and keeps me full till lunch. My favorite protein powder is Tone It Up vanilla! And my beverage is water with lemon followed by an iced coffee with vanilla stevia - YUM!
Shop Lauren Gores' Daytime Beauty Picks
Shop Marianna Hewitt's Daytime Beauty Picks
Fitness Routine
LG: I commit to three-mile runs three days a week, combined with daily mini workouts that target different areas. I can usually do the mini workouts in about 20 minutes, so they're great for busy workdays. I get inspiration from a few different apps I love: the Sweat app, Tone it Up, and Melissa Wood for Pilates moves you can do from home.
MH: I like to work out first thing in the morning. The later in the day it gets, the less likely I'll get around to it. I'm loving Melissa Wood Health's pilates app, The Sculpt Society and the Sweat app. All are great at home workouts to do and easy to follow along.
Self-Care Ritual
LG: Stretching daily is a game changer for me, and I'll do it any time. Sometimes, it's the best in the midst of a heavy computer day. Get up, move around, stretch my body, and focus on positive thoughts on how I want to shift my day. This has become increasingly important while working from home with a toddler, because my patience inevitably gets tested more often while trying to work alongside him. When I'm feeling overwhelmed, I'll take 10 minutes of alone time to stretch and pray, or go for a walk outside.
MH: I meditate every morning—just five minutes makes all the difference. I've also got stress release oil from Saje Wellness on my desk which really helps calm me.
Worth It
LG: I notice a difference when I keep up with regular facials. I went a long stretch (over a year) of not doing them, and once I started again, I found my skin to be overall significantly brighter.
MH: I love my Celluma LED light—it's a large panel that I use for 30 minutes a day that helps with three settings; acne, wrinkles or pain. It's expensive but I love it!
Chic-but-Cheap Fave
LG: An ice face roller from Amazon.
MH: A dry brush; I lightly brush my skin before showers.
Business Icon
LG: Oprah Winfrey
MH: Kim Kardashian, Jamie Kern Lima, Jessica Alba, Oprah, Emma Grede
Highs and Lows of Entrepreneurship
LG: One of the highest points was seeing our products on Sephora shelves for the first time—it suddenly felt so real, so tangible. The toughest moments have been more personal for me, surrounding the imperfect juggle of being a present mom, while also traveling often for work.
Backup Career
LG: A news anchor! I am grateful I wound up on this journey, but if I hadn't, I'd be going after a seat on a morning show.
MH: Branding Agency.
Wind-Down Routine
LG: This is where I like to really have my skincare self-care time, because there's no urgency to be anywhere. I'll oftentimes do one of our Summer Fridays masks, or put in a hair mask—so usually a total of about 25 minutes with that included.
Skincare: Summer Fridays Super Amino Gel Cleanser, Summer Fridays Overtime Mask for exfoliation and brightening, an AHA oil or serum, and a thick layer of our Jet Lag Mask to leave on overnight + our Lip Butter Balm on my lips for overnight hydration.
Hair: If I shower the night before, I'll put in some Olaplex Hair Perfector to help with broken and damaged hair, as well as a small amount of Moroccan Oil Curl Cream.
MH: I love a long nighttime routine so I'll spend 30-45 minutes on it. I dry brush, shower, do a face mask, lay in bed with my LED light.
Skincare: I use Summer Fridays Super Amino Gel Cleanser, then depending on how my skin looks I'll grab a treatment product for whatever is happening that day, followed by Jet Lag Mask as a moisturizer then my celluma LED light.
Hair: I like night showers so I use OUAI detox shampoo, Briogeo Don't Despair, Repair! Mask, followed by a hair oil and leave in conditioner then I go to sleep with my hair damp.
Bedside Essentials
LG: Summer Fridays Jet Lag Mask (I use it on my hands as well), a lavender sleep spray, a Slip silk eye mask, and Moon Juice magnesium powder I'll mix with hot water before bed.
MH: Olly sleep vitamins, Slip silk eye mask, a lavender sheet spray and Lip Butter Balm.
Shop Lauren Gores' Nighttime Beauty Picks
Shop Marianna Hewitt's Nighttime Beauty Picks
Lights Out
LG: Optimal bedtime would be 10:30 p.m., but typical bedtime is 11:30 p.m.
MH: 11 p.m.-12 a.m..
For more stories like this, including celebrity news, beauty and fashion advice, savvy political commentary, and fascinating features, sign up for the Marie Claire newsletter.
Chelsea Hall is the Assistant Fashion and Beauty Editor at Marie Claire, where she covers celebrity style, fashion trends, skincare, makeup and anything else tied into the world of fashion and beauty