How Activist and Entrepreneur Mandana Dayani Gets It Done? Eyeliner and Lots of Coffee
The co-founder of I Am a Voter and new podcast host reveals how she gets it all done.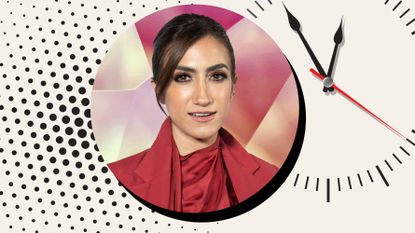 (Image credit: Getty Images)
Mandana Dayani doesn't like to sit still: the former Rachel Zoe exec and mother of two founded (and runs) the voter awareness campaign I am a voter, and just launched the podcast The Dissenters with co-host Debra Messing. As an entrepreneur, activist and lawyer, Dayani is putting her energy behind bolstering the powers that individuals yield. With this comes a no-nonsense attitude and slate of quick-fix beauty rituals.
Rise and Shine
My husband and I usually wake up around 6 am when our daughter, Anderson, jumps in our bed. I can't function until I've had my first cup of coffee. Then I check the news.
Morning Rituals
Lately, [getting ready has taken] 15 minutes, but it used to be 45. I have two cups of coffee every morning with hard boiled eggs and avocado toast.
Signature Look
Probably too much eyeliner, Charlotte Tilbury Copper Charge eyeshadow palette, Tarte matte nude Lip Paint. And I am obsessed with Kosas Revealer Concealer, Tinted Face Oil Foundation and Baked Bronzer. I almost always wear suits! If I am getting glam done, it is about 1.5 hours and when I do myself up, it typically takes an hour. Now that my daughters are more into beauty, things take a lot longer.
Shop Mandana Dayani's Skincare Essentials
Wellness Check
I go on walks around our neighborhood and listen to music. I try not to answer my phone or check messages. [It makes me] realize how much more focus I should put on mental health, on making time for gratitude and checking in with loved ones.
Business Moves
My friend Debra Messing and I have been lifelong social justice advocates and we really wanted to share the stories of the heroes who inspired us to get off the sidelines. So we decided to launch a podcast called The Dissenters to share stories that we will know will help others find their purpose and chase their passion. I have made many big leaps in my career and figuring out what I want to do next has always been incredibly terrifying and exciting.
Career Advice
"No" just means try again and harder.
Worth It
Biba Los Angeles Cream Barrier
Cheap-But-Chic
Olive & June home manicure kit. It's a game-changer.
Signature Scent
Last Thing Before Bed
Kiss my husband.
Lights Out
11 P.M.
Try Mandana Dayani's Makeup Picks