The Biggest Global Beauty Trends
Marie Claire beauty editors from around the world share the coolest trends and most coveted products in their countries.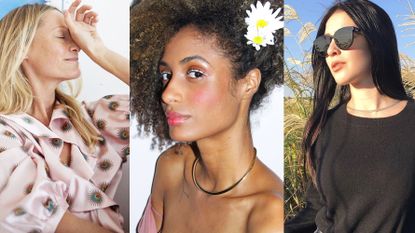 (Image credit: Courtesy/Instagram)
There are no geographical limits when it comes to beauty. Trends transcend time and beauty knows no bounds. If you've ever wondered what skincare products, wellness trends, hairstyles, makeup looks, and muses Marie Claire beauty editors obsess over across the globe, you've stumbled upon gold.
I tapped six beauty editors from MC's international editions to share what beauty looks like where they live. Editors from the U.K., Hungary, Taiwan, Brazil, Turkey, and the U.S. all weigh in on the latest and greatest in their cities. Ahead, the biggest global beauty trends and the best products abroad.
Stephanie Ribeiro, Beauty Columnist of Marie Claire Brazil
Self-Care Ritual
"Self-care as a whole is mobilizing many Brazilians, and I see an influence of practices from our indigenous and black roots. Herbal baths, tea treatments, and even the figures of healers are regaining popularity."
Beauty Muse
"Ten years ago, it was very rare to see black women in mainstream media. Brazilian actress Taís Araújo came into the spotlight and inspired me to stop straightening my hair and wear my curls freely. I'm also inspired by women like Solange Knowles and Tracee Ellis Ross."
Social Cues
"Every year, Carnival happens in Brazil. People go to the streets dressed in very few clothes and lots of glitter and makeup to dance, drink, and have fun to musical rhythms."
Serious Skincare
"The main focus of influencers and the media in Brazil is skin, and people are searching for the best all-natural products. There's an all-natural brand called Mona, which was used a lot last Fashion Week."
Makeup Matters
"Women here love wearing striking eye makeup; I'll even use liquid lipsticks on my eyelids. Natural and vegan makeup is also growing here. We live in a country of wide biodiversity, so it's wonderful to see our ingredients surface in products."
Hair Dos
"Culturally in Brazil, long hair is more popular and seen as more beautiful. That said, I love wearing mine short. This is important to me, and I've noticed other black women in my country have been inspired to do the same. Major beauty brands are developing products for textured hair, specifically formulated for women transitioning to natural textures."
Shop the Best Products in Brazil
Júlia Dóczy, Beauty Editor of Marie Claire Hungary
Hair Dos
"I personally love a messy bun or an extreme ponytail. I'm happy to see that the pixie cut is coming back in Hungary as well."
Makeup Matters
"Hungarian women aren't too provocative with makeup because the most important thing for us is practicality.We stick to nudes and earth tones with some bronzer and highlighter. I believe less is more, but I love to emphasize my lips with a strong red, burgundy, or even a shocking pink. If I focus on my eyes, I use the fabulous Shiseido Aura Dew gold highlighter ($25)."
Spa Culture
"We are big on historic spas and ancient baths that incorporate thermal waters and saunas. Also becoming popular: herbal oil massages, face rollers, and gua sha stones."
Beauty Muse
"When it comes to work, I really enjoy beauty styling on set. One of my biggest inspirations is still-life artist Marissa Gimeno. She plays with textures, colors, and shapes like no one else."
Social Cues
"Hungarian people are quite social. We like to visit coffee houses, confectioneries, wine bars, and local restaurants, where you can find us eating good food and drinking excellent wine or pálinka, a Hungarian specialty drink. We also enjoy swimming and sailing at Lake Balaton, hiking in the Mátras, or rowingon the Tisza River."
Self-Care Ritual
"I practice yoga daily because it brings me physical and spiritual balance. My mother is an Iyengar instructor, so I'm always in good hands. If I can't make it to the studio, I practice at home."
Shop These Must-Have Products in Hungary
Taylore Glynn, Associate Beauty & Health Editor of Marie Claire U.S.
Beauty Ethos
"When it comes to beauty looks in the U.S., anything goes. That may not sound nuanced, but it's totally true of 2020. Those 'rules' of past decades have been erased. Whether it's a full face of craft-store gems or no makeup at all, we rock those looks without thinking twice."
Scent Story
"Lately, I've been into Frédéric Malle's Music for a While ($225). It's intoxicating: herbal and androgynous, thanks to the lavender that meets the nose first, and then the sexiness that creeps in with mellow touches of vanilla and pineapple. Strangers stop me on the street, and Uber drivers turn down the music to ask what I'm wearing."
Serious Skincare
"I rarely meet skincare-brand devotees anymore. Everyone I know, beauty experts included, has a high-low routine that includes splurges and drugstore finds alike."
Wellness Craze
"New cross-training classes crop up every day. Hybrid workouts like Switch Playground use intervals and creative stations to ensure you're getting your heart rate up and working multiple muscle groups at once."
Makeup Matters
"Dewy, simple skin with an unexpected neon pop of color on the eyes is something whimsical I've fully adopted for work-to-play. When I want to feel sexy for a date or power-drunk before a big meeting, I paint on a thick feline flick with black Diorshow On Stage Liquid Liner ($31). It's inky and truly unbudgeable, which are my musts for liquid liner."
Modern Manicure
"I'm partial to a design I've dubbed the 'dirty French,' an edgier play on the typical French mani. A nude nail paired with a metallic edge or a strategic cascade of glitter takes a classic and makes it cool again."
Shop Some of the Most Popular Products in the U.S.
Lisa Oxenham, Beauty & Style Director of Marie Claire U.K.
Makeup Matters
"The no-makeup look with a deep matte red lip is huge in the U.K. It's raw, cool, and confident. I feel good in my skin without makeup and like to apply one swipe of Nars Powermatte Lip Pigment in Light My Fire ($26) when I want to be seen and heard. I also like to structure my blond brows more by filling them in with a micro-pencil."
Serious Skincare
"I'm really into inner health and skin radiance, and I think it's best to invest in better, fewer products. Being a mummy, I don't have time for a cumbersome multistep routine. My essentials are Sisley Sisleÿa moisturizer ($152), morning and night, and SkinCeuticals C E Ferulic serum ($166), which helps protect my skin and quickly imparts a brighter, perkier look."
Beauty Muse
"I covet Sienna Miller's grown-up boho style and Gwyneth Paltrow's take on effortless, no-makeup, fresh-faced beauty."
Scent Story
"I'm careful not to overload myself with fragrance; occasionally I'll wear a light veil of Louis Vuitton Sun Song ($265), which uplifts me and smells like lemons and sunshine. I'm also obsessed with the Cult of Treehouse Tree Healer Restorative Perfume Oil ($90), which I wear when I need balancing."
Self-Care Ritual
"I am all for taking long, hot soaks. I love 'The Martini' Emotional Detox Bath Soak from Goop ($35) or Voya Lazy Days: Detoxifying Seaweed Bath ($32). I'm big on morning rituals, and tongue-scraping is a standard part of my a.m. routine for its antibacterial purposes."
Shop the Most Coveted Products in the U.K.
Damla Suay Lü, Beauty & Wellness Editor of Marie Claire Turkey
Self-Care Ritual
"Turkish baths—we call them hammams—have a lot of skincare benefits. After 10 to 15 minutes in the high-temperature and moist environment, your skin gets soft enough for exfoliation."
Makeup Matters
"Women here like feeling confident, sexy, and beautiful. We're into heavy eye makeup, vivid lip colors, and bold nails. I wear colorful eyeliner daily, especially in the summer."
Wellness Craze
"Kickboxing is so much fun. I notice a difference in my performance every single time and always leave feeling stronger than when I came in. It's also strengthened my shoulder muscles."
Scent Story
"Chanel Coco Mademoiselle ($105) is my all-time favorite. It became my signature scent almost 10 years ago, and everyone still always asks me what I'm wearing when I have it on. I love how long-lasting it is."
Modern Manicure
"I like reimagined French manicures, like double-tipped and ombré manicures. I'm sick of the long-nail trend even though it seems to keep going."
Beauty Muse
"I love supermodel Małgosia Bela's simple, masculine, but elegant style. She's effortless and natural. Rebecca Leigh Longendyke is the same way. Her signature look, which is completely natural, makes her my ultimate beauty muse."
Shop the Top Products in Turkey
Sara Lee, Deputy Beauty Director and Editor In Chief of Marie Claire Taiwan
Serious Skincare
"It's humid in Taiwan, and many of us have combination skin, which isn't easy to care for in our climate. We all have busy work lives, so young people are serious about anti-aging skincare products and taking care of the eye contour area. Money isn't really a factor if a product is effective; skincare is a priority."
Hair Dos
"Taiwanese girls love dreamy, unicorn-like colors—especially pastels and rainbow. Techno-logical advancements have allowed us to try bold new colors, and our country's obsession with long hair has finally shifted, so women are now open to short styles."
In-Office Upgrades
"We're into cutting-edge skincare technologies such as plasma fibroblast therapy, which uses an electric pen-like device to target fibroblasts, collagen- and protein-producing cells in the dermis. This boosts collagen, tightens skin, and improves texture."
Makeup Matters
"We're inspired by Korean beauty and Korean dramas, which feature a lot of bold lips. If a Taiwanese woman is obsessed with a certain collection, she'll purchase the entire line. You can sometimes find women here carrying 10 different lipsticks in their purse. Rosy and red colors are the most popular, paired with foundation and curled lashes."
Shop the Top Products in Taiwan
This story originally appeared in the May 2020 issue of Marie Claire.
RELATED STORIES
Maya Allen is the former Digital Beauty Editor at MarieClaire.com where she covered makeup, skincare, haircare, wellness, you name it! She has a 15-step skincare routine, owns over 200 red lipsticks, and enjoys testing the latest and greatest in beauty. On most weekends, you can find her at her happy place, which is her makeup vanity. There, she's usually blasting her speakers while singing along to lyrics at the top of her lungs, and making sure her highlighter is on point.