How Olamide Olowe and Claudia Teng Care for Their Sensitive Skin
The first-time co-founders of skincare line Topicals talk beauty through the lens of self-care and inclusion.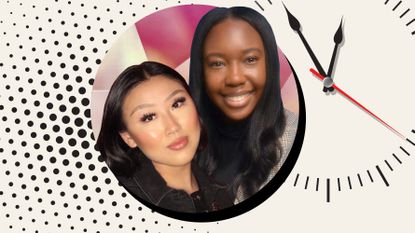 (Image credit: Future)
Welcome to Beauty Around the Clock, Marie Claire's weekly peek into the daily lives of some of the most game-changing women in their industries. Ever wonder how they get it all done in a day? Here's your answer.
After years of battling their personal skincare conditions, two former pre-med students Olamide Olowe and Claudia Teng teamed up to create Topicals (opens in new tab), a skincare brand tailored to young adults living with chronic skin conditions such as eczema and psoriasis. The priority: serving their customers with effective treatments that are effective but not clinical and entirely unsexy. Despite overcoming setbacks due to the Covid-19 crisis, the skincare brand officially launched this summer with a hydrating mask and brightening serum. Here, the co-founders talk morning routines, self-care rituals, and the importance of inclusion within the beauty industry.
Rise and Shine
Claudia Teng: I wake up around 7 a.m. First thing I do is check my planner to see what I have slated for the day and check on all of my plants. I've been trying hard to cultivate a green thumb and I think it's working! I've successfully sprouted several seeds of basil and am caring for 6-7 other plants.
Olamide Olowe: I typically get 9 hours of sleep. First thing I do when I wake up is meditate and read the Bible.
Morning Maintenance
CT: My morning routine during quarantine is pretty simple: a shower and some sunscreen. My eczema flare-ups have been particularly bad, so I've been taking extra time in the mornings to apply my prescription steroids. During more normal circumstances, I really enjoy taking the time to do my makeup in the morning. It's an important ritual to me that psychs me up for the day to come. In the morning I shower with Necessaire Body Wash (opens in new tab), moisturize with Drunk Elephant Protini Polypeptide Cream (opens in new tab) and add Everyday Humans Resting Beach Face (opens in new tab) sunscreen and the steroids for my eczema. My hair is pretty manageable—it's pretty fine and straight, so when I get out of shower I just let it air dry.
OO: I spend an hour and a half on beauty in the morning. I love to double cleanse with Dermalogica's Precleanse Cleansing Oil (opens in new tab)and Eminence Stone Crop Gel Wash (opens in new tab). I then apply a chemical exfoliant (The Ordinary Glycolic Acid (opens in new tab)), Topicals FADED dark spot serum (opens in new tab) and our Like Butter moisturizer (opens in new tab), Black Girl Sunscreen (opens in new tab), then the Vie Beauty 30 Roses hydrating spray (opens in new tab) . I've been wearing braids lately and it makes life so easy. I just wake up and lay my edges and I'm good to go!
Signature Beauty Look
CT: I love a bushy but sculpted brow (opens in new tab), a nice fluffy lash, and a nude lip (opens in new tab).
OO: Colorful eyeliner (opens in new tab) & a dark brown lip liner (opens in new tab) with Adejiore non-sticky clear gloss (opens in new tab).
Fitness Routine
CT: I'm a huge night owl—and I love to work out at night. I'm very into strength training and heavy lifting.
OO: I was a D1 athlete in college and have spent the last couple of years giving my body a rest so I don't work out too often, but after this quarantine I'm definitely getting back in the gym.
Zoom Beauty Hack
CT: I put my hair in a slicked back bun, put some moisturizer on my face and some Aquaphor (opens in new tab) on my lips and call it a day.
OO: Wearing my hair pulled back into a tight high ponytail highlights all the right angles in my face.
Self-Care Ritual
CT: Writing out everything—my to-do list for the day, random thoughts and emotions, and ideas—helps me feel lighter and less burdened. And exercise is a very important wellness/mental health practice—even just taking 10 minutes to stretch and roll out is helpful.
OO: Praying helps me get refocused in the midst of stress. I also always feel 100 times better after having calls with my other female founder friends.
Signature Scent
CT: I have eczema and very sensitive skin, so I don't love to use a ton of fragrance because it irritates my skin. It's something that used to bum me out but I've come to accept that I just smell like...me.
OO: My signature scent is Tiffany & Co. Tiffany Eau de Parfum (opens in new tab).
Cheap-but-Chic Fave

CT: Vitamin E oil (opens in new tab) from Trader Joe's—it feels super nice and thick in the best way.
OO: Morphe setting spray (opens in new tab)
Shop Claudia Teng's Daytime Beauty Picks
Shop Olamide Olowe's Daytime Beauty Picks
Beauty Icon
CT: YouTuber Sarah Cheung. When I was growing up, I could never figure out how to do makeup for my hooded eye shape. I admire how well Sarah caters to hers and owns her beauty and ethnicity.
OO: Kelly Rowland
Business Icon
CT: Georgina Gooley, founder of Billie. She found a category that was ripe for disruption, the razor space, and did it in a way that made women's body hair cool and the pink tax not. I love that Billie raised more awareness around the Pink Tax and real-life inequalities that women face.
OO: Sheila Johnson, co-founder of B.E.T.
Business Beginnings
OO: I always felt like an outsider because of my skin condition and wanted the beauty industry to expand its definition of beauty to include me and people who look like me.
CT: Olamide and I have both grown up with and lived with chronic skin conditions. I've had severe eczema my entire life, and the early feedback on our line made me come face to face with something I'd never explicitly acknowledged: My eczema has, from an early age, largely defined the way I live my life—I've never been able to use the skincare others use for fear of a reaction, I was afraid of going to sleepovers and having my friends ask me about my pouch of steroids and ointments, and I avoid so many things that are commonplace for others (heaters, beaches, hand soap, perfume, fragranced candles, hair dye). Skin conditions have always been stigmatized and ill-understood, and over-the-counter options have made them feel even more clinical and icky. We created Topicals to change this narrative and serve those growing up with these conditions, and make them feel like they're a real part of the beauty community.
Boldest Business Move
CT: Moving to LA, quitting my job in clinical research and starting this company with Olamide having only met her in person twice.
OO: Forgoing medical school to start Topicals.
Career Advice
CT: Don't look left or right, focus on looking forward.
OO: Inch by inch, life's a cinch. Yard by yard, life is hard.
Night-Out Look
CT: I love a soft glam look and take advantage of this when getting ready for a night out. I love a full lash, a good contour (opens in new tab), and then I always add a pop of something unexpected like Glossier's Colorslide graphic liner (opens in new tab) in nectar on my eyelid or Glossier's Niteshine (opens in new tab) highlighter in my inner corner.
OO: Glossy lids with glossy lips with Adejiore non-sticky clear gloss (opens in new tab).
P.M. Routine
CT: Nighttime is really when I lean into skincare as a self-care moment to wind down from my day. I start with my jade gua sha (opens in new tab). I use the tool and vitamin E oil for at least 10 minutes on my face and neck. Then I use Biossance Squalane and Antioxidant Cleansing Oil (opens in new tab). Next, I go in with a moisturizing cleanser like the Cerave Hydrating Cleanser (opens in new tab). Every other day, I use The Ordinary Glycolic Acid Toner (opens in new tab) and then a bakuchiol serum (opens in new tab). Next, I apply Topicals Faded serum (opens in new tab)on my dark spots and recent acne spots, and finish with the Topicals Like Butter overnight mask (opens in new tab) to moisturize and seal everything in.
OO: I use Drunk Elephant's Slaai Makeup Melting Butter Cleanser (opens in new tab), Youth to the People Kale Green Tea Spinach Gel Cleanser (opens in new tab), and Topicals Like Butter mask (opens in new tab).

Shop Claudia Teng's Nighttime Beauty Picks
Shop Olamide Olowe's Nighttime Beauty Picks
Nighttime Routine
(opens in new tab)
Drunk Elephant Slaai™ Makeup-Melting Butter Cleanser
Nighttime Routine
(opens in new tab)
Youth To The People Superfood Antioxidant Cleanser
Bedside Beauty Musts
CT: Petroleum jelly! It has gotten a lot of flack recently because people equate it to gasoline, but petroleum jelly has actually been refined and purified of all potentially harmful toxins. It's a great multi-purpose product.
OO: My hair bonnet.
Lights Out
CT: I typically don't get to bed until around 2 a.m.
OO: 10 p.m.

For more stories like this, including celebrity news, beauty and fashion advice, savvy political commentary, and fascinating features, sign up for the Marie Claire newsletter.
subscribe here (opens in new tab)
Chelsea Hall is the Assistant Fashion and Beauty Editor at Marie Claire, where she covers celebrity style, fashion trends, skincare, makeup and anything else tied into the world of fashion and beauty