How Editors from Across the Globe Are Shopping for Beauty Products Online
Not ready to head to your favorite store IRL? These five Marie Claire beauty editors from all over the world have you covered.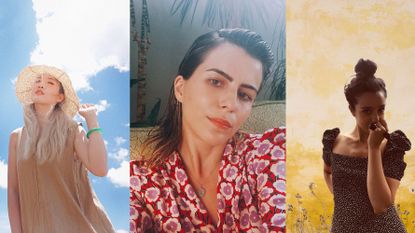 (Image credit: Provided Courtesy of Editor)
The thought of strolling into a store to check out beauty products feels a little...strange. Do you wear gloves? Do you look without touching? Is that better than simply looking online? It's something that every beauty lover—literally across the globe—is trying to figure out right now. So, we asked five Marie Claire beauty editors from different countries how they're handling hair, skincare, makeup, and fragrance purchases in the age of socially distanced beauty buying—and what's in their online carts. U.S. shoppers can snag the editors' exact picks below from Dermstore, a trusted retailer for some of the best beauty products the industry has to offer.
My top tips for buying products online: Online shopping is becoming the norm after the spread of Covid-19 in Greece. The first step is to know your skin, [and] go for the products and the brands you love and swear by. For those who would like to try new products, you could look for online stores that offer samples. [If you can't find samples,] buy the smallest size or a travel size. You spend less money, and if you don't like it, you will cry less! Also, [look for deals via] email exclusive discounts or rewards programs based on purchases.
My beauty aesthetic is: In the last few years I became a huge fan of minimal, natural, no-makeup-makeup looks. This happened because I learned to love my skin the way it is, even if there is a pimple on it. I believe real beauty is not flawless and does not rinse off. I wake up every morning, clean my skin, wear my moisturizer, add a bit of mascara and some flush of color on my lips, then a bit of perfume and in just 10 minutes I am ready to start the day with positive vibes.

My top tips for buying products online: It is best to have a virtual appointment with a [beauty] specialist or dermatologist. They can help you understand if the products you're thinking of buying will work with your hair or will be suitable for your skin. There are also virtual try-on apps that can help you find what makeup looks best on you.
I always have this on my shopping list: I'm always looking for new cleansers, sunscreens, and moisturizers, especially for the eye area. I am also interested in the universe of fragrances—I always want to know about new perfumes and their composition.
Eri Chu, Marie Claire Hong Kong
My top tips for buying products online: Other than buying from a reputable online store, you must know about your skin type and read reviews of products (especially reviews from people who share the same skin type with you) before making your purchases.
My beauty aesthetic is: I would say natural, no-makeup-makeup. With good skin, you just need to put on a base with sunscreen, draw a perfect eyebrow, and put on some mascara, and then you are so ready to go.

What's in Eri's Cart
My top tips for buying products online: Women should first read and do their research online about products and ingredients they want to get—look for websites or apps that use augmented reality to help you see what certain makeup would look like on different skin tones—and always buy from legit websites that have valid customer reviews and enough information about the listed products.
My beauty aesthetic is: I usually opt for a fresh makeup look. I like earthy eyeshadow colors and a good mascara that enhances the look of my lashes. I also love bare skin. It is very liberating and feels more real. Makeup should look natural—and less is always more!