Meet Bakuchiol, the Retinol Alternative for Sensitive Skin
All of the glow, none of the irritation.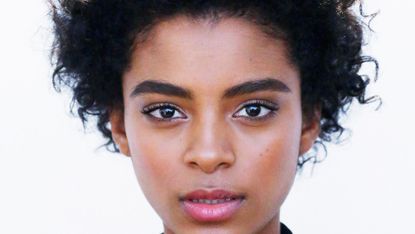 (Image credit: Mireya Acierto)
As a self-proclaimed skincare addict, I like to think that I know a thing or two about how to take care of my skin. Sunscreen every day, never sleep with my makeup on, and so on and so forth. Within beauty circles, there is one skincare ingredient beyond all others that has come to be looked at like the Holy Grail: retinol. An ingredient derived from Vitamin A, retinol has been looked at as the most effective ingredient to treat signs of aging and to brighten the skin. It works very well, which also means it can be very intense. Though I am a spry 22-year-old, we all know that anti-aging is a preventative toolset, so I was ready to hop onto the retinol bandwagon. Imagine my horror when after cracking open my first tube of a retinol-infused product and diligently putting it on, my skin immediately rejected it. There were tiny bumps all over my face, my forehead was peeling with dry skin, and I felt hot and itchy all over. I've probably used four different retinol products, and none of them work with my skin. My heart was broken. Retinol just isn't for me.
But then, one day, I was talking to my chemist friend Allison, and she informed me of a little thing she'd heard of called Bakuchiol, commonly thought of as a plant-derived retinol dupe, that's gentle enough for skin like mine. "I don't know much about it," she told me. "Find out and report back." So, I reached out to Heather Wilson, a Licensed Esthetician and the director of brand development at InstaNatural, so I could ask her all my questions. Allison, my love, this is for you.
What Is Bakuchiol?
To start simply, Bakuchiol is not a retinol. "It's a retinol alternative," Wilson tells me. "It offers similar benefits and results in the skin but it is much gentler – causing less irritation or dryness–making it a great dupe for retinol. While retinol offers great results in the skin, it is a more advanced ingredient and some skin types simply cannot tolerate it in their routine. The ingredient offers similar benefits as retinol–without the irritation–and because of that it is a gentler, natural alternative to retinol."
Who Should Use Bakuchiol?
For anyone who wants the amazing results that retinol can offer–the minimization of fine lines and wrinkles, and glowing skin–but can't use retinol products because of sensitivity, Bakuchiol is a great option. "Generally speaking, Bakuchiol is great for all people looking to soften the look of lines, wrinkles and uneven texture on the skin," says Wilson.
But that doesn't mean that regular retinol-users are left out of the fun. "It is also great for people that have been using strong retinol products, but would like to decrease their use while still maintaining the results. These consumers could alternate a stronger retinol with Bakuchiol, every other evening," suggests Wilson.
If using retinol every day is starting to negatively impact your skin, supplementing that product with a Bakuchiol alternative allows you to cut back on your retinol usage without forgoing anti-aging products altogether.
Bakuchiol Should Be Mixed
Like most skincare products, Bakuchiol works best in tandem with other ingredients. "A product's efficacy is determined by the sum of its parts–not solely on the inclusion of a single ingredient," says Wilson. "When looking for Bakuchiol in skincare products, look for formulas that include other ingredients to support your skincare goals–such as Vitamin C for brightening or Hyaluronic Acid for hydration."
What's Wilson's personal favorite? "I love InstaNatural's 2.5% Retinol Bakuchiol Serum because it combines the best of both worlds–it's a formula that has been designed for those that can't generally tolerate retinol, but still want to see the results. The formula leverages Bakuchiol alongside retinol in a way that is very gentle, hydrating and nourishing to the skin."
Shop These Bakuchiol-Infused Products
Celebrity news, beauty, fashion advice, and fascinating features, delivered straight to your inbox!
Tatjana Freund is a Beauty Commerce Writer, covering makeup, skincare, and haircare products and trends. She's a fan of vodka tonics and creepy Wikipedia pages.