Shani Darden Shares Her Personal Beauty Secrets
Including her tried-and-true ritual for a youthful glow.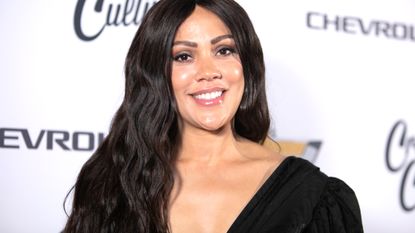 (Image credit: Getty Images)
Shani Darden, esthetician to the stars and the founder of Shani Darden Skin Care, (opens in new tab) is certainly one to trust when it comes to all things beauty. In the latest episode of Masked and Answered, the skincare expert gives us the rundown on her morning and nighttime skincare routine, and shares what she does every day to get hydrating, youthful skin.
The skincare aficionado kicks off her masking session using IS Clinical's Hydra Intensive Cooling Mask (opens in new tab). Darden says she adores this mask because of its ultra hydrating and anti-inflammatory capabilities.
When it comes to her favorite at-home beauty ritual, Darden swears by a daily 20-minute LED light masking session. The esthetician uses the Déesse Pro Mask (opens in new tab) on the anti-aging setting to boost the collagen in her skin and prevent fine lines and wrinkles. "I use this all the time to keep myself young," Darden proclaims in the video.
Darden begins her morning routine with a gentle Cleansing Serum (opens in new tab) from her eponymous skin care line before going in with the iS Clinical Pro-heal Serum (opens in new tab). For her eye area, she banishes dark circles with CosMedix's Opti Crystal Eye Serum (opens in new tab), and she moisturizes and protects her skin with Supergoop's PLAY Everyday Lotion SPF 50 (opens in new tab).
As for Darden's nighttime routine, she takes off the day with the same gentle cleanser from her morning routine before using the Shani Darden Saki Toning Essence (opens in new tab) and Retinol Reform (opens in new tab). A couple of times every week, Darden forgoes her retinol reform application to perform an at-home peel using Dr. Dennis Gross's Alpha Beta Universal Daily Peel (opens in new tab). To keep her skin hydrated throughout the night, she uses Dr Nigma Talib's Hydrating and Plumping Serum No1 (opens in new tab) before concluding her routine with Shani Darden's Weightless Oil-Free Moisturizer (opens in new tab).
The skincare maven's solution for keeping small breakouts at bay: Zitska's Spot Clarifying Patch (opens in new tab). For even more beauty hacks watch Darden's video, above, and don't forget to subscribe to Marie Claire's YouTube channel (opens in new tab) to catch up on the latest episodes of Masked and Answered. Share your favorite mask in the comments.
Shop Shani Darden's Skincare Favorites
Chelsea Hall is the Assistant Fashion and Beauty Editor at Marie Claire, where she covers celebrity style, fashion trends, skincare, makeup and anything else tied into the world of fashion and beauty