A Joe Biden Beauty Sponge Is the Latest Voting Flex
There's a Kamala Harris highlighter on the way, too.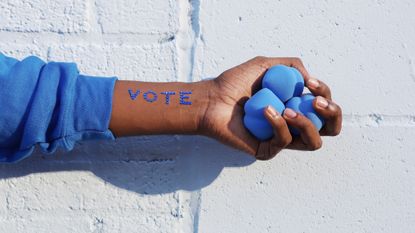 (Image credit: Archives)
Beauty and politics are frequently intertwined, for better or for worse. From empowering actions like Elizabeth Arden passing our red lipstick to suffragettes in 1912 and TikTok influencers using makeup tutorials to chat about Supreme Court justices rather than contouring, to petty and flat-out misogynist attacks on congresswomen for their reasonably-priced haircuts. Now, a group of anonymous beauty insiders are using the connection to raise funds for the Democratic ticket of Joe Biden and Kamala Harris with the launch of Biden Beauty.
"Beauty has always been inherently political," says a spokesperson from the secretive brand. "From the beginning of time to now, all people have participated in beautifying as an act of defiance. We're excited to push forth the message that this country is only made powerful by the vast diversity of its people. We hope that all underrepresented voices from all walks of life feel welcomed in this nation."

As of now, only one cosmetic product is available for purchase—the Biden Beat, a dual sided blending sponge made for buffing in foundation, concealer, and bronzer priced at $20.20―one Trump could undoubtedly benefit from. A sweatshirt and a tote emblazoned with "America is Beautiful" are also up for grabs, but for those looking for some full-face democracy, the brand's We Glow High Kamala Highlighting Stick and Biden Bounce Hyaluronic Acid serum will be launched in the coming weeks—just in time for the upcoming debates.
Though not officially linked to the Biden campaign, all sales from BidenBeauty.com will go to supporting the Biden Victory Fund, where supporters can contribute directly to the candidate's campaign. And while the brand is geared towards anyone who's voting blue, the founders are laser-focused on attracting the attention of Gen Z, a make-or-break demographic in the coming election. (The brand's release quotes research that projects one out of ten eligible voters will represent Gen Z, about 24 million potential voters.)
Generational divide aside, we're all for wearing our votes on our sleeves...and some Harris-themed highlighter, too.
Taylore Glynn is the Beauty and Health Editor at Marie Claire, covering skincare, makeup, fragrance, wellness, and more. If you need her, she's probably roasting a chicken, flying solo at the movies, or drinking a bad Negroni at JFK.