Sophia Roe Isn't Looking for Perfection
How the chef and soon-to-be cookbook author stays healthy.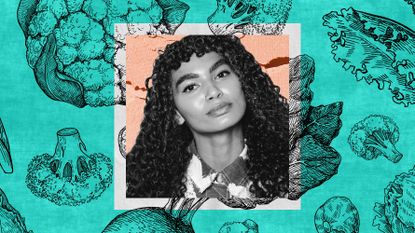 (Image credit: Hanna Varady)
In the ultimate quest for inner beauty and outer glow, Marie Claire asks our favorite trailblazers to share intel on finding balance in their busy lives. Read it all here, in Beauty Inside & Out.
Chef and wellness advocate Sophia Roe has taught her audience how to live a healthier, more empowered lifestyle through encouraging workshops and social media posts about her own past trauma, and soon she'll add a cookbook. Here, her feel-good beauty buys and one of her nourishing creations.
Inner Beauty
The Nue Co Functional Fragrance:
"Full transparency: I've gone through four bottles of this fragrance. It helps me get ready in the morning, keeps me going in the middle of the day, and gets me ready for bed. It smells crazy."
"I'm one of those people who bruise really, really easily, so I take an herbal remedy for that."
Nature's Way Magnesium Complex:
"So many women on their periods think, Oh my God, I'm craving chocolate because I need sugar, but that can actually be the body craving the magnesium in the chocolate. I take chelated magnesium [a supplemental form that's easy for the body to absorb] all the time. I'm moodier when I don't. I can really feel the difference."
Outer Glow
Elta MD Daily Broad-Spectrum SPF 40:
"I've had problems with sunscreens clogging my pores, and I need one that isn't chalky. I mean, I'm Black, right? This blends into my skin and doesn't mess with makeup."
Act + Acre Cold Processed Hair Conditioner:
"I almost always have my hair in braids. People think I'm going for a look, but it's a protective style. I mix a little hemp oil and this conditioner and run it through my wet hair, then braid. That's how I deep condition."
Jillian Dempsey Khôl Eyeliner:
"My signature look is a little cat eye and mascara. My eyeliner looks better the more fucked up it gets. It's only perfect once it's been on my face for three hours."
Recipe for Success: Roe's Persimmon Ginger Crisp
Prep the Persimmons
Place a skillet on medium-high heat. Add 5 medium-size Fuyu persimmons and sauté for two minutes. Add 1 tsp. vanilla extract, 1 1⁄2 tsp.cinnamon, 1 tbsp. fresh ginger, microplaned, 1 tbsp. maple syrup, and zest from 1 lemon. Let cook for two minutes. Add juice from 1 lemon. Let cook for two more minutes. Set aside.
Make Crisp Topping
In a bowl, combine 1⁄2 cup cassava (or any gluten-free) flour, 1⁄3 cup coconut flour, 1⁄3 cup gluten-free oats, 1⁄2 cup chopped pumpkin seeds, and 4 tbsp. coconut sugar. Add 2 tbsp. softened butter, 3 tbsp. coconut oil, 4 tbsp. water, and 1 tsp. sea salt. Mix together until crumbly, similar to pebble texture. Place the crumble on top of the persimmons in the skillet. Transfer pan to oven and bake at 375 degrees for 30 minutes, until golden brown. Serve with your choice of ice cream, mint, candied ginger, a sprinkling of pickled fruit, or even a drizzle of coconut milk!
This story appears in the Winter 2020 issue of Marie Claire.
RELATED STORIES
Taylore Glynn is the Beauty and Health Editor at Marie Claire, covering skincare, makeup, fragrance, wellness, and more. If you need her, she's probably roasting a chicken, flying solo at the movies, or drinking a bad Negroni at JFK.