A Beauty Editor's Guide to Winter Skincare
You'll want to add all of Taylore Glynn's Ulta Beauty picks to your cart.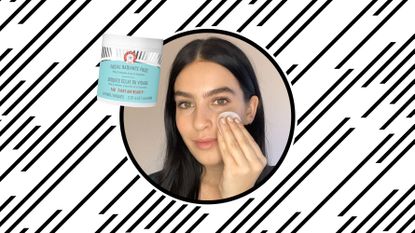 (Image credit: Hearst Owned)
Proper skincare is a year-round commitment, but your complexion definitely needs some extra attention during winter. Winter's effects—the dryness, redness, and flaking—can show up out of nowhere, so it makes sense to be confused and have a ton of questions. Luckily, Marie Claire's Beauty and Health Editor Taylore Glynn is tackling your most pressing ones.
After years of speaking to countless dermatologists and testing (literally) hundreds of products, Glynn knows a thing or two about combating winter's impact on your skin. So put on your favorite moisturizing mask, and read on for her answers (guided by dermatologist Dr. Dhaval Bhanusali, founder of Hudson Dermatology and Laser Center) and product picks from Ulta Beauty.
My complexion just looks tired and dull. What can I do?
Cold, dry air in the winter only further dehydrates skin, which can cause the skin to look tired and dull. "Exfoliation is key for radiant skin," Glynn says, and doing so regularly comes with a ton of benefits: increase in cell turnover, even skin tone, acne reduction, and deeper penetration of other skincare products to follow.
Glynn recommends using Mad Hippie Vitamin C Serum in the AM. It contains vitamin C (which can help reduce the appearance of wrinkles and discoloration in the skin) and botanicals that have softening and smoothing effects. Glynn recommends using First Aid Beauty Facial Radiance Pads for your evening routine. The product is soaked with lemon peel and licorice root to help with brightening. Note, for those with sensitive skin, Glynn advises that you start by using the pads just a couple times a week to get used to the product.
My skin is flaky and gets even more parched after I wash my makeup off. How can I keep it from drying out?
Double-cleansing (a process that involves cleansing with an oil-based and water-based cleanser) is the secret to getting all your cosmetics off and keeping your skin healthy and devoid of bad bacteria without stripping it of moisture, explains Glynn. She recommends starting with Clinique Take The Day Off. It's lightweight, becomes a silky oil as you massage it into skin, and takes off waterproof and tough-to-remove makeup products.
Glynn follows the balm with something light and foamy. Her pick: the Cerave Foaming Facial Cleanser. The drugstore classic is made with three essential ceramides (1, 3, and 6-11), which help cleanse and restore the protective skin barrier.
Bhanusali adds that double-cleansing can be particularly helpful this winter, as most people are wearing protective face masks. He explains that it doesn't hurt to spend extra time to make sure you're removing all your makeup and anything that could cause pores to clog. (Just make sure to stick to products with gentle ingredients.)
What should I do if I feel like my skincare sits on top of my face rather than sinking in?
Get this: There's a chance you're overloading your skin. It can only absorb so much at once. Glynn says using an essence as your first layer can help other products penetrate skin and work more effectively. "Product sinks into damp skin more easily, and essences contain other actives that help lock in moisture as you apply the rest of your routine," she says. Essences are also a great option for a quick boost of hydration throughout the day, Dr. Bhanusali says.
Glynn's rec? Hanskin Hyaluron Skin Essence. It's made with sodium hyaluronate, which is a powerful moisturizing ingredient that can hold 1,000 times its weight in water. The brand says this essence acts as a toner, moisturizer, and essence in one product, and it has a non-sticky formula suitable for all skin types.
I've been waking up puffy and want to look more contoured. What's a good solution?
A facial massage is a great DIY method of contouring your face without makeup—and it feels great, Glynn says. "Lymphatic drainage massages have been used around the world for both wellness and cosmetic reasons, and having one can really make a difference in just fifteen minutes."
Massaging your face with a jade roller, like this Rose Quartz Facial Roller, may increase lymphatic drainage in the face (temporarily reducing swelling), says dermatologist Melissa Kanchanapoomi Levin, M.D. Pro tip: stick the roller in the fridge for a relaxing cooling effect.
My skin is so dry that it feels tight, red, and all around uncomfortable. How can I add moisture?
The solution is simple: Layer on your hydrating products. Glynn advises applying your lightest moisturizer first, and working your way to your richest. FYI, products with smaller molecules (thinner, lighter formulas, such as a water-based serum) are capable of penetrating deeper into your skin, as products with larger molecules can act as a sealant for everything applied beneath.
Glynn usually starts with a hyaluronic acid serum like The Ordinary Hyaluronic Acid 2% + B5. The super light serum is designed to help replenish moisture and support your skin barrier. The beauty editor then follows the serum with a cooling gel texture moisturizer, like It Cosmetics Confidence in a Gel Lotion Oil-Free Moisturizer, which leaves skin feeling smooth and not-at-all sticky.
Why do my wrinkles and crows feet look more pronounced right now?
Dryness can really accentuate the fine lines and wrinkles in the face, Glynn explains. "The more hydrated your skin is, the more plump it will appear," she says, explaining that a moisturizing serum can help minimize the appearance of crow's feet. She recommends trying Juice Beauty Stem Cellular Anti-Wrinkle Booster Serum—the lightweight gel serum that hydrates and moisturizes the skin with organic jojoba and shea.
To combat wrinkles and crows feet near the eyes specifically she recommends Clarins Extra-Firming Eye. The two-in-one formula is a cross between a serum and balm and includes firming caffeine.
Even though it's winter, I still have oily skin and breakouts. How can I zap a zit fast?
Glynn says that a spot treatment that reduces inflammation and redness can be very helpful when you're in a pinch with a zit. She recommends the Murad Rapid Relief Acne Spot Treatment. It's made with a maximum-strength formula—including exfoliating 2% salicylic acid—that claims to reduce blemish size and redness within four hours. Plus, the clear gel treatment goes nicely under makeup without the skin feeling piled.
Marie Claire email subscribers get intel on fashion and beauty trends, hot-off-the-press celebrity news, and more. Sign up here.
Maya McDowell is an Assistant Editor at HearstMade.