The Exact Order for Applying Your Skincare Products
A definitive guide.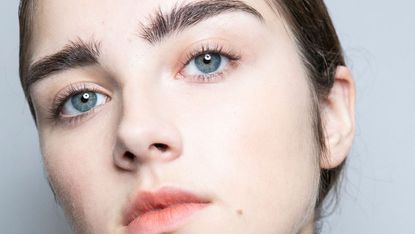 (Image credit: Rosdiana Ciaravolo)
So you hit a Sephora sale harder than expected, and now you've got a gaggle of new additions for your medicine cabinet. But before you jump into your spoils, you have to figure out how to work them into your routine. If you're a little lost when it comes to what order to apply your skincare in, you're not alone. "One reason applying products can be so confusing it because different skincare brands can have their own philosophies about how to care for your skin, so they recommend varying different routines," says celebrity esthetician Renée Rouleau.
But as a general rule, after cleansing, products should be applied according to the size of the molecules they contain—from the smallest molecule to the largest molecule, which is usually the thinnest formula to the thickest.
"Anything with a small molecule, such as a water-based toner or serum, has the capability of passing the membranes to get into the skin the farthest," says Rouleau. "Large molecule products, such as a pure treatment oil, won't do that as effectively, but do serve the purpose of acting as a sealant or proper protection to defend the skin from external stressors and allow everything that was applied underneath."
If you're still in need of some clarity, read on for a full application breakdown.
Cleanser
"Cleansing provides a clean slate so the products that go on after can work most effectively by removing dirt, debris, makeup, oil and impurities from the skin," says Rouleau. So if you want to deliver nutrients and active ingredients to your complexion in the most effective way, cleansing is necessary. And one major tip? Keep things quick—it'll make each precious drop of skincare that much more beneficial.
"You always want to perform your morning routine quickly. Especially after cleansing, you have a one minute window to get your toner on before water evaporation occurs," she says.
Shop our favorite cleansers:
Hot tip: If you're shopping Tatcha, grab one of our Tatcha promo codes before you hit checkout.
Essence
Essences, those luxe "waters" that function kind of like toners, can actually increase the effectiveness of the rest of your routine. "When left damp on the skin, they give your skin a drink of moisture before applying serum or moisturizer," says Rouleau. "Your serum or moisturizer applied immediately after will allow the active ingredients in those products to penetrate deeper."
Shop our favorite essences:
Serums
Here's where you can really personalize your routine to cater to your skin's specific needs. "These are products with a gel or light lotion consistency that contains a high concentration of performance ingredients. It's best to use them when your skin is in a rut, or you're seeking better results. Simply put, if you want to up your game, serums are the way to go," says Rouleau.
As most formulas in this category are about the same "weight," they can usually be layered together before you seal them in with moisturizer.
Shop our favorite serums:
Moisturizer (and SPF!)
"The skin's moisture barrier needs to be intact, and this can be done by using a moisturizer for your skin type daily," says Rouleau. And while SPF can come later in your routine, Rouleau suggests finding a formula that covers both bases—and for good reason.
"Hands down, SPF is the best product to prevent the signs of premature aging. Sunscreen, with a minimum of 30, should we worn 365 days a year, inside or out, rain or shine. The problem with adding a separate SPF into the mix into your morning routine is that your moisturizing cream could coat your skin cells and prevent the sunscreen from working as effectively."
Shop our favorite moisturizers with SPF:
Face Oils
These pampering formulas should be the grand finale in your routine. "With regular use, they can dramatically repair a damaged moisture barrier (the underlying cause of dryness and sensitivity) and bring the skin back to a healthier state," says Rouleau, though she notes that these formulas are best reserved as a soothing bedtime ritual.
"Facial oils are not ideal to use in the morning to avoid interfering with the daytime protection you need from your sunscreen. Skin oils in their pure form may dissolve your sunscreen throughout the day, similar to the way that your skin's own natural oils can," she says.
Marie Claire email subscribers get intel on fashion and beauty trends, hot-off-the-press celebrity news, and more. Sign up here.
Taylore Glynn is the Beauty and Health Editor at Marie Claire, covering skincare, makeup, fragrance, wellness, and more. If you need her, she's probably roasting a chicken, flying solo at the movies, or drinking a bad Negroni at JFK.