Editors handpick every product that we feature. We may earn commission from the links on this page.
The 30 Best Facial Moisturizers for Dry Skin
Get your glow on at all times.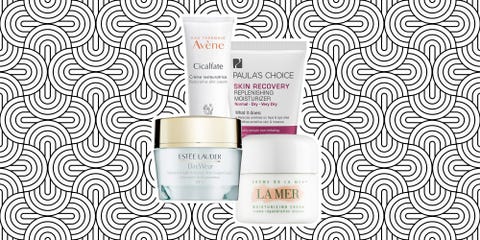 Redness, scaly patches, and itching are the hallmarks of uncomfortably dry, desert-like skin. There's nothing more annoying and uncomfortable than cracked skin on your face. Which is why it's crucial to find a facial moisturizer that soothes your face with a hit of hydration before you step out the door. Whether you battle with eczema or simply have a dry or combination skin type, the right moisturizer will provide your skin with the TLC it needs in the moisture department. In the winter months, it's even more important to find the right hydrating facial moisturizer. Cold, dry air only exacerbates the skin's dehydration.
What Ingredients Should You Look For?
While on the hunt for a hydrating moisturizer to add to your daily regimen, be sure to look for a formula loaded with plenty of antioxidants and emollients. These two ingredients are ideal for dry skin because they're active enough to strengthen your skin's moisture barrier, yet lightweight enough to not leave behind an oily, pore-clogging residue. Whether your skin is sensitive, acne-prone, or you're looking to also treat fine lines. there's a moisturizer just for you. Ahead, 30 hydrating moisturizers that will save you from flaky, dry, lizard-skin nightmares.
This content is created and maintained by a third party, and imported onto this page to help users provide their email addresses. You may be able to find more information about this and similar content at piano.io