24 Hours With Hailey Bieber
The model talks guilt-free breakfast and the best workout for a perky bum.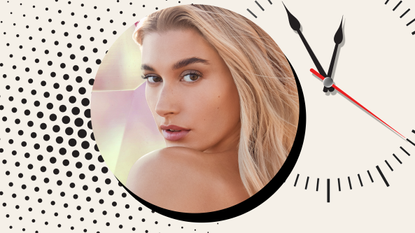 (Image credit: Design by Susanna Hayward)
Welcome to Beauty Around the Clock, Marie Claire's weekly peek into the daily lives of some of the most game-changing women in their industries. Ever wonder how they get it all done in a day? Here's your answer.
Despite being at home like the rest of us, Hailey Bieber isn't taking any time off. Along with shooting swoon-worthy Instagram posts and multiple magazine covers this past year, the model and BareMinerals face has just launched her YouTube channel, where she covers topics like self-esteem, mental health, and the pressures of being in the spotlight, along with skincare routines. She's also been handing over her IG credentials to a host of artists, activists, and creators for takeovers so they can share their work with her staggering 34 million followers. Below, Bieber reveals her go-to products, favorite workouts, and the TV show she'll never let her future children watch.
Rise and Shine
Usually I wake up around eight in the morning and do some form of a workout at nine. It's funny because I hated waking up early and would only do it for work. Now I like more of a routine—going to bed at a decent hour and getting up early. I was actually up at 6:45 today, at the crack of dawn, and I really enjoyed seeing the sunrise.
Morning Maintenance
The first thing I do is wash my face. I'll do a cleanse and throw on a hydrating serum of some sort, and my SPF. I don't leave the house without SPF ever. Then I'll brush my teeth and take the dog for a walk. And make a coffee. I do this every single morning. This is my legit, legit routine.
Power Start
My go-to breakfast is an Ezekiel english muffin with sliced avocado, lemon, salt and pepper. If I was eating whatever I wanted with no guilt, I'd do chocolate chip pancakes and bacon and two eggs over medium, with a side of hash browns. But I can't eat a lot of those things.
Signature Look
Honestly, most of the time I feel sexier with no makeup on. But if I am going to do a little cute date night look, or if I'm going to hop on a Zoom that I want to look a little more fresh for, I'll do some concealer, a bit of a cheek, some highlighter, mascara, lip balm, and eyebrow gel. That's my five- or seven-minute routine. I like to go for lip colors that mimic my natural lip color, a nice natural pinky shade.
Shop Hailey's Favorite Beauty Products
Daily Playlist
When we used to go places, I would always want something that would hype me up. I love a little Meghan Thee Stallion. I love a little Drake, a little DaBaby. I'm super into just having a good rap playlist going.
Fitness Fix
I do a lot of reformer Pilates. I go to a place here in L.A. called Forma, and it's been really great. It's been good in COVID [protocols] too—we wear masks and are able to be distant in the rooms. Other than that, I like to squat weights. One thing I decided at the beginning of COVID is that I wanted to build and go after the body I wanted. I've always, very luckily, had good genes and been naturally thin, but I wanted to feel strong. So I started doing workouts that were going to build my leg muscles and my butt. I wanted to perk my butt up. I like to do a combination of Pilates and then weights, because I think the combo of that works the best personally for my body. I get the lengthening and then I also get the muscle building.
Self-Care Ritual
I usually take time for myself at the end of the day. I love to do a bath with candles and bath salts. I think Epsom salt is really good for detoxing your body and your muscles. I might throw on a little face mask and hang.
Hair Help
Sometimes I have extensions in and sometimes I don't. If I don't, I'll just let my hair air dry, or I'll throw it back. I'll put tons of masks and oils in my hair, and then I'll throw it up for two days and just let it sit. I go for that middle-parted, slicked-back thing.
Signature Scent
I really like Ariana Grande perfumes and Ex Nihilo perfumes. I think they're great.
Cheap-But-Chic
I think Aquaphor is everything.
Beauty Icon
I'm so inspired by all the nostalgic young Kate Moss photos—they're just her so bare and natural.
Backup Career
In a perfect world, I would have loved to be a doctor. I'm really into medicine. I'm really into learning about all things medical. I would've loved to do that, but the reality is I actually didn't finish high school, which is a bummer and I should have. I regret that very deeply. I know it's not too late and I can finish. I was almost there. If I really want to go back and do it, I can, but that would have been an alternate life that I would have liked.
P.M. Routine
My nighttime skin routine is usually a double cleanse. I use an oil or a balm cleanser and then a regular cleanser, followed by serum, eye cream, and moisturizer. I go a little bit heavier on moisture at night. Sometimes I even put a layer of oil over my moisturizer, if I'm feeling extra dry. If I'm breaking out at all, I'll do a spot treatment or the Starface stickers. Those are amazing. I didn't understand the hype until I started using them.
Lights Out
I usually get in bed around nine. If we're going to get in bed and watch a movie, we'll get in, then I'll maybe take a melatonin gummy to get myself all nice and tired and relaxed. We try to have a rule where once we get in bed and the TV's on, we're off our phones for the rest of the night—unless it's urgent or we're setting an alarm. I'm trying to break the habit of being on the phone right before bed. I know it's not healthy for your brain. Honestly, my favorite thing is either to get in bed and watch a good show or movie, or just talk away until I'm tired. Like the rest of the world, I'm binging Bridgerton right now. I just finished all of Gossip Girl right before it. I was never allowed to watch it when it was on TV, when I was in middle school, because my mom thought it was the worst show on planet earth. Now watching it as an adult, I'm like, "Wow, this has actually been my pain." But I definitely wouldn't want my kids to watch it either—I'd be scared that they would behave like these kids.
RELATED STORIES
Celebrity news, beauty, fashion advice, and fascinating features, delivered straight to your inbox!
Tatjana Freund is a Beauty Commerce Writer, covering makeup, skincare, and haircare products and trends. She's a fan of vodka tonics and creepy Wikipedia pages.