Mask On, Botox Up
Masking—the epidemiological kind—has changed the way experts approach skincare. Here's how to strategically navigate the situation, at home and in the derm's office.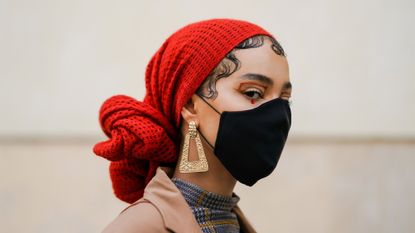 (Image credit: Edward Berthelot)
Marie Claire Newsletter
Celebrity news, beauty, fashion advice, and fascinating features, delivered straight to your inbox!
Thank you for signing up to Marie Claire. You will receive a verification email shortly.
There was a problem. Please refresh the page and try again.
My eyebrows have brought me great, unexpected joy over the past year. As my Botox wore off during lockdown, my arches came alive, bouncing into the most amazing shapes. On Zoom, I found I could leave myself on mute and let my brows do much of the talking—dimple the inner corners to say, "Tell me more," or make a thoughtful furrow to show my deep focus.
But the fun stopped once I went outside and wore a mask, whether to run errands or to meet friends for a socially distanced park date. Without the bottom half of my face adding nuance, my brows say all the wrong things. Above a mask, those sweet little dimples communicate alarm, not curiosity. My "I'm concentrating" face, when half hidden, looks angry. People keep asking me if I'm okay.
I'm not imagining things: According to a recent German study published in Frontiers in Psychology, masks cover between 60 and 70 percent of the parts of the face required for an accurate read of our expressions. When viewing masked, emoting faces, the study's test subjects had difficulty recognizing sadness, happiness, or anger with any precision. The one feeling that could still be read loud and clear, mask or no mask? Fear.
When humans interpret facial expressions, we unconsciously micromimic one another. In less than 400 milliseconds, I frown, just a bit, when I see you frown; I smile when you smile. These actions go on to trigger emotional feedback loops in both of us, sparking more sadness or more joy, for example. The response can, for better or worse, be manipulated by Botox. Multiple studies have found that the neurotoxin, when used to inhibit the facial muscles, has been associated with a clinically significant reduction in depression. And research published in the Journal of Cosmetic Dermatology last June posits that thoughtful use of Botox may minimize some of the garbled messaging and emotive miscommunication caused by masks. In other words, Botox may help play an effective role in diminishing "the contagious spread of a bad mood," as the study puts it.
"Smiling with your eyes is more important now than ever," says New York dermatologist Joshua Zeichner, noting that mask wearing has led him to have a lighter touch when injecting neurotoxins around the eyes. "When the lower part of the face is covered, the eyes are the only part that can signal a friendly smile. Relaxing those muscles would eliminate the only visible sign of a friendly facial expression." To erase frown lines or smooth the brow, Botox is the derm favorite: "Botox is king for transforming the upper half of the face," says New York dermatologist Macrene Alexiades, founder of Macrene Actives. "You can quickly get rid of deep lines using Botox artfully and correctly. But it also means that you have to maintain the proper arch of the brow, since the brow becomes so much more prominent."
To complement this new approach to Botox, top doctors are tapping int o an endless arsenal of solutions—lasers, radio frequency (RF) devices, carefully placed filler, even lash-growth serums like Latisse—to open up the eye area without reducing any essential emotional movement. "I call it the eyelash index," says New York–based plastic surgeon Lara Devgan of the uptick in the attention we're paying to the top half of our faces. Playing off of Leonard Lauder's famous theory called the lipstick index (that lipstick sales boom during times of economic insecurity), Devgan says, "The eyelash index is the new metric to follow—a small way to achieve beauty, femininity, and confidence during a destabilizing time. Beauty endures despite uncertainty, and increased attention is being paid to our eyes, eyelashes, and eyebrows." Sales of Devgan's blockbuster Platinum Long Lash, a peptide-based serum formulated to boost the length and density of lashes and brows, have increased by an incredible 783 percent in the past year, buoyed by impressive before-and-afters across Devgan's social channels. To help lift and open up the upper face, eliciting a less stressed, more rested look (because who doesn't want that?), Alexiades tightens the upper brow with targeted applications of RF devices like VoluDerm, Morpheus8, and Intracel, which deliver energy into the dermis through ultrafine microneedles. The treatments, she says, cost a fraction of the price of a face-lift but, if done regularly, can curtail the need for one. And to counteract the shadows masks can cast in certain light, emphasizing any dark circles, many patients are newly interested in under-eye fillers. But before she'll fill, Alexiades zaps discoloration with a few painless passes of a Vbeam laser, then tightens bags with RF microneedling. "I might do filler if you still need it. I never do filler to start," she says. "If you use filler on top of redness, it will turn an ugly color."
At the end of every Paris Fashion Week, U.S. editors, buyers, and supermodels would attend the last show of the season, then rush to CDG to catch the first flight back home. The in-air ritual was always the same (and, in 2019, was captured for posterity by Naomi Campbell on YouTube): sanitize the area with antibacterial wipes, purify hands with Jao sanitizer, clean the face with Bioderma micellar water, then follow with a lavish layer of Darphin Aromatic Purifying Balm (beloved for its ability to deeply hydrate without causing breakouts). Last but not least, some of the models would slip on a chic black face mask. The theory then—promoted by opera singers, K-pop stars, and HumidiFlyer, a brand selling filtered oxygen masks as personal humidifiers—was that covering your mouth, recycling more of your own breath versus taking in the Saharan-dry cabin air, would keep your vocal cords and nasal passages hydrated, which would make you more resistant to germs and even prevent jet lag. (I bought a HumidiFlyer because I had heard that Campbell wore one. It immediately steams up to create this cozy, warm ecosystem around your mouth that feels simultaneously gross and protective.)
Today, many of us know that all of that warm air, full of volatile compounds depending on what we eat or drink, can cause maskne. "The humid environment—the trapped breath and even the occasional sneeze—is likely changing the skin's microbiome under the mask and contributing to skin-barrier dysfunction," Zeichner says. Changing your diet to prioritize foods that balance your gut microbiome, like salmon and yogurt, can help, says Alexiades, who also recommends switching to a toothpaste (like Dr. Bronner's) that's free of sodium lauryl sulfate, as well as adding oil-pulling (an alternative-health technique that's essentially gargling with an edible oil) to your routine. "The coconut oil leaves behind a rich triglyceride film that protects from bad bacteria." A lightweight barrier-protecting cream, applied before putting on a mask, can help fortify skin and prevent rashes and irritation, while frequent spritzes of a gentle antimicrobial, probiotic face spray throughout the day can help keep aggressors at bay. "Anything that you can do to help strengthen the skin barrier will be protective against that harsh under-the-mask environment," Zeichner says.
As for me, while I won't be flying anytime soon (I miss you, Delta Air Lines), I now follow that supermodel preflight routine before I leave my apartment. And whether on Zoom or outside and masked up, I'm exuberantly, excessively overworking my smile lines.
Shoppable Skincare Support
This story appears in the Spring 2021 issue of Marie Claire.
Related Story
Celebrity news, beauty, fashion advice, and fascinating features, delivered straight to your inbox!