Why Hourglass Equilibrium Eye Balm Is Worth It
You can throw out your concealer.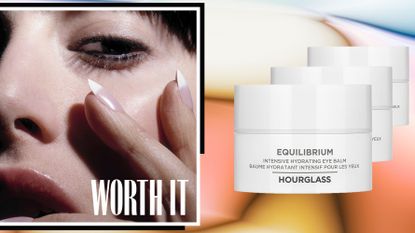 (Image credit: Design by Morgan McMullen)
Welcome back to Worth It, a bi-weekly breakdown of the new beauty products I've tested and adored: I'm talking that drain-it-to-the-bottom-and-tell-my-friends-I've-found-The-One kind of love. If it's featured here, consider this my permission to splurge on it. Read on for the product you don't want to live without, and catch up on the latest Worth It breakdown here (opens in new tab).
The Promise
Hourglass is known for creating makeup that is beloved by everyone on the hunt for natural-but-gorgeous skin. The brand's Ambient Lighting complexion collection (opens in new tab) has become a cult favorite for makeup artists, beauty gurus, and daily consumers alike. Luckily for all of us, Hourglass recently entered the skincare sphere. After all, what's the point in investing in top-notch makeup if we aren't also looking out for what's under it?
A standout in the new skin collection is the Intensive Hydrating Eye Balm (opens in new tab). At $95, this thick salve is supposed to do it all: hydrate the under-eyes, reduce puffiness, increase radiance, and treat fine lines and wrinkles. With skin-protecting lipids and moisturizing cocoa seed extract, this balm is said to immediately improve brightness and radiance under the eyes and, over time, reduce signs of aging by smoothing that delicate skin.
Why I'm Obsessed
Let me start by saying that I have a natural distrust of eye creams. With a few exceptions, I generally believe that eye creams are supplemental to any skincare routine, and any marketing campaign that labels them as "essential" are really not doing you any favors. Are eye creams nice to have? Sure. But would your under-eyes crumple into oblivion if you didn't invest in a pricey option? Probably not.
But lately, gently patting my daily moisturizer around my eyes in lieu of an eye cream hasn't been doing enough for me. Either it's the cold air outside or the ridiculously hot air coming from my over-eager radiator, but my skin has been dehydrated. For me, that comes in the form of peeling between my eyebrows and a tightness at the outer corners of my eyes. Add in my poor sleep schedule and an extra glass of wine at night and I've gotten used to my eyes looking swollen and dry, with dark circles that aren't going away after my morning cup of tea.
My tried-and-true eye creams weren't doing enough, so I figured it might be time to look into other options. I cracked open the little tub of the Hourglass balm, truly not expecting much. The texture is almost petroleum jelly-esque. Normally this would give me a mild panic attack—My mascara is going to smear off! What if it clogs my pores and I get under-eye pimples? Is that a thing?—but I figured one use couldn't cause too much damage. I patted it around my eyes and on any bit of dry skin, and went straight to bed. I figured I'd wake up to greasy under-eyes and smears on my silk eye mask, but that was not the case. Instead, I looked wide-awake, less puffy, and the skin around my eyes was smooth for the first time in a long time. It took me a few more days of nighttime testing to brave trying it out in the morning, convinced my eye makeup would melt on impact. But to my surprise, my products sat comfortably on top of it, and my mascara stayed on my lashes where it belongs. Suffice to say, as much as I love Hourglass concealer, when I'm using the Eye Balm, I really don't need anything else.
RELATED STORIES
Tatjana Freund is a Beauty Commerce Writer, covering makeup, skincare, and haircare products and trends. She's a fan of vodka tonics and creepy Wikipedia pages.