Genius Italian Import: Pocket Espresso to Go
Italian Pocket Espresso to Go Product Review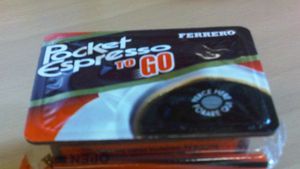 (Image credit: Pocket Espresso to Go)
There's no question that Italians know their coffee. But on a recent trip to Rome for the launch of Gucci's latest perfume (see Marie Claire's September issue for an interview with the brand's hot new frontwoman, Evan Rachel Wood), I was bowled over — and distracted, momentarily, from shoe shopping — by my discovery of a truly genius invention: Pocket Espresso to Go. An upgrade from Ferrero's existing confection, Pocket Coffee, Pocket Espresso is all sweet, drinkable espresso (no chocolate covering) and comes packed with the tiniest straw I've ever seen. Obsessed, I cleaned out the stock from the tiny Roman candy store. (The shopkeeper was thrilled, although not as ecstatic as my colleague Lea, seen below throwing one back.)
I soon learned that each tiny carton has roughly one-third the caffeine found in a shot of espresso and that it's fantastic when popped in a hotel minibar — making it the ideal pick-me-up on a sweltering afternoon.
That said, I stuffed my carry-on with them at Rome Fiumicino airport's duty-free on the way back to New York City. Good thing too — turns out they're not sold stateside yet (Pocket Coffee, on the other hand, is).
Know where to find them? Email me at mcbeauty@hearst.com!