Kick-Start Your Beauty Routine
Our editors will try anything once. Follow their lead and shake up your fitness regimen, manicure, hairstyle, or makeup.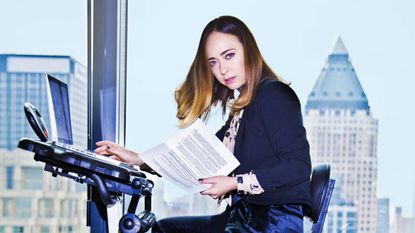 (Image credit: Eli Schmidt)
Marie Claire newsletter
Celebrity news, beauty, fashion advice, and fascinating features, delivered straight to your inbox!
Thank you for signing up to . You will receive a verification email shortly.
There was a problem. Please refresh the page and try again.
GOAL: Work Out More
ROAD TEST: I know that I'm supposed to work out on a regular basis, but thanks to my crazy schedule (tons of appointments, lunches, dinners, meetings, photo shoots, and business travel, oh my!), that whole exercise scenario ends up being more theoretical than actual. Enter the ultimate multitasking tool: the FitDesk, a compact "pedal desk" that harkens back to the goofy stationary bikes of ye olde days but is updated to accommodate a computer so you can cycle at the office. While the work-out-while-you-work concept isn't so foreign to me—I once replaced my desk chair with an exercise ball—the FitDesk takes some getting used to. For one, it's hard to maneuver around the thing. Also, my largish computer monitor won't balance on the desk platform, so I have to downgrade to a laptop. Once it's all set up, I aim to cycle five minutes per hour at a speed that won't get me too sweaty, but every time I get on the bike, I end up scrambling off to talk to someone, which is kind of a pain. It also makes me realize that my office days are already pretty active. My secret to productivity? Swiftly walking to coworkers' desks for in-person convos, which eliminates the need for time-wasting e-mail chains.
VERDICT: I might recommend a FitDesk if you work from home in a palatial space, but ultimately, I'm just going to have to prioritize Spin class. —Erin Flaherty
GOAL: Mani Up
ROAD TEST: A very glam executive once told me the trick to looking stylish at work is a kick-ass manicure. Her theory: Even if you slack off on hair and makeup, no one will notice because they'll be looking at your fingertips. This year, I plan to follow her advice. Taking my cue from stars like Rihanna who have made long nails ubiquitous, I decide to go all out. Manicurist Jessica Tong hooks me up with inch-long gel tips (Calgel, shade #CG18) finished with white moons. These nails mean business—but certainly not one that involves keyboards. At the office, it takes me twice as long to type an e-mail, and 10 minutes after I sit down, a coworker comes by to tell me he can hear me typing from his cubicle 25 feet away. By the end of the day, I have a long list of tasks made more difficult by my talons (opening packages, texting, turning pages) and a short list of things made easier (pointing).
VERDICT: Nail art may help you look fab on the job, but unless said job is holding a microphone, keep your tips short. —Jennifer Goldstein
GOAL: Pump Some Life Into My Hair
ROAD TEST: I never thought the bodacious beach-wave look would work on my fine, pin-straight strands, but in honor of the New Year, I decide to give it a try. And what better reason than a first date? So, a few hours before meeting a new guy, I ask Dominick Pucciarello, hairdresser for none other than the Victoria's Secret Angels, to help a sister out. With mousse, clip-in extensions, and a curling iron, he gives me va-va-voom waves—and a surprising confidence boost. When I first meet my date, his body language says it all. He gives me "the eyes" as soon as I walk in, and I can tell he likes my hair. I don't know if it's because I'm walking a bit taller (literally and figuratively) or because of the what-has-she-been-up-to waves, but the evening goes really well. At one point, my fingers get caught in my hair and I worry I'll lose an extension, but the look holds. And you better believe he asks for a second date.
VERDICT: I may not try extensions again, but the self-esteem boost I got from big hair is worth heating up a curling iron for. —Joy Hernon
GOAL: Try an Edgy Makeup Look
ROAD TEST: Off-duty I tend to stick to a pretty simple routine that can most easily be summed up as no-makeup makeup. This year, however, I am committed to experimenting more. Since bold lips were everywhere on the spring runways (Prabal Gurung, Marchesa), I take a deep breath and hit the town wearing teal lipstick. (Companies actually make and sell blue and green shades, so it can't be that crazy, right?) When I arrive at a bar in Greenwich Village, I'm not sure what to expect. Will the bouncer let me in? Will my friends think I look like an extra from a Lady Gaga video and avoid me? There are a few sideways glances, but to my surprise, the wild color turns out to be a great conversation starter. And it certainly sparks some creative pickup lines. One cute guy comes up and says, "Why so blue?" then buys me a drink. Bonus!
VERDICT: This experiment gave me the confidence I needed to have a little more fun with makeup. Next up, a smoky eye. Maybe I'll even make it blue. —Claire Fontanetta