Ouch: The History of Piercing
In one ear and out the other.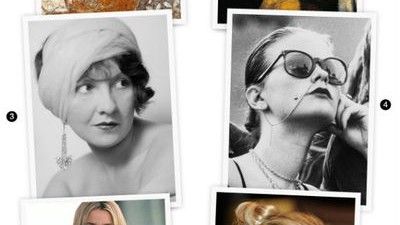 (Image credit: Marie Claire)
Marie Claire Newsletter
Celebrity news, beauty, fashion advice, and fascinating features, delivered straight to your inbox!
Thank you for signing up to Marie Claire. You will receive a verification email shortly.
There was a problem. Please refresh the page and try again.
1. The Ancient Piercing, B.C.
Ranging from the lip and tongue in ancient African cultures, the nose and ears in Israel, and the nipples in Rome (ouch), the history of putting sharp objects through the body is dated back almost to 5,000 years ago. Piercings in ancient times could have signified multiple things such as marks of prostitution, the wealth of the husband (gold means ballin', silver means squalin'), and also so demons couldn't enter your brain (yeah, it was a thing).
2. The Pearl Earring Piercing, 1500s - 1800s.
Hairstyles that exposed the ears became popular, which gave way to the adornment of the ears. Pictured above is Johannes Vermeer's famous painting "The Girl" circa 1655, sporting a popular drop-earring style at the time. Look familiar? The painting was the inspiration for the movie "Girl with a Pearl Earring" starring ScarJo.
3. The Roaring '20s 'Piercing', 1920s.
We are putting quotation marks around "piercing" because they fell out of fashion around the 1920s. See those stunning chandelier earrings pictured above? Don't be fooled — those are clip-ons.
4. The Punk Piercing, 1970s - 1980s
After a long hiatus, piercings began to experience a cultural resurgence when hippies returning from India brought the tradition back to the States. Nose piercings, like the septum, became popular with the rise of the punk scene throughout '70s and '80s as a sign of rebellion.
5. The Spring Break Piercing, Mid 1990s - Early 2000s - Colleges Everywhere.
The craze started when Christy Turlington stepped onto the runway with a belly button piercing in 1993. Naomi Campbell amped up the trend adding a chain belt which linked to her navel ring. Then there was Britney (the superstar is becoming a regular in our historical beauty roundups — she secured a mention for her infamous back tat, see here). The singer spurred a whole revolution — and girls with crop halter tops (remember those?) starting sporting dangly gems everywhere. Check out this golden interview in 2000 of Brit showing her belly bling off on TRL.
6. The It-Girl Piercing, 2013.
Whether we are talking about tattoos or piercings, the chic and tiny trend is hot right now with semi-permanent and permanent body adornments alike. Ranging from mini golden hoops lining the upper ear or itty bitty chains on the anti-tragus, "It Girl" piercings are found on celebs like Rihanna and Miley (pictured above), to models like Catherine McNeil and Daria Werbowy.
Related:
5 Iconic Bobs That Have Made History
Celebrity news, beauty, fashion advice, and fascinating features, delivered straight to your inbox!