How to Nail Graphic Eyeliner, According to Makeup Artists
Anyone can do it, we promise.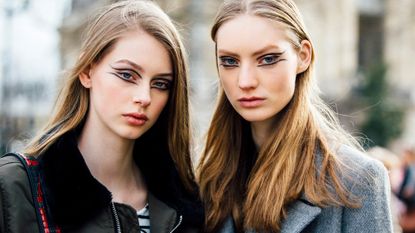 (Image credit: Getty Images)
If you're a constant-scroller on TikTok (guilty as charged!) or a peruser of Fashion Week coverage, you may have noticed no one is wearing "normal" eyeliner anymore. In the last year or so, it seems influencers, editors, and models have turned to artistic, abstract shapes for their eye makeup looks and we are here for it. Graphic eyeliner isn't a new trend per se (winged eyeliner has been around for hundreds of years!), but we've definitely noticed how makeup artists have been pushing the boundaries with their shapes as of late. Just turn to the bold linear makeup at Rodarte's Fall/Winter 2023 show or Taylor Swift's crystal liner at the VMAs for recent examples.
The popular liner look is all about complementing your natural eye shape and, of course, letting your creativity shine. Pro makeup artist Andrea Samuels says as much, too. "Graphic liner is all about the endless possibilities of not only enhancing but re-shaping and decorating your eyes," she tells Marie Claire. "There are limitless possibilities of the color, shape, simplicity, drama, and style you can choose for your graphic liner which is what makes it so fun."
If the "limitless possibilities" of graphic liner sounds daunting, you've come to the right place. We've turned to Samuels and fellow makeup artist Lennie Billy (both of whom have Instagram feeds chock-full of colorful inspo) for the lowdown on nailing the look. From must-have products to a step-by-step guide, consider this your crash course on how to master graphic eyeliner.
Best Eyeliners for Graphic Eyeliner
First things first: You've got to have the right products in order to nail a graphic liner look. But between pencil liners, liquid formulas, and gels, how do you decide which one is right for you? Billy says it all boils down to the product you know how to work with. "Whether it's a pen or a brush with a liquid product, it must be the one you feel comfortable," she explains. For Billy, that means liquid eyeliners, pomades, or water-activated formulas since they are easy to use and easy to correct any mistakes.
That being said, you may find greater success if you opt for gel or liquid formulas as these are best at making sharp, precise lines. Plenty of liquid eyeliners come with precision felt tips, which Samuels explains are "similar to markers so you can sketch and draw the exact line you want and it's also very easy to clean up." Ahead, we've rounded up Billy and Samuels' favorite eyeliners as well as a few editor-approved picks for you to get started on your own graphic eyeliner journey.
How to Apply Graphic Eyeliner
Now that you've got the right eyeliner in hand, it's time to get to work. Follow these pro steps from Billy and Samuels to achieve the graphic eyeliner look of your dreams. We promise it's not as hard as you may think.
Before you start drawing, choose the color(s) you want to create with. Maybe you want to make your brown eyes pop with a purple shade, or you can take after Samuels who chooses colors that complement her jewelry, skin tone, or outfit. Whatever shades you choose, just know that there's no wrong option when it comes to graphic eyeliner.
Start by cleaning your eyes so you can work with a blank canvas. Use a baby wipe, makeup wipe, or soap with water, then towel dry. Apply your favorite eyeshadow primer, if you prefer, and let set.
Here's when the fun begins! Whether you're attempting floating lines or a fishtail look, you'll want to look straight in the mirror without pulling your eyebrows up or down and start drawing your shape little by little, working your way from the outer corner towards the inner corner. Use short strokes to complete your shape, and if your hand is shaky, rest your elbow on a table or other stable surface.
When your shape is complete, use a setting powder with a light brush and a setting spray to keep your graphic liner all in place.
More Tips and Tricks for Graphic Eyeliner
Start simple: If you're an eyeliner novice, Billy recommends mastering a very thin, short line first, before slowly moving on to thicker and longer lines once you feel comfortable.
Clean up mistakes: Makeup is supposed to be fun, so don't be afraid to make mistakes! Fixing a mishap is as easy as using a cotton swab and a little bit of micellar water to wipe it away.
Have fun: Lastly, but most importantly, have fun and get creative with your graphic look. "Makeup has no rules so you can bend and shape it however you like," assures Samuels. "Graphic liner is one of the fun ways you can go as simple or as bold as you want."
Inspiration
Curved Winged Eyeliner
Neon-Bright Winged Eyeliner
Geometric Eyeliner
Floating Eyeliner
Halo Winged Eyeliner
"Underliner"
Meet the Experts
Art is the paramount influence in Andrea C. Samuels' life and work. She began her creative career drawing and sketching people at the age of two, eventually enrolling in art college courses in The School of The Art Institute at age nine. At the age of eighteen in 2002, a pivotal moment occurred: Andrea's passion for art merged into makeup when experimenting with senior prom beauty looks. In 2009, Andrea Samuels graduated from Make Up First LLC and obtained her IL State Certification for Makeup Artistry. Between 2013 through today, Andrea has assisted some of the industry's top makeup artists such as Ashunta Sheriff, DeShawn Hatcher, AJ Crimson, Gucci Westman, Saisha Beecham and Sir John. Andrea is the first makeup finalist for the Fall 2015 "VFiles Made Fashion" Show at New York Fashion Week and was the Key Artist for four runway designers sponsored by V Magazine. In 2020, Andrea ventured into hairstyling to add to her arsenal of skills and completed her Cosmetology License at Paul Mitchell The School in Sherman Oaks, CA. Andrea's work can be found with clients such as Nike, Versace, Nickelodeon, Target and the King of the Westcoast: Snoop Dogg. Andrea is currently represented by Cloutier Remix and based in Los Angeles, CA.
As a professional Make-up Artist, Lennie, has discovered a true passion for her career. Her work has been featured in magazines such as Vogue US, L'Officiel Lituania, ESPN Magazine, TIME Magazine, just to name a few.

As the versatile artist that she is, her work experience goes from Editorial, Commercial, as well as TV and Celebrities, some of these are Naomi Osaka, Ashlyn Harris and Ali Krieger, Puma, Old Navy, and Perry Ellis.
Lennie believes in the Art of Makeup; being creative and open to new challenges have been her qualities to become a successful Makeup Artist.
Brooke Knappenberger is the Editorial Fellow at Marie Claire, where she writes across the board from fashion and beauty to books and celebrities. As a pop culture junkie, Brooke obsessively consumes and writes about the latest movie releases, streaming TV shows, and celebrity scandals. She has over three years of experience writing on fashion, beauty, and entertainment and her work has appeared on Looper, NickiSwift, The Sun US, and Vox Magazine of Columbia, Missouri. Brooke obtained her Bachelor's Degree in Journalism from the University of Missouri's School of Journalism with an emphasis on Magazine Editing and has a minor in Textile and Apparel Management.