Beauty Around the Clock: Brianne Howey
The 'Ginny & Georgia' star explains her love for facials, Otis Redding, and what motivates her to get out of the bed.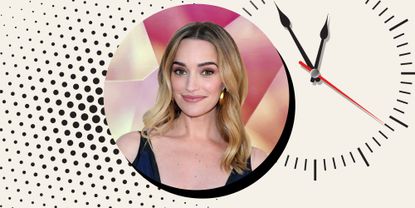 (Image credit: Future)
Marie Claire Newsletter
Celebrity news, beauty, fashion advice, and fascinating features, delivered straight to your inbox!
Thank you for signing up to Marie Claire. You will receive a verification email shortly.
There was a problem. Please refresh the page and try again.
Welcome to Beauty Around the Clock, Marie Claire's weekly peek into the daily lives of some of the most game-changing women in their industries. Ever wonder how they get it all done in a day? Here's your answer.
If Brianne Howey weren't an actress, her career might involve caring for little ones. "I have so many younger siblings"—Howey is the oldest of five—"so maybe I would do something in education with kids," she tells Marie Claire. "But older kids. Ginny & Georgia has changed my mind about teenagers."
Howey is referring to the hit comedy-drama on Netflix, where she plays Georgia, a 30-something single mother to her opinionated teenage daughter, played by Antonia Gentry. Season two, which premiered last month, touched on hot topics like mental health and body image. "I think sleep is one of the most important things we can do for ourselves," Howey says. "I've been on a journey with it, but it's the best thing we can do for ourselves mentally, emotionally, and physically." As for self-care, she's got that under control, too. She firmly believes in regular facials, good-for-you foods, and drinking coffee—but only after a glass or two of water.
From gua sha stones to bath oils and hydration tablets, here are her favorite beauty products and rituals the Los Angeles native can't get enough of.
Rise & Shine
What motivates me to get out of bed is definitely my guilty pleasure: creamer in my coffee. But I went on a trip with Jennifer Robertson, who plays Ellen on our show, and she saw that I was drinking coffee first thing in the morning, and she was so mad at me and said, I need to drink water before I drink coffee. So, ever since then, I drink an Emergen-C Vitamin C in the morning, and then I do these Nuun hydration tablets. Then I let myself indulge in my coffee and creamer.
Morning Maintenance
First, I wash my face. I've been rotating between two face washes: Eminence Organic stone crop gel wash and the probiotic face wash. Then I use the probiotic moisturizer also from Eminence Organic. It's just super matte and helps with combination or oily skin. Then I use my gua sha stone. It feels good, and it helps with fine lines.
Fitness Fix
Look, I try to get fitness in where I can. It's definitely not an everyday thing for me. I'll try to make it to Pilates, or yoga class. I love the stretching and the toning. I'll pick that over cardio any day. The days that I can't make it to a class, I just try to get some kind of movement in, and my favorite thing to do is walking to run my errands. I feel like I've checked two things off my list at once—I've moved my body and I've run some errands. And sometimes I just walk my dog to get the blood going and breathe in some new oxygen.
Power Start
I love scrambled eggs with delicious toast from the farmers market—it also motivates me to get out of bed. I'll also grab some fruit, whether it's some berries or even just peanut butter on toast. That'll do it for me, too.
Signature Look
I try to keep my makeup simple, clean, and classic. I don't spend too much time on it, but I'll always go for my bareMinerals powder. I've been using a lot of the NARS eyeshadow palettes, too. They just roll on so easy. I also love Rihanna's Fenty liquid eyeliner. I just do a simple black line. That's always my go-to. Then I swipe on either Chantecaille or Clé de Peau Beauté mascara, alternating between those two. And then, I'll apply Charlotte Tilbury's blush. Finally, I love using YSL under eye concealer. It's just super whitening. It works wonders.
Self-Care Ritual
For me, self-care definitely starts from the inside out. I don't always have time, as I think most people don't, to go sit and get a ton of treatments done, especially if it's last minute and you're not feeling great. You don't have time to make appointments and go sit somewhere for a few hours. So, I try to fit in self-care at home, when I can, whether it's right before bed or on the weekends. And I love using the 24 karat eye patches. They make me feel completely revitalized. And I just got this Olive and June nail kit because sometimes I can't make a nail appointment. I am by no means good at doing my nails, but it looks like I've gotten gels done and I've done it myself.
I also try to see my facialists at least every other month—every month if I'm super lucky. Because I think it's the most natural way to try to keep skin healthy and maintained. I go to Ava Shambam in Santa Monica.
As for massages, I generally get them at a hotel when I'm out of town. There are some local ones nearby that I'll pop into every now and then, but I probably get facials more consistently than I get massages. But I do take a lot of baths and use the OSEA bath oil. It's a dream and then following it up with their body oil.
Signature Scent
Lately, I have been using a lot of Aesop. They just came out with a new, more floral scent called Rōzu Eau de Parfum. I love it.
Daily Playlist
I am listening to a lot of Leon Bridges, Etta James, and Otis Redding. I like music that's good for the soul. It's also been cold lately. It feels like cozy music.
Beauty Icon
Every time I see Halle Berry, I'm blown away. I also feel like Charlize Theron definitely does it for me, too. She always has. I look up to her in more ways than one. And Eva Mendes, I just think she is so naturally stunning. She's got it all.
P.M. Routine
One of the first things I do, honestly, is Theragun. And maybe that's why I'm not doing as many massages. I am constantly Theragunning. I use my Theragun all the time, mainly on my hips, my back, and my thighs. Just for all of those tight areas that we carry all of our stress in, especially my shoulders. It feels so good. I think it helps me unwind. I also enjoy making dinner. We go to the farmers market on Sundays, and I'll probably cook two or three times a week.
I wash my face the same way I do in the morning, except I'll add a few things. I really love using the SkinCeuticals' sheet mask. I see immediate results when I use it. Also, Organic Pharmacy serums are great. I love using their hyaluronic and retinol ones, but I use the same two face washes.
I also love my La Mer eye cream, and then if I need something else. I'll also add on a little bit of La Mer night cream.
Lights Out
I've been reading a lot before bed, especially with the anticipation of the show coming out. I feel like watching TV makes me a little bit more anxious. So, I've been reading a lot and reading this really good book called The New Wilderness that takes place in the future and it's about raising your kids in a post-apocalyptic global warming world, but about motherhood and what you do for, how you sacrifice. It's a really beautiful book. OSEA also has a really good nighttime bed spray and Olive and June has a nighttime cuticle pen that I use too. And I just feel like all of these things combined, like sensory, mentally, and emotional—I tell myself, this is how we're winding down and it's time to let go and move on.
Celebrity news, beauty, fashion advice, and fascinating features, delivered straight to your inbox!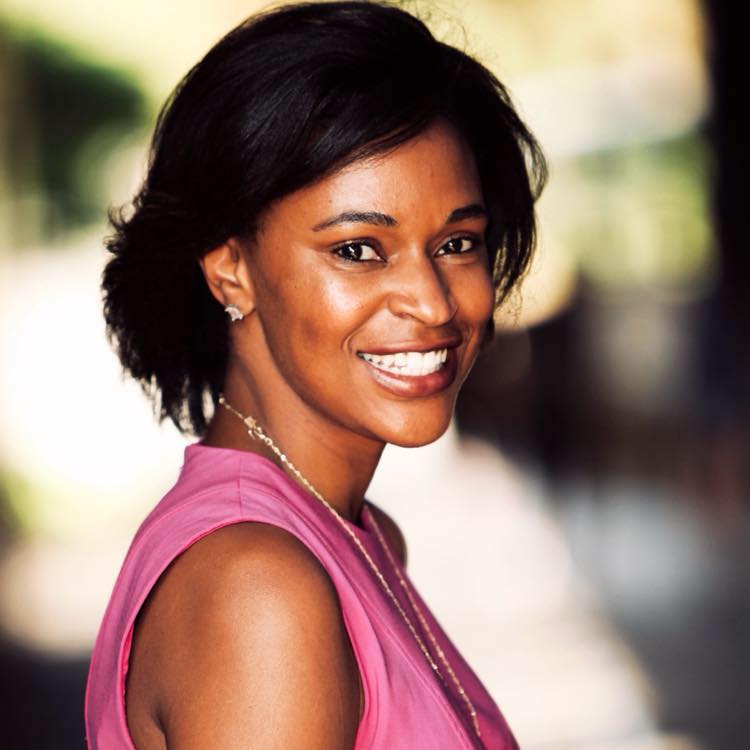 Deena Campbell is the Beauty Director of Marie Claire where she oversees beauty and health content on all platforms. Deena joined Marie Claire after a decade-long career as an editor in print and digital media. Before joining the brand, she managed editorial content for L'Oréal owned Makeup.com and Skincare.com. In 2015, she launched Essence.com's hair channel where she received Time Inc.'s Henry R. Luce Award, shortly before joining Allure.com's staff as Senior Beauty Editor. Along with her editorial positions, she also consulted on content and marketing strategies for beauty companies including DevaCurl and Dove, and has appeared at various speaking events and live television segments.