Everything You Ever Wondered About Filler Dissolution
Celebs are suddenly—and openly—getting their facial fillers dissolved. Other patients wonder if they should, too.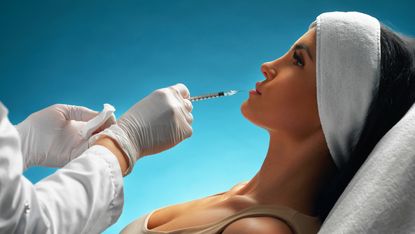 (Image credit: Getty Images)
Marie Claire Newsletter
Celebrity news, beauty, fashion advice, and fascinating features, delivered straight to your inbox!
Thank you for signing up to Marie Claire. You will receive a verification email shortly.
There was a problem. Please refresh the page and try again.
Beauty trends are cyclical, and after witnessing a wave of celebrities openly embrace fillers—a refreshing change from the long-standing notion that it's simply water and olive oil—we are witnessing a shift. Celebrities are now sharing their stories of getting their fillers dissolved. Notably, Blac Chyna and Kristin Davis have recently spoken about their experiences with filler dissolution. Joining them are other well-known figures such as Courtney Cox, Amy Schumer, Khloe Kardashian, Simon Cowell, Cardi B, and Molly-Mae Hague.
I even think about my own appearance. I've always been deeply insecure of my side profile. So much so that I try to walk in front of my friends on the streets and always turn my body sideways in the car if I'm passenger princess. My weight fluctuates often, but no matter my size, I've always had a bit of a double chin, and am constantly googling "jaw filler double chin" or "is kybella effective?"
As a beauty editor, I'm offered cosmetic procedures like Botox and fillers on a silver platter. Some may view it as a perk of the job, but personally, I've been too afraid to venture down that path. What if I end up hating my appearance? Or worse, what if I love the results only for others to say I look botched behind my back? There are days when I am unwavering in my self-confidence, saying things like, "I love looking like my ancestors" or "Everyone is beautiful—the industry is sinking its teeth into our insecurities!" But then there are the days when I indulge in fantasies about having a side profile that could cut glass or apparent cheekbones.
People are quick to assure me, saying, "You can easily get it dissolved!" when I express my concerns about fillers. But I often wonder about the process itself. How does it actually work? I imagine it's like popping a balloon with a needle—the filler vanishing into thin air.
To gain a deeper understanding of filler dissolution, I reached out to top doctors for their insights into the intricacies of the process.
What Is Filler Dissolution?
"Fillers are dissolved using a product called hyaluronidase, which is an enzyme specifically designed to break down hyaluronic acid," explains celebrity cosmetic dermatologist Dr. Paul Jarrod Frank. In 2021 The US Food and Drug Administration approved the subcutaneous injection formula of hyaluronidase. Two brand names available in the market are Vitrase and Hylenex, both serving the same purpose. The choice between them is mostly a matter of preference for providers. However, it's important to note that hyaluronidase only dissolves hyaluronic acid-based fillers. Other types of fillers, such as Radiesse, Sculptra, silicone, or semi-permanent and permanent fillers like fat, cannot be readily dissolved. For this reason, Dr. Frank advises individuals new to fillers to opt for reversible options, particularly in areas of the face that may require adjustments, such as under the eyes, the lips, and around the mouth.
Hyaluronidase is an enzyme that resembles water in consistency. Studies show that it works to break down hyaluronic acid, and helps to increase the absorption of drugs into tissue and reduce tissue damage in certain cases. Its concentration is typically adjusted based on units, depending on the desired effect of dissolving the filler. Just as there is an art to placing filler, there is also an art to melting it down — in order for hyaluronidase to properly dissolve a hyaluronic acid filler, it must engage with its binding sites within the hyaluronic acid. In emergency situations involving complications, high doses of hyaluronidase may be administered at frequent intervals until the issue is resolved. Studies show that allergic reactions are a common side effect of hyaluronidase, so it's best to do a skin test before use.
What Are Reasons for Filler Dissolution?
Dr. Lyle Leipziger, Chief of Plastic Surgery at North Shore University Hospital and LIJ Medical Center, highlights that the most common reason for filler dissolution is the prominence of filler fatigue. This occurs when fillers are consistently used over time, resulting in a distorted appearance. Individuals who receive fillers may not always be aware of the changes that lead to an unnatural or overdone look. Dr. Leipziger explains, "Sometimes you can't see the forest through the trees, and often a family member or friend will point out the unnatural appearance." In cases of filler fatigue, he recommends a gradual filler dissolution process spanning a couple of weeks. This allows the skin and soft tissue to retract with each dissolution, minimizing sagging of the skin and tissues. "If all of the filler were to be dissolved too rapidly, it could lead to substantial volume loss, potentially causing jowling, sagging of the jawline, and deepening of the nasolabial folds. There are instances when filler should be promptly dissolved, such as when improper filler placement is identified, in cases of filler migration, and in the rare occurrence of vascular occlusion with tissue compromise," he continues.
When Is Filler Dissolution Necessary?
There are other situations where filler dissolution may be necessary. These include filler placement in the wrong area, filler migration, or the rare occurrence of vascular occlusion (blockage of a blood vessel by the filler, which in turn obstructs blood flow to the skin, leading to tissue death known as Necrosis) caused by filler injection.
To avoid the need for dissolution, selecting an experienced injector with a solid understanding of facial anatomy is crucial. With the rising popularity of fillers, there is a growing number of providers outside specialized fields offering injectables without proper expertise. In 2022 the American Society of Plastic Surgeons reported that 13,281,235 minimally invasive cosmetic procedures were done in the United States in 2020.
Dr. Ariel Ostad, a cosmetic surgeon with over 25 years of experience in administering Botox and fillers, emphasizes the importance of an injector's knowledge of both male and female facial anatomy and features. He notes that, "Each patient is different, which is why a consultation is highly recommended by an experienced doctor."
How Much Is Filler Dissolution?
The cost varies significantly depending on the city, professional, amount of hyaluronidase needed, and the number of areas that need to be dissolved. However, it generally ranges from $150 to $1500.
How Long Does It Take to Notice Results?
When individuals experience poor aesthetic outcomes such as filler fatigue or overdone filler, it is important to approach the process of filler dissolution gradually. Dr. Frank advises, "Results can occur immediately, but it typically takes a few days for them to fully settle. If someone requires refilling or additional melting, I usually space out the treatments by approximately five days." This allows for a controlled and precise approach to achieve the desired outcome.
There is not much preparation needed to dissolve filler. The treatment area of the face is cleansed with an antibacterial solution, which is followed by the application of anesthetic cream. "Similar to all of my injectable patients, I ask that patients avoid over-the-counter products that may cause bleeding, such as aspirin or Motrin," says Dr. Leipziger.
What Are the Side Effects?
For most, the discomfort of hyaluronidase is minimal—it is normal to experience bruising and swelling after the melting procedure, just like you would with injections. "The aftercare is similar to getting filler—typically involving the use of ice and allowing time for the effects to settle. I usually recommend spacing out retreatment and evaluation by a few days," says Dr. Frank.
However, in some cases, patients may notice facial sagging. Dr. Leipziger explains, "In such situations, I typically dissolve overfilled areas gradually over time to minimize the effects of tissue sagging." The approach taken depends on the extent of tissue sagging. For mild sagging, options such as radiofrequency, microneedling, and ultrasound therapy may be used to tighten the affected areas minimally. If additional volume is needed, facial fat grafting or carefully placed fillers can be considered. In cases of significant sagging, where noticeable and pronounced drooping or loosening of the skin is present, facelifts remain the gold standard for tightening the neck, jawline, midface, and cheeks.
"We can prevent dramatic deflation or sagging that may occur by doing it slowly and not using high doses unless necessary. The longer the filler has been in place, stretching the tissue, the more time must be given for the elasticity of the skin to rebound," says Dr. Frank. He emphasizes that most of the adverse reactions related to hyaluronic acid fillers are usually technique or filler dependent. "It's about choosing the right filler for the right patient, using the right technique, and making sure you're not being too aggressive in the amounts or in the technique of injection. That's the best way to prevent the need for filler dissolution," he advises.
There is no need to wait months to get fillers dissolved. You can undergo the procedure right after an injection. "I typically recommend waiting about a week, but it can be done at any time," says Dr. Frank. However, if you find yourself yearning for fillers again after dissolution, Dr. Ostad advises waiting approximately two weeks before getting your filler injected once more. This waiting period allows for proper evaluation and ensures a suitable time frame between treatments. Optimal results are seen between two hours to two weeks.
Remember that the best way to avoid the need for filler removal is to go to a board-certified cosmetic surgeon you trust. Dedicate time to familiarize yourself with their work and ask questions—there's no such thing as a dumb question, especially when it involves your own face!
Meet the Experts
Born and raised in Manhattan, and with offices in New York City, the Hamptons, and Miami, Dr. Paul Jarrod Frank has become one of the most renowned cosmetic dermatologists in the world. Dr. Frank received his medical degree from New York Medical College. He was trained in Internal Medicine at New York's Columbia-Presbyterian Medical Center and completed his Dermatology residency at NYU Langone Medical Center before going into private practice in 2000. He soon became known as a sculpting and technology guru with particular expertise in the use of various injectables, lasers, and other high-performance devices for cosmetic rejuvenation on both the face and body. His first book, Turn Back the Clock without Losing Time: A Complete Guide to Quick and Easy Cosmetic Rejuvenation, was published by Random House in 2002. In 2020, Dr. Frank released his second book, The Pro-Aging Playbook: Embracing a Lifestyle of Beauty and Wellness Inside and Out as well as The Pro-Aging Podcast featuring renowned guests from the health, wellness, and beauty space. He is regularly featured as a skin expert in all forms of local and international media in addition to national television and fashion and beauty publications.
Lyle S. Leipziger, M.D., FACS, is Board certified by the American Board of Plastic Surgery and a Fellow of the American College of Surgeons. His surgical expertise is in cosmetic surgery of the face and eyes; cosmetic and reconstructive surgery of the breast; liposuction and body contouring; and non-surgical facial rejuvenation.
With over 25 years of experience, he possesses exceptional surgical skill, precision, and artistry across the entire field of cosmetic and reconstructive plastic surgical procedures, most notably face, breast, and body. Within this spectrum, he also offers patients other non-surgical options, including facial rejuvenation which reduces signs of aging and improves overall appearance.
Dr. Ariel Ostad is triple board certified in Dermatology, Mohs Micrographic Skin Cancer Surgery, and Facial Cosmetic Surgery and Associate Clinical Professor at NYU, who teaches residents how to perform flawless surgeries.
He is widely known as being among the leaders in Mohs micrographic surgery. His advanced skills and techniques have led to many honors, including being listed as Top Doctor by Castle Connolly and RealSelf, and as a New York Super Doctor. A three-time recipient of NYU Surgical Attending of the Year, he serves as a Clinical Associate Professor at the NYU Department of Dermatology.
Celebrity news, beauty, fashion advice, and fascinating features, delivered straight to your inbox!