The Biggest Fall 2023 Hair Trends, According to Hairstylists
Copper hues and bow embellishments top the list.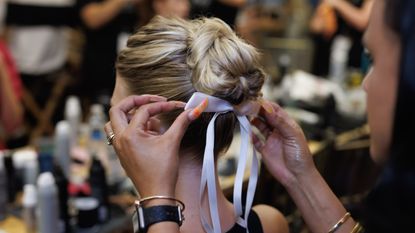 (Image credit: Getty Images)
Marie Claire Newsletter
Celebrity news, beauty, fashion advice, and fascinating features, delivered straight to your inbox!
Thank you for signing up to Marie Claire. You will receive a verification email shortly.
There was a problem. Please refresh the page and try again.
The transition from Summer to Fall equates to a fresh start in the hair world. For some, that might mean taking out braids and embracing natural texture; for others, it's the most opportune time to get a big chop complete with a multitude of layers—maybe even some bangs. "During the summer, hair tends to become dry due to exposure to beachy environments and hot weather. As a result, many people want to start fresh and restore the health of their hair," notes celebrity hair colorist Abby Haliti. "It's like going to school on the first day, bringing their hair back to a healthy state." That being said, the best Fall 2023 hair trends run the gamut.
A trim might do the job, but if you're looking for a cut or color with the ability to transform your aesthetic, we've got you covered. We're seeing haircuts getting shorter and shorter (both pixies and bobs are having a moment), '90s-inspired baby bangs and shaggy fringe are entering the scene, and new hues, particularly muter copper tones, are increasingly popular. If you're in need of a little inspiration before your next salon appointment, read ahead. Top stylists are breaking down the biggest Fall 2023 hair color and cut trends.
Cowboy Copper Color
If you've scrolled through TikTok or taken a look at some of your favorite celebrities (read: Gigi Hadid, Megan Thee Stallion, or Camila Morrone), you're likely familiar with the industry's new take on auburn. "Copper has been all the rage since last fall, but this year we're doing it a bit differently," says expert hair colorist and founder of Nous Haircare Tylor Johnson. "Last year, the trend was bright and vibrant; this year, you'll still see a toned-down version that pulls more brown, auburn copper."
The difference with this particular hue is that it's a blend of cinnamon and copper blended together, notes hair stylist Frederic Fekkai. "The key is to create a good sense of light and brownish red," he explains.
The Shaggy Bob
If there's one haircut we had to declare the Fall 2023 chop, it's the bob. Everyone from Emma Stone to Kim Kardashian and Ciara have opted to cut off inches. That in mind, there are a few different bob styles entering the chat. Blunt, power bobs are the obvious choice, but if you're looking for some shape that's a little more full of life, opt for a shaggy bob.
"It's a bit more daring," says Fekkai. "It could be chin length at its shortest or can go all the way to the nape of the neck, but should be little bit layered, swept to the side, and slightly layered with great movement." This type of cut is incredibly easy to style–it lends itself well to an air dry, works with a bit of a curled bend, or can be worn straight.
Itty-Bitty Bangs
Whether you went for a long, layered look, pixie cut, or a shaggy bob, you might want to consider adding micro bangs into the mix to add some extra action into your Fall style. Wolf-style, shaggy fringe has been on the scene for a bit, but the blunter appeal of baby bangs is undeniably gaining steam. "This is a short fringe that sits above the eyebrows," says Haliti. "They are cut straight across the forehead, creating a bold and statement-making look. Micro bangs can add a touch of edginess and uniqueness to any style."
French Girl Aesthetic
There's an effortless, easygoing aura that we associate with French beauty—it's un-pushed and unfussy. Cut to: the "French Girl" lob. "It's all the rage right now and throughout the fall. This isn't just your typical long bob—we are seeing lots of short hair looks that fall above the collarbone area," says Johnson. Rather than length being the hallmark of this cut, the tell-tale sign is in the layers. "The long hair should be slightly feathered, slightly layered, and not too flat, similar to the famous look of late actress Jane Birkin," adds Fekkai.
Warmed-Up Balayage
Save "cowboy copper," no one hue is necessarily in vogue. What we are seeing: A pivot toward rich, warm hues across blondes. "Fall typically brings more experimental color requests to match the coziness and coolness of the season," says hairstylist and founder of The Basic Principle Jasmine Burnside. "Color placements still reflect a natural, effortless feel."
Your colorist will have the best idea of what seasonally-appropriate shade to take you, but Haliti says it can't hurt to bring along some inspiration photos. "It's always helpful to mention that you would like to achieve more movement in the hair," she explains. "Additionally, if you're interested in beautiful balayage highlights, requesting painted pieces on the surface will add dimension to your hair color."
Embellished Updos
If there's a hair-centric takeaway from the New York Fashion Week beauty looks, it's that hair accessories are having a moment. We saw bows and Christian Siriano, pearl embellishments at Alice and Olivia, headbands at Tibi, fabric accents at 3.1 Philip Lim—the list goes on.
"We are going to see a lot of chignons and ponytails with great accessories around the rubber bands, such as rubber bands with a beautiful leather strip with stitches, similar to a Hermès type of leather," says Fekkai. "Also, we will see some great, big hair pins with rhinestone designs." Using hair accessories works well across hair types—they can disguise grease on thin, fine hair and help tame thicker textures.
The Reimagined Pixie
It's the season for shorter hair—and the rise of the pixie cut is further proof. While you can't go wrong with a standard pixie cut, Fekkai suspects we'll be seeing the short cut styled with a bit of a twist. "It's a little longer than a classic pixie and will give a sense of a modern, young woman," he says. "This look can be casual during the day and can be really beautiful parted to the side with a glossy look. The revised pixie is great for straight and fine hair or wavy hair, making the hair a little more weight."
Chocolate Brown Tones
Look to Hailey Bieber, Lily James, and Zoe Saldana as your inspo—you can't go wrong with a deep, chocolate brown hue. There are a few subtle variations to choose from, so make sure to consult your stylist. Haliti explains your really looking at three, distinct tones: Chocolate brown, which provides a "luxurious and sophisticated look;" chestnut brown, "which complements various skin tones and offers a warm, natural look; and smoky ash, which is ideal if you prefer cooler tones.
Meet the Experts
Abby Haliti is a prominent hair colorist in New York City renowned for her exceptional skills and reputation in the beauty industry.She has been recognized by leading publications such as Vogue, The New York Times, and InStyle, as well as international press.Known for her warm personality and mindful approach to hair coloring,Abby was named the best Balayage Expert by Allure magazine's Directory of Beauty.Born in South-Eastern Europe and possessing a diverse education, Abby rapidly gained recognition for her unique take on the European hair coloring technique of Balayage.Her expertise in this area has made her a highly sought-after colorist in New York City and globally.She is also a leader in the color industry, serving as a color director and sharing her knowledge by mentoring freelancers globally. Abby Haliti is a hair colorist committed to enhancing hair health and promoting sustainable beauty practices.Her approachable personality and "Less is More" philosophy, utilizing organic techniques and treatments, have gained her a devoted following.Abby's goal is to not only keep clients fashionable, but also to maintain the health of their hair. She has spread her signature "European Method" of hair coloring through international collaborations with top salons in destinations like the Middle East and Latin America.Abby takes a meticulous approach to hair coloring, ensuring every detail is considered to achieve fashionable results that prioritize the health of the hair. It is important to remember that hair is often the first aspect of a person's appearance that is noticed, and hair coloring can make a powerful statement.Healthy hair is the foundation of beautiful hair.
A California Native originally from a small town in South Orange County, Tylor has always been inspired by the sun kissed look of a child's hair at the beach. Starting out at the age of 18 years old at Toni and Guy getting a foundation education from the stylists that created the textured and lived in hair that has shaped the hair industry as we know it today. There she learned discipline and the foundations of my craft. At the age of 21, she re-located to Washington, D.C. where she learned the importance of classic hair color and the subtle ways of making it pop. Training directly under celebrity hair colorist Ian Mccabe, Johnson earned the art of balayage and hair painting and have made it the focus of her career since.
Jasmine Burnside is a celebrity hairstylist based in New York City, specializing in editorial, commercial, and wedding hair styling. Originally from Maryland, Jasmine attended a Paul Mitchell Cosmetology School. After graduating, she quickly developed her skill set and clientele, but knew she wanted to pursue her dream of moving and making a name for herself in New York.
Since her transition to New York City, she took a position as a stylist behind the chair at a top salon in the West Village. Jasmine refined and expanded her skill set, which landed her a role as a lead educator at the salon. Jasmine's passion for hair and eagerness to learn has propelled her to many great opportunities. Her clients include actresses Ashley Reyes, Nida Khurshid, Gus Birney, and Jessica Hecht. She's worked on major runway shows and editorial campaigns including: Vogue, Marc Jacobs, ELLE, Ralph Lauren, Rebecca Minkoff, Alice and Olivia, Cosmopolitan, just to name a few.
From his first entry into the hairstyling world, Frédéric has been a pioneer in all facets of the industry—first by introducing his signature French effortless-chic approach to cutting and styling, then by revolutionizing the Guest Salon Experience with his salon at Bergdorf Goodman and finally by moving into to product formulation.
Frédéric transformed hair care from an everyday commodity to luxurious, benefit-rich products scientifically formulated to address the needs of the hair. Many haircare brand founders/ leaders openly credit Frédéric for creating the luxury hair category. He continues his pioneering legacy with the launch of his newest brand, FEKKAI 3.0, combining his legendary expertise on everything hair with his relentless focus on creating innovative, high-performance products that are clean, vegan and sustainable.
Celebrity news, beauty, fashion advice, and fascinating features, delivered straight to your inbox!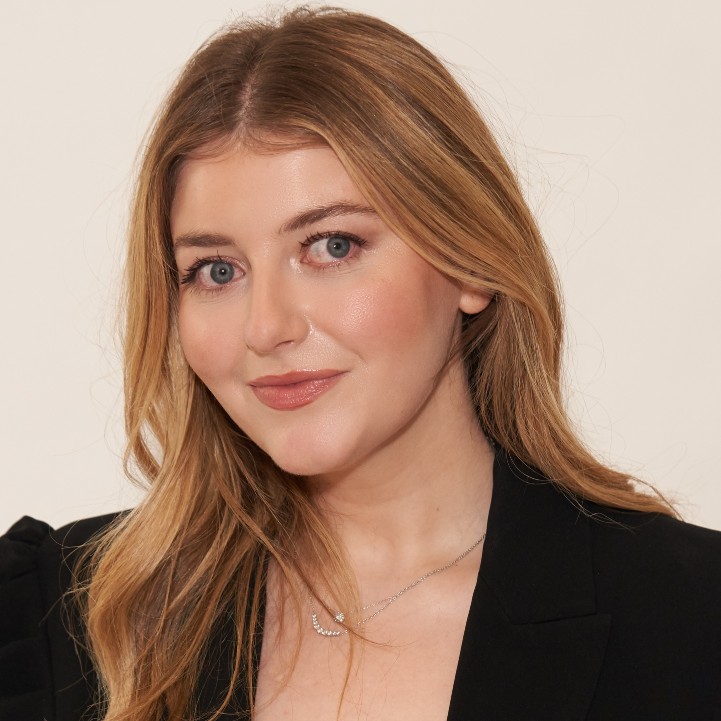 Samantha Holender is the Beauty Editor at Marie Claire, where she reports on the best new launches, dives into the science behind skincare, and keeps up with the latest trends in the beauty space. She has previously written for Us Weekly, Popsugar, Makeup.com, Skincare.com, and Philadelphia Wedding. Follow her on Instagram @samholender.