Bath Gift Sets That Will Turn Personal Hygiene Into Pure Magic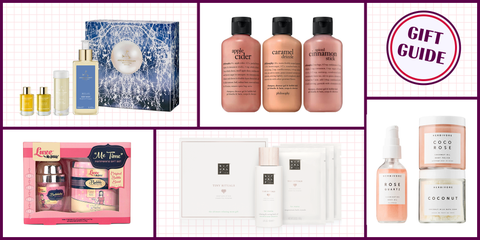 This holiday season encourage your busiest, most frazzled friend to count "me time" as a regular, non-negotiable appointment with herself. Perhaps with a long, luxurious bath? These gift sets come stacked with everything she might need to bliss out. Think: floaty drink holders, nourishing bath oils, and muscle-relieving crystals. You should spoil yourself with one, too. Below, the seven best bath gift sets for zen vibes.
1
Self Love Bath + Body Ritual Kit
As the water is running, drop in some bath soak salts—made with the mood-boosting powers of rose quartz—to fill the air with a sweet scent. Beyond just its heavenly aroma, the bath salts, polish, and oil in this coconut- and rose-infused set will deeply nourish your skin. Plus, it's 100-percent organic, so it's okay for those with even the most sensitive skin.
2
Your Best Night's Sleep Set
Aromatherapy Associates
Nordstrom
$63.00
Stop stress in its tracks with an aromatherapy bath followed up by beauty sleep. This bath oil, body wash, and body oil are made with botanical ingredients including vetiver, chamomile, and sandalwood that work together to help you drift off. The perfect pairing for peace of mind.
Fitness-lovers will appreciate this set. It's made with magnesium-infused crystals—and magnesium eases tight, overworked muscles like no other. Soak long enough, and every crease and crevice will feel stretched-out. The pampering doesn't stop when you step out of the tub, either: Lather yourself in the bath oil for moisture that lingers.
4
Donut Disturb Bath Gift Set
A bath equipped with a floaty drink holder, bubbles, and a face mask sounds like literal heaven on earth. Pour yourself a glass of Pinot, then slip into bubble bath euphoria—it'll give your skin some TLC and take your mind off of your to-do list. Consider this inexpensive set the definition of self-care.
5
Original Bubble Pamper Me Please Gift Set
For just $16, you can get 20 bath bombs. Um, yes please. Soaking in several bath bombs at once is bliss. You'll step out of the tub with baby-soft skin, and lock in even more moisture once you massage this creamy body butter all over.
6
Warm Caramel Apple Cider Set
Philosophy
Nordstrom
$25.00
If you also feel a true sense of joy from ordering a caramel apple spice latte at Starbucks come fall, this bath set will speak to you. The delectable scents in this three-piece set have a common cozy denominator: warm, seasonal spices. Even better, each multitasking product can be used as a shampoo, shower gel, or bubble bath, leaving hair silky and add a long-lasting veil of softness over your skin.
Bath bombs make your bath pretty to look at, your skin smooth, and they smell amazing. This set is curated for a good night's sleep, thanks to relaxing ingredients like lavender oil, tonka, and ylang ylang extracts. Expect to shut your eyes shortly after you soak up these suds.
This content is created and maintained by a third party, and imported onto this page to help users provide their email addresses. You may be able to find more information about this and similar content at piano.io