Editors handpick every product that we feature. We may earn commission from the links on this page.
How to Have a Luxurious Spa Day at Home
The perfect at-home spa day does exist, if you have these staples.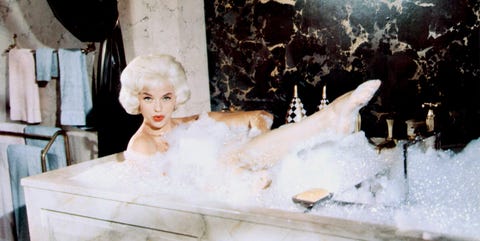 Even though there's an official shutdown of spas nationwide due to COVID-19, you have the power to create your own reality. This time calls for you to be especially gentle with yourself and spend extra time on self-care. Beauty is escapism at its finest—meaning you can seek comfort in products and transform your bathroom into an at-home spa sanctuary, indeed. It might not have the exact feel as your favorite spa, but these set-the-mood products will do the trick. All you have to do is make yourself some cucumber water, turn on your tea kettle, slip on a fuzzy robe and slippers, play your fave relaxing tunes, and get started.
These pick-me-up products will spoil your hair, skin, body, and nails with professional-level results. With a massaging facial tool, warming hand mask, slow-burning candle, and more to indulge in, you'll feel beautified from head to toe. Don't jump all at once and overcomplicate things, though; start with a few of these, then go from there. Scroll on for the spa day staples that have kept me in high spirits during self-isolation.
This content is created and maintained by a third party, and imported onto this page to help users provide their email addresses. You may be able to find more information about this and similar content at piano.io