The Makeup Trends of Fall 2020 We're Obsessing Over
Meet the beauty looks we're getting cozy with this season.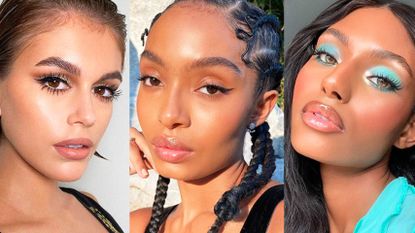 (Image credit: Instagram)
As the leaves change, so does our taste for beauty. It's a rite of passage to drink a pumpkin spice latte and then immediately want to paint your face with the same warm palette. (Or maybe that's just me?!) We say goodbye to our sundresses and opt for cozy sweaters instead, and to fully adapt to our surroundings, we go all in. I'm talking the hair, face, nails—nothing is off-limits when it comes to fall makeup. But when we're making such a significant change, we want to make sure we're doing it right. I'll just say it: we want to be on trend.
Sure, your mom always told you never to follow the crowd, but sometimes we can't help it. So I took it to the streets, otherwise known as my Instagram explore page, to see what's tracking for fall beauty, and what I found was glorious. There are people rocking white eyeliner! Women seriously glowing thanks to some major highlighter work! Eyebrows so fluffy they look like a cloud! Long story short, you're going to want in.
So before you go down the Sephora rabbit hole, check below to see 12 of our favorite beauty trends of fall 2020, along with some choice products to help you get started. Let the makeup play begin!
Two-Tone Eyeshadow
Everyone has those colors in their favorite eyeshadow palettes that have never seen the light of day. Instead of keeping them on the bench, bump them up to the first string and blend two similar shades. The results will be 'gram-worthy.
Bright Eyeliner
Step away from the black eyeliner! I repeat, step away from the black eyeliner. The faithful makeup staple can do no wrong, but what about the other colors of the rainbow? A bright shade, like this yellow, instantly pops and draws attention to your eyes.
Fluffy Structured Brows
Clear brow gel has long been the underdog of the eyebrow universe—until recently. A-listers with great eyebrows (read: Kaia Gerber) know how to play up their best asset with one of beauty's easiest secret hacks. It only takes seconds to do and the look will have you receiving compliments all day.
Dark Lipstick
Would it be fall makeup without a burgundy lip? Absolutely not! You can wear it in the daytime for your Zoom calls or pair it with a date-night look in the PM. It's that versatile. Bonus points if you top it with a shiny gloss.
Neon Eyeshadow
Dark shades may reign supreme in the fall, but it looks like those colors may have some competition with this gorgeous neon green. Selecting a knockout tone like this brings the focus to your eyes, a.k.a. the perfect look to wear with your favorite mask (dark lips or not).
Floating Eyeliner
Step up your eye game with floating liner. By adding abstract lines above your crease, you instantly give a modern twist on a classic makeup look. Stay simple with a muted color, or mix it up with a bold reflective shade like Megan Thee Stallion.
All-Over Highlight
Is gorgeous skin ever not on-trend? Give it extra oomph by blending the glow-inducer into the high points of your face like your cheekbones, brow bones, and Cupid's bow.
Fox Eyeliner
The TikTok favorite has found its way off the app and onto the faces of beauty lovers everywhere. You're going to start at the inner corners of your eyes to create a sharp, inward-facing triangle. After that, move on to the outer corners of your eyes, swooping downwards. Then connect the lines (or don't) and voilà—fox eyeliner!
Flirty Lashes
While we can all say we adore our real lashes, the confidence boost we feel after putting on falsies is elite. Flutter your way towards colder weather by picking up a fluttery pair.
Face Stamps
Instead of messing around with putting jewels on your face to channel your inner Euphoria, tons of makeup brands now offer temporary tattoo stamps. It gives you an edgy look you've been craving without the long-term commitment.
Warm-Toned Blush
When the leaves change colors, so should your blush. Since you're most likely not getting as much Vitamin D as you were in the summer, adding some red or light orange blush to your cheeks gives the appearance that you spent a great weekend outdoors (and not on the couch watching Netflix.)
White Eyeliner
If you thought white eyeliner was just a summer thing, good news: It's not. The pearly shade was made to wear year-round and gives off a bold, bright vibe instantly. The best part? It works on every skin tone.
Bianca Rodriguez is the Fashion & Luxury Commerce Manager at Hearst Magazines, covering fashion, beauty, and more for Cosmopolitan, Elle, Esquire, Harper's BAZAAR, and Town & Country. She likes lounging about with a good book and thinks a closet without platform sneakers is a travesty.