Editors handpick every product that we feature. We may earn commission from the links on this page.
The 11 Best Antioxidant Serums for Skin That Glows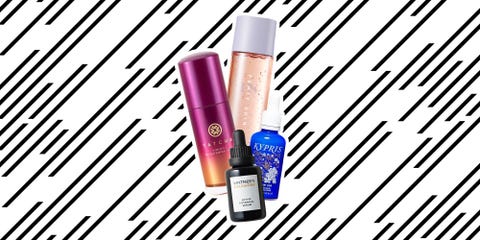 When it comes to the surface of your skin, there's a lot going on. There's the activity you can see, like the formation of dark spots and the settling-in of wrinkles and sunburns, as well as the positives, like that perfect dewy glow. And then there's a whole busytown of things going on at the molecular level. And perhaps the busiest particles of all are free radicals,
unstable molecules activated on the skin's surface by sunlight, cigarette smoke, and pollution. Once they've been created, free radicals damage skin cells, which in turn leads to uneven tone, creasing, and loss of elasticity. Who needs it? Enter: antioxidants.
How do antioxidants work?
The good news is that antioxidants represent a whole crew of molecules that effectively deactivate free radicals, preventing them from damaging the DNA of your skin. You can ingest antioxidants (they're present in most fruits and vegetables), but they're even more effective for minimizing free radical activity is topical application. There's also some research that suggests antioxidants can boost how well your sunscreen works. In short, they're a really good idea.
What antioxidants are best for your skin?
The most common antioxidant in skin care is vitamin C—seen on labels as ascorbic acid and ascorbate—and that's for a few reasons. It's relatively stable, readily accessible, and efficacious, meaning there is the most published research surrounding its results. But vitamins C and E together, ferulic acid, phloretin, and green and red tea have also been shown to possess powerful antioxidant benefits on the complexion. Ahead, the eleven best antioxidant serums on the market right now, at every price point.
This Antioxidant Acne Reducer
Niacinamide 10% + Zinc 1%
The Ordinary
ulta.com
$5.90
You'll often find niacinamide, the fancy name for antioxidant vitamin B3, in acne-fighting products because in addition to strengthening the skin's outer layer and improving elasticity, it also works to minimize redness and irritation. This fan favorite will work wonders on smooth or problematic complexions alike.
This Toner/Serum Hybrid
Fat Water
Fenty Skin
sephora.com
$28.00
If a serum isn't part of your daily routine, this cherry-scented gel-cream can be your gateway product. Loaded with niacinamide, Barbados cherry, lemon myrtle and witch hazel, the effect of drenching your skin is both refreshing and mood-enhancing, knowing that the ingredients you're leaving behind will work to reduce dark marks, tamp shine, and even your overall skin tone.

This Innovative Version
Q10 Antioxidant Serum
The Inkey List
sephora.com
$6.99
Most of the products on this list tap vitamin C for that antioxidant good good. Here, co-Q10, or ubiquinone, a less common but equally effective antioxidant is paired up with squalane for moisture, and peptides for added wrinkle-reducing benefits. And according to 33,000 likers on Sephora, it all tracks.
This Affordable, Efficacious Option
Super Glow
Glossier
glossier.com
$28.00
There are two things to know about this gentle, pretty, and effective option. A five percent concentration of vitamin C is packaged alongside magnesium ascorbyl phosphate, which hydrates and tempers the irritating effects of high-dose antioxidants. The result is bright, supple skin that more than one reviewer described as "energized."
This Drugstore A-Lister
Pure Vitamin C Face Serum
La Roche-Posay
amazon.com
$39.99
Historically, I've turned to La Roche-Posay for its pharmaceutical-grade sunscreen. This relatively new offering contains a ten percent concentration of vitamin C, alongside exfoliating salicylic acid and neurosensine, a peptide that is said to make the acid less stingy on your face.
This Cult Favorite
Violet-C Brightening Serum
Tatcha
sephora.com
$88.00
Two forms of vitamin C—one that works quickly to break up sun spots that have already taken hold, and another that plays the long game to prevent future damage—are here, both stabilized by Japanese beautyberry. There's also a gentle complex of seven fruit acids that work to slough away dead skin cells so the antioxidants can penetrate more readily.

This Excellent Brightener
C-12 Pure Bright Serum
A lightweight mix of zinc glycinate and red and brown algaes work to rebalance the skin's pigmentation and counteract free radical damage. The brand's recently launched Power Bright version is even stronger if fading stubborn spots is front of mind for you.

This Botanical Powerhouse
Active Botanical Serum
Vintner's Daughter
nordstrom.com
$185.00
Permission granted to balk at the price. Now, allow us to explain what you're getting: 22 ethically sourced botanicals infused in a neutral oil base over a three-week period. The result is a highly concentrated, non-irritating elixir that delivers hydration, nutrients and antioxidants in a formula your complexion will guzzle up.
This CBD-Infused Version
Concentrated Super Serum
CBD, the non-high inducing cannabinoid extracted from the hemp plant, is a hella good antioxidant, among many other talents and skills. Here, it's alongside major moisturizers like hyaluronic acid, sodium PCA, ceramides and argan oil, all of which to help the antioxidants absorb into your complexion and get down to work.

This Kicked-Up Natural
Antioxidant Dew
Kypris
kyprisbeauty.com
$90.00
If you ask dermatologists about the effectiveness of certain ingredients, they'll always bring up absorption, because in that regard, all molecules are not created equal. In this luxe liquid, vitamins C and E are encapsulated in phospholipids, which makes them readily slip below the surface of the skin. Also included: Superoxide dismutase, an enzyme that works to reduce oxidative damage, ferulic acid, and hydrating sea algae extracts.
This All-Star Newcomer
Silymarin CF
SkinCeuticals
dermstore.com
$166.00
The gold-standard antioxidant serum? SkinCeuticals' variations—including the CE Ferulic and Phloretin CF—and this is newest iteration is sure to take its rightful place in the skincare hall of fame. Here, the antioxidant power of 15 percent l-ascorbic acid and 0.5 percent ferulic acid is paired alongside 0.5 percent silymarin, or milk thistle extract, which prevents oil oxidation, plus 0.5 percent salicylic acid to impede the formation of future blemishes.
This content is created and maintained by a third party, and imported onto this page to help users provide their email addresses. You may be able to find more information about this and similar content at piano.io