We tried a Microfiber Hair Towel, Here's the Low Down
Showers will never be the same again.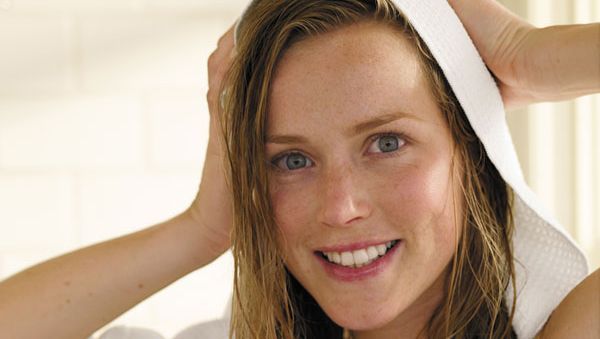 (Image credit: Getty Images)
I've always got hair on the brain. Whether I'm making the (painstaking) decision to cut it, when to wash it, or how to best avoid the rain at all cost, my blonde locks are at the top of my list. Hey, I never said I had my priorities in order.
Years ago I was told that towel-drying is bad for your hair (I think this happened at summer camp) and that I should wrap my just-washed hair in a soft t-shirt rather than a bath towel. So, I've been doing that ever since. I haven't noticed much of a difference, but I'm loyal to my beauty hacks regardless of rhyme or reason. So when I noticed a few hair-specific head towels on the market I thought I'd give them a whirl to see what all the fuss was about. I've been using Aquis Essentials' Microfiber hair towel for a week now and this is my official report.
1. It definitely absorbs excess moisture faster than a towel. When I wrap a regular towel around my head—and unwrap 30 minutes later—my hair is still completely drenched. With this, it's almost completely dry.
2. This revelation reduced blow-drying time. And that reduces the amount of minutes my color-damaged hair is subjected to heat.
3. I actually noticed a real difference in the amount of frizz I was dealing with. Thanks to its lisse crepe fabric, the towel keeps the flyways at bay and for that, it is my hero.
The Aquis Essentials Hair Towel is available for purchase for $18.35 at aquis.com
Related:

We Tried 3 New Luxe Beauty Products, Here's The Low Down


We Tried the Glossier Products, Here's the Low Down