How to Get Volume, Shine, and Curls for Your Hair
Dream of having the silky, shiny, perfect hair you see in shampoo ads? Wake up, girl! It's all due to secret pro tricks — which we reveal right here...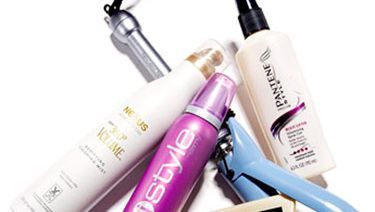 (Image credit: Jeff Westbrook)
Marie Claire newsletter
Celebrity news, beauty, fashion advice, and fascinating features, delivered straight to your inbox!
Thank you for signing up to . You will receive a verification email shortly.
There was a problem. Please refresh the page and try again.
In shampoo commercials, everyone has fantasy hair: a glossy, glistening waterfall that, even after being tossed and tousled for an entire 30-second spot, magically ends up with every strand in place. Welcome to the wonderful world of hair-ad trickery. "It takes four hours of prep for one hair shot," says celebrity stylist Ken Paves, who has readied both Eva Longoria Parker for her L'Oréal haircolor ads and Jessica Simpson for the Put on Pieces line she developed with him. "Between takes, we're constantly brushing and applying various shine products." And that's just to make it radiant. The fantabulous fullness, bounciness, and sleekness (opens in new tab) that constitute ad-worthy hair require a whole other arsenal. Fortunately, such dream hair is not out of reach for the rest of us. All the image-makers we spoke to also work in the real world, and they insist everyone can have camera-ready hair in under an hour. Your Facebook and driver's-license photos may never be the same....
How To Get Waves and Volume

BIG TEASE
When someone at a hair shoot yells, "Crank up the volume," he's probably not talking about the iPod. "Bright set lighting always makes hair look flat," says Nexxus Creative Director Kevin Mancuso. "Unless you add a lot of lift, hair can look wiry, not like a full, luscious mass." For maximum height, he applies volumizer to the roots above the ears and then dries hair upside down to allow gravity to lift strands away from the scalp. Setting hair with rollers or a large-barrel curling iron can also give a boost to roots. If you love hair straight — but still full — flat-iron just the ends, advises Garnier Fructis celebrity stylist Brian Magallones. Lock in lift by flipping your head over and spraying on a veil of volumizing hairspray.
PRO TOOLS
What lies beneath a big head of hair is usually a ton of teasing, reveals Nexxus Creative Director Kevin Mancuso: "The top layer is smoothed to look touchable, but there's no way you could run your fingers through it."
ON-SET SECRETS: VOLUME
Nexxus 360° Volume Bodifying Finishing Mist; T3 Curling Iron; Pantene Pro-V Root Lifter Volumizing Spray Gel; John Frieda Sheer Blonde Volumizing Rinse-Out Treatment; Samy iStyle "Give Me Body" Volumizing Mousse
SOFT BOUNCE
For picture-perfect curls, frizz is the enemy. On the set, cranking up the AC helps cut humidity, but it's best if hair is well hydrated (dry hair frizzes as it absorbs moisture from the air). Bumble and Bumble hairstylist Dennis Lanni applies a leave-in conditioner to models' dry hair before using a curling iron. Then he wraps sections of hair in a figure-eight shape around tissue before letting the coils cool and set. "The big figure eight stretches the curl so it doesn't form into a tight ringlet," says Lanni. For naturally curly hair, he suggests applying a moisturizing product on damp strands and letting hair air-dry. Mancuso suggests blow-drying with a diffuser. "If you're going to use an iron, do so lightly to achieve a looser, more modern curl," he says.
PRO TOOLS
The oldest trick in the book: a wind machine. "I put a fan on very low to make just a few pieces take flight," says Mancuso. In real life, personal fans won't cut it — you're better off perfecting a well-timed hair toss to attract attention.
ON-SET SECRETS: CURLS
Hot Tools Curling Iron; Miss Jessie's Curly Meringue; Sunsilk Waves of Envy Gel & Cream Twist; Biolage Shine Endure Spritz; Charles Worthington Big Hair Salon Shine Uplifting Mousse
"MILLION-DOLLAR SHINE"
The glossiest strands come from both within (via a nutrient-rich diet) and without (courtesy of conditioners and shine sprays). Stylists are so particular about a model's hair health that they will often send her product care packages a week before the shoot. For what Paves calls "million-dollar shine," he suggests models wash their hair the night before and then let it air-dry. "Hair is much stronger when it's naturally dried; plus, your scalp's own oils are better than any product." Generally, all Paves does the day of the shoot is smooth hair with a brush or curling iron. "When you dry hair with heat, the cuticles open, causing brittle-looking shadows on the hair shaft that prevent hair from looking shiny and bright," he explains. Instead of hairspray, he uses Kerastase Lait Nutri-Sculpt to hold hair in place. "It seals the little flyaways, but your hair won't get stiff."
PRO TOOLS
"Instead of doing color or gloss treatments before a shoot, we usually get by with just conditioning," says Mancuso. To return hair to what he calls its "virginlike state," he favors Nexxus Emergencee treatment.
ON-SET SECRETS: SLEEKNESS
Goody Mosaic So Smooth brush; Garnier Fructis Melting Masque; Kerastase Lait Nutri-Sculpt; Redken All Soft Gold Glimmer Perfecting Shine; Got 2 B Dazzling Shine Spray