So What Is Hair Toning, Anyway?
Allow top colorists to explain.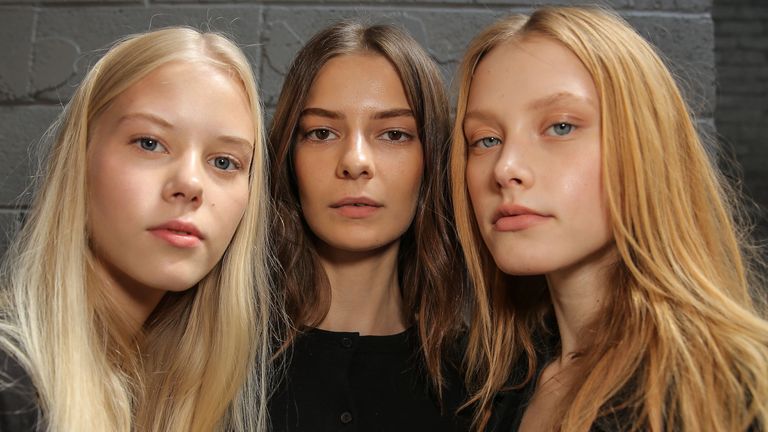 (Image credit: Chelsea Lauren)
Forget what you've been told—hair toning is way more important, and complicated, than simply dousing your hair in purple shampoo. Here's the deal: When you dye or highlight your hair, the color oxidizes and changes over time. For platinum blondes, for example, highlighted portions of the hair tend to turn a brassy shade of yellow rather than the cool tone they walked out of the salon with. Meanwhile, brunettes and redheads looking to add warmth and dimension to their color might find that their dyed highlights turn ashy. Enter hair toning, which keeps unwanted shades at bay so a more consistent color can be achieved.
What is hair toner?
Hair toners are semi-permanent dyes that return your hair back to the desired tone. Toners are often used alongside hair glosses and glazes, which do exactly as their name suggests: grant your hair a healthy, straight-from-the-salon finish.
"Gloss, glaze, and toner all essentially do the same thing," Cassie Cohen, colorist at Sharon Dorram at Sally Hershberger in New York City, explains. "They can enhance and mute tones, while adding shine."
Best Toning Drops
Can I tone my hair at home?
Cohen warns that clients shouldn't attempt to fix brassiness or dullness on their own at home. "I recommend to go to a salon first, speak to your colorist, and let them advise on the best toning products for your hair."
Why? Well because many drugstore toning formulas can be overly drying when used the wrong way. If you happen to use too much of the wrong formula, your hair will feel more dry and flaky than shiny. Not to mention, most toning products, like purple shampoo, that are available at the drugstore are specifically formulated for toning blondes—so it's tough for those with darker hair to tone correctly without professional help. When applied at the salon, toners are customized to fit each client's needs. In other words, one-size-fits-all toners often don't work on everyone.
Will toner lighten my hair color?
Toners cannot, and should not, replace the lightening process that hair goes through when it's bleached. Glosses and toners won't actually be able to lighten your hair if you notice it fading—they should only be used to correct the tone of the color. Properly toned colors may appear brighter because they are cooler-toned, not necessarily because they are lighter in shade.

How often should I tone my hair?
Since toners are semi-permanent, it's best to get your hair toned in between dye jobs and during the dying process. "It's the best quick fix," Olivia Casanova, a colorist at IGK Salon in New York City, explains. "Toner only takes about 10 to 20 minutes—so, when you need a quick pick-me-up, it's the next best thing."
How frequently you should get your hair toned in between washes depends on your hair color. "Redheads tend to fade the quickest, and they generally have to touch their color up more often," Courtney Lee, a colorist at Kinloch Salon in New York, explains.
What hair toner products should I use?
If you absolutely must tone your hair at home, Casanova recommends using IGK Hair's Mixed Feelings Leave-in Blonde Toning Drops, which turns your favorite conditioner into a toning treatment. Lee swears by Shades EQ Toner from Redken, which she has been using for 15 years. Some more of our favorites:

Best Toning Shampoos for Blonde Hair
Best Toning Shampoos for Brunette Hair
At some point, however, you're going to have to make a trip to the salon in order to keep your color in check. The bottom line: At-home toners have come a long way, but it's always best to consult a professional before risking your perfectly blended highlights.
Julia Marzovilla is an E-Commerce Writer at Marie Claire covering all things fashion, beauty, and entertainment. Offline, she's most likely browsing the web for another pair of black boots or listening to music too loudly—often at the same time.