Editors handpick every product that we feature. We may earn commission from the links on this page.
23 Purple Shampoos That'll Breathe New Life Into Your Hair
Consider your color revived.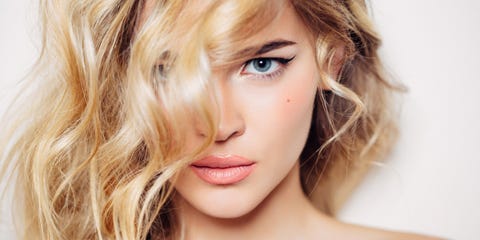 CoffeeAndMilk
Getty Images
I don't know about you, but my hair is looking tragique. My roots are grown out, unwanted redness is creeping into my waves, and my hair just looks blah. For blondes, this problem is especially dire: The color in your hair oxidizes with every passing day, resulting in brassiness and orange tones. While "wash your hair less to preserve your color" is a popular suggestion, your scalp needs to be properly cleansed to stay healthy, which means shampoo is still a necessity. An inconvenient paradox! Thankfully, brands have noticed we're in dire need of some tone correcting, and have dropped a plethora of pigmented shampoos. The most popular shade? Purple, and for good reason. As a cool shade on the color spectrum, violet pigments work to neutralize unwanted yellow shades and add much-needed coolness to stale color, which means your dye job looks fresher. And while purple has been a proven MVP for blondes—from platinum to caramel to every tone in between—it's also a stealthy fix for cool brunettes, raven-haired beauties, and even those who have gone gray. Even if you've never colored your hair and your roots aren't running away from you, a wash with purple pigment could give your virgin strands a brightening boost. We've curated the ultimate list of the best purple shampoos for every texture, shade, and budget.
This content is created and maintained by a third party, and imported onto this page to help users provide their email addresses. You may be able to find more information about this and similar content at piano.io