Hair How-To: Boyfriend Braid (AKA The Loose Cage Braid)
Now, you can wear his pants, his sweaters, his hair.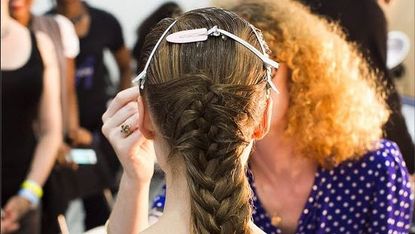 (Image credit: Suno Instagram)
Photo Credit via Suno Instagram
Inspired by the Suno Spring Summer 2015 runway show (pictured above), skinny braids took a backseat for the broader, more substantial boyfriend braid. The looser plait wasn't as taught as its predecessors, and the wider 'do felt a little undone, but not messy. While creating a braid like this at home is near impossible unless you're double jointed or you have eyes in the back of your head, we needed to find a way we could recreate this look for us meer mortals.
Step 1: Pull the hair to one side and sparingly spray (this stuff goes a long way!) just the portion you'll braid with Amika's Undone Texture Spray.
Step 2: Next, start with three small pieces of hair, similar to how you'd start a French braid.
Step 3 and 4: Then, pick up super small sections of hair (so as to leave most of the hair in the middle) and pull them into the braid all the way down. Pro tip: Do not pull the hair taught—the braid is meant to be loose.
Step 5: Continue all the way to the bottom and tie the hair with a clear elastic.
More for the Braid-Obsessed:
11 Amazing Braids for Long Hair
Switch Your Hairstyle in 5 Minutes or Less
Celebrity news, beauty, fashion advice, and fascinating features, delivered straight to your inbox!