Becoming High Maintenance
Serial beauty slacker Erin Flaherty experiments with priming, polishing, and shellacking to see whether flawlessness really has its privileges.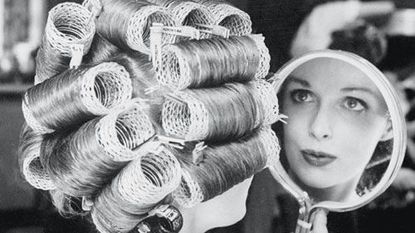 (Image credit: Sharland/Getty Images)
Marie Claire Newsletter
Celebrity news, beauty, fashion advice, and fascinating features, delivered straight to your inbox!
Thank you for signing up to Marie Claire. You will receive a verification email shortly.
There was a problem. Please refresh the page and try again.
When's the last time you took a shower?" my well-scrubbed husband asks (from across the room). I not-so-inconspicuously sniff my armpits. "You're like that Peanuts character, the one with the flies buzzing over his head — Pig-Pen!" he says, grinning. I'm aware that this exchange usually plays out in reverse in most heterosexual relationships. But despite my day job as a beauty editor for Marie Claire, the truth is I'm rather, shall we say, bohemian. My blowdryer retired in the '90s; my short, raggedy-cuticled nails are rarely painted. Brows? I like them full. Waxing? Come on. My morning beauty routine: Brush hair, splash face, brush teeth. Total time? Five minutes. Recently, however, a survey done by this very magazine suggested people react more positively to those who literally keep up appearances. Is my neglect undermining my professionalism? I wonder. In the spirit of New Year's self-improvement, I vow to make the extra effort in 2013: I'll become a high-maintenance woman.
I spend one last deliciously dressed-down weekend dreaming of how glossy I'll look come Monday. But that morning arrives all too soon, and when the alarm goes off (I hit snooze once — OK, twice), the enormity of this lifestyle change faces me in the mirror. Glancing nervously at the ticking clock, I jump into the shower, wash my hair, perform a full-body exfoliation worthy of Patrick Bateman, and even apply lotion, which I never, ever do. Wiping the dust off the hair dryer that had been banished to a remote region of the closet next to old tax returns and my wedding dress, I dart back to the bathroom and find that, miraculously, it roars back to life! Less awe-inspiring is my inability to navigate the DIY blowout. Between the humidity from the shower and the heat of my ancient Sunbeam 1500, any progress I seem to make is stymied by the fact that I am sweating. In the end, this is not the work of Vidal Sassoon.
I hear my husband, Shya, wake and begin knocking on the door: "Hey, are you almost done?" I decide to do my makeup in the living room, then remember to check the time. How has an hour passed?! In full-on crisis mode, I hurriedly type a flimsy e-mail to my boss about needing to deal with a leak in my apartment, then slick on foundation, concealer, blush, and more as if my life depends on it. I throw on a silk shift, heels, even a necklace (Nice touch! I think), and hurl myself out the door, much to Shya's bemusement.
I may look fantastic — well, the hair is questionable — but I'm also more than an hour late to work. That's when I decide to start cheating. Later that afternoon, I announce to my coworkers that I need to run an errand. The task at hand, though, is scoring a real blowout at a nearby salon. It takes exactly 80 minutes, which is regrettable, but my bad behavior is justified when, back at the office, a colleague says, "Oh, Erin, you always look so great!" See? Even one day of looking fabulous can fool others into thinking that's always the case. Now I am really motivated: Facials, waxes, self-tanning sessions, hair color treatments — I get on the phone and start booking appointment after appointment. It's so time-consuming, I cancel drinks with a friend. Clearly, I'm too busy.
The next day, I find myself breathlessly racing from a teeth-whitening appointment (cleaning plus bleaching equals two hours!) to a nail salon to the office. Here's the crazy thing: As harried as I feel, looking like I've got it all pulled together does seem to make a difference. When I arrive at a soiree that evening, a colleague points out that my perfect nails match my shirt. "You look amazing," she coos in front of my boss, who beams. I am gracious.
Emboldened by the flattery, I make grander moves. I spend an entire afternoon at the Sally Hershberger salon. It's extremely boring to sit around under a heat lamp for hours, but I emerge gloriously highlighted as if angels and unicorns have gently kissed each individual tress. Another day, I visit a Park Avenue dermatologist's office for Pelleve, which is basically a facial on amphetamines. A warm radio-frequency wand massages my skin to spike collagen production, which leaves me slightly inflamed, but at least I look amazing and younger. One morning, I even give false lashes a go, but I'm met with strange glances all day, only to realize back home that one of my lashes has been hanging on by a corner.
In the following two-week blur of heat styling and lipstick stains, I skip workouts (Cardio Crunch would ruin my hair) and socializing — I spend more time with aestheticians than with friends. Luckily, Shya and I are invited to a weekend at a friend's country house upstate. But the morning after we arrive, instead of bounding down the stairs in my pajamas and tucking into a Bloody Mary, I find myself flat-ironing my drizzly-weather hair and curling my lashes as the aroma of bacon wafts up from the kitchen. By the time I make it downstairs, breakfast is long gone.
Being deprived of vodka beverages and pork products is the last straw. Because after a month of really, really trying, I'm absolutely exhausted. While the compliments stroke my ego, I'm not sure anyone takes me more or less seriously just because my hair is well-coiffed, and the anxiety of trying to look perfect all the time makes me weirdly self-conscious. The sheer amount of time and energy devoted to my appearance looms large. Similarly astronomical: the money spent. Let's just say I could have purchased at least two pairs of Nicholas Kirkwoods, with change to spare. I'm also certain my coworkers are annoyed with my constant "errands." And at home, instead of my spouse being dazzled, our relationship suffers from neglect due to my endless primping.
In the end, it's not worth sacrificing my carefree lifestyle. Looking flawless 24/7 simply isn't realistic — plus, it's liberating to shirk the pressure to be perfect, self-imposed or otherwise. Not so gradually, I give in to my inner slovenliness, with a few caveats: I'll skip the soap-star makeup, but I kind of like the idea of getting my hair blown out once a week and coasting on dry shampoo. Ditto for manicures, but I'll stick to nude polish for extra mileage. That's just about all the glamour I need.
Celebrity news, beauty, fashion advice, and fascinating features, delivered straight to your inbox!
Erin Flaherty is a beauty journalist and consultant who has contributed to numerous publications including the Wall Street Journal and Domino, among many others. She is a board member of the Women's Global Empowerment Fund and especially passionate about worldwide beauty anthropology and women's issues. She lives in Woodstock, NY with her husband and dog.