Beauty Around the Clock: Jillian Dempsey
The beauty founder on her love for J-Beauty, favorite eyeliner, and why the clean beauty industry needs to "shake it up."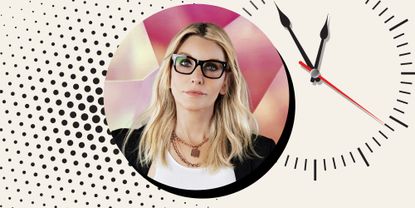 (Image credit: Future)
Welcome to Beauty Around the Clock, Marie Claire's weekly peek into the daily lives of some of the most game-changing men and women in their industries. Ever wonder how they get it all done in a day? Here's your answer.
"I can talk about beauty like a man can talk about Formula 1—it never gets boring," makeup artist Jillian Dempsey tells me over zoom. I know her as a beauty founder first and foremost. Her khôl eyeliner is a celebrity favorite, her Gold Bar is a Marie Claire Skin Awards winner, and her newly released FLYK Trick Mascara is currently viral, so I naturally thought we would spend the entirety of our conversation talking about her admittedly damn good namesake line.
Don't get me wrong: We talked about her star products (the Mixturizer is my personal favorite), but for a solid 50 percent of the time, Dempsey was sharing her application tips (I finally know how to apply eyeliner) and professing her love for other brands on the market. "I'm loyal to certain brands, including my own, for sure, but I like to play," she exclusively tells me. "If we don't play, we never grow. I try to stay with brands that are reputable and brands that I trust have gone the distance and done the footwork."
Jennifer Aniston's LolaVie, Shani Darden's range, and Dr. Barbara Sturm's offerings are among her favorites, but you'll have to read ahead to discover the rest. Along the way, you can find out the headache quick-fix she swears by, her go-to workout routine, and her take on the state of clean beauty.
Rise & Shine
Sadly, we have an elderly dog. Her name is Ginger. Ginger programs the alarm for us, so most mornings we wake up at 5:45 am to barks. I don't always want to, but I have to get up and feed her. There is major coffee involved for me. I'm fortunate enough to have one of those built in Miele coffee makers—that is the godsend right there. I push two large coffees in one cup and nurse that throughout the waking up process.
Morning Maintenance
I like to luxuriate in my skincare line in the morning, but what I use really depends on what my skin needs that day. If I feel like I need to clean things out, I'll use the Sisley-Paris cleanser, but I'm also obsessed with the Shani Darden Gentle Cleanser and the Dr. Barbara Sturm Foaming Cleanser. Both of those leave my skin feeling clean, but don't strip the oils.
My eye masks are key when I'm feeling a little bloaty—I use them quite often. They're hands-free, so I'll pop them on while I put on my Mixturizer, which is the perfect balance of everything for my skin. I'll turn on my gold vibrating bar and use that while I'm checking emails. It really sculpts my face. Even if I give it three minutes of my time, it makes the biggest difference. If I skip it because I'm lazy, my face is not nearly as lifted.
.
Fitness Fix
I have to be fast no matter what workout I do. I'll either do a local Pilates that is three minutes away from my house. I jump into a class if they're not booked. I consider that to be something. It's really the cardio that I need to start incorporating. I started lifting weights just recently because my husband is driving me crazy, telling me, You have to start lifting weights. I'm not going to lie to you though, I only do it three times a week, tops. We're busy humans, but you have to get that exercise in.
Self Care Ritual
I'd love to say that I meditate, but I don't. I used to, but now the closest I get to meditation is when I just close my eyes. I'll use my Gold Bar and that moment relaxes me. It's like a facial massage and I'll use it on the back of my neck because that's where I hold a lot of tension. If you work the bar up and down at the base of the neck it can relieve a lot of headaches and just put you right to sleep.
Signature Makeup Look
Makeup that wears you is a turnoff. I like to wear my makeup. That perfectly beat face is a big turnoff for me personally, because I feel like I'm putting on a mask and I can't really be myself until I remove it. I don't like that feeling. I want it to feel like I'm putting a big face of healthiness on. Sunny is my go-to cheek. It's not really a commitment to any blush color because it doesn't pull any red tones. It just makes you feel like you've got a little kiss of warmth on your cheeks. If I put Sunny on, I just smile and use my fingers. Then, I'll go in with my Lid Tints. I'm all over the board with those colors. I'll go to town with my khôl eyeliner—they're my everything. You can do anything with this eyeliner. Like, literally anything. I can build myself a smokey eye in three minutes with it.
My eyebrows are pathetic. I hardly have any left from the '90s. I tweezed them out because I thought I was cool. Now, I'll use Kevyn Acoin in ash blonde to do my brows. I love my spot sticks because they're cream and powder all in one. I sketch them all over my face and add a little Mixturizer in and it turns it right into a tinted moisturizer. Then, obviously, my FLYK Trick Mascara. I love doing a tight line with the longest side. It's a tools-meets-mascara-wand-meets-eyeliner. There's no microplastics, alcohol, or talc. I feel we see so much of the same thing all the time in clean beauty. We need to shake it up. So, this is me shaking it up a little bit.
Signature Scent
I'm a cocktail person with my signature scent. I just like different notes. I never like to smell like a one layer note—I prefer to spritz all over. One of my favorites to use is called WA:IT.
Cheap-But-Chic
Drugstores are now carrying such high end products! I went in the other day and was like, Excuse me. One that I love though is called Pur'ador. It's a coconut oil that I like to keep in the shower.
Hair Help
My Roadie wax stick is my favorite. It's great for flyaway hair, a slicked down bun, or if you want to pinch split, dry ends. I get tangly hair because I bleach my hair and do all kinds of things to it, but Jennifer Anderson's line LolaVie is actually really great. I also love Virtue with my boy Adir Abergel. I love his restorative shampoo and I love his mask.