Beauty Around the Clock: Julianne Moore
The actress on the power of chlorophyll water, finding the perfect red lipstick, and her dedication to The New York Times' Spelling Bee.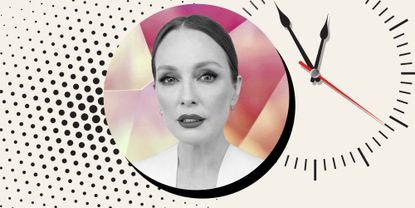 (Image credit: Future)
Marie Claire Newsletter
Celebrity news, beauty, fashion advice, and fascinating features, delivered straight to your inbox!
Thank you for signing up to Marie Claire. You will receive a verification email shortly.
There was a problem. Please refresh the page and try again.
Welcome to Beauty Around the Clock, Marie Claire's weekly peek into the daily lives of some of the most game-changing women in their industries. Ever wonder how they get it all done in a day? Here's your answer.
Ask Julianne Moore about her beauty routine, and she'll explain the importance of an indulgent bath after a busy day, provide a laundry list of ways to extend a blowout for the entirety of a week, and emphasize the non-negotiability of sunscreen. Her relationship with makeup, however? Well, let's say her outlook has gone through a bit of an evolution. "When I was growing up, you were supposed to wear makeup. It was how you were supposed to present yourself to the world and look professional," she tells Marie Claire. "The world has changed and people don't wear makeup the same way. Now, we wear makeup to enhance [our features] or because it feels festive. It doesn't feel like we have to wear it anymore—which is great."
That all said, the Still Alice actress can't live without a red lipstick—and she's found a new favorite in the Hourglass Cosmetics Unlocked Satin Créme Lipstick range. "It's malient, it's long-wearing, and it's really pretty," she says. "I also like that five percent of the proceeds from the lipstick is going to go to animal rights." While this purpose-driven product might top her list on the makeup front, Moore has dozens of other beauty goods she swears by. From crystal-infused heat mats to chlorophyll drops and Epsom salts, here are the items (and habits and rituals) the Oscar Award-winning star swears by.
Rise & Shine
When I'm not working, I usually get up around 7:30 or 8 o'clock—I don't want to sleep any later than that. Then, I'll have two large glasses of room temperature filtered water and I'll put chlorophyll in both of them. I've been doing that for 15 years or something. Somebody once told me that someone told them it was good for their skin, so I used to drink this stuff called Wachter's Chlorphyll. Now they're out of business, so I use ChlorOxygen, which comes with a little dropper and it's easier to carry around. Then, I'll drink *at least* three cups of coffee. Huge ones, not little. I know that sounds terrible, but I drink them and I drink them with half and half. I drink my coffee in a ceramic cup made by this artist named JB Blunk—his daughter repurposed a lot of the ceramics he made. I read the New York Times. I do their Spelling Bee. I'm a Spelling Bee addict and I love it. Sometimes that gets me out of bed in the morning. I want to know what I missed. I love it.
Morning Maintenance
Well, here's the thing: If I don't have a yoga class, I'll probably walk my dogs. And if I walk my dogs, I will most likely wash my face and do my skincare routine before I go out. Because I do have to do this whole skincare routine. If I'm going to go outside, I make sure to do my whole routine *plus* sunscreen. I wash my face with a mild cleanser. Hourglass has a really good one called Equilibrium—it's foaming and I really like it. Or, I'll just use a CeraVe or a Cetaphil. Then I have a vitamin C serum that I only use in the morning. My facialist, Fabricio Ormande, turned me on to some products. He has a vitamin A cream combination that I put on. Then, I use sunscreen. Lately I've been using Biore, which is a Japanese brand that I get on Amazon.
Fitness Fix
I try to do 10 a.m. yoga classes. I go to The Shala Yoga. They lost their Manhattan studio, but they still have their studio in Brooklyn and they're online. It's theshala.com and my teachers are Kristen and Barbara and Ashley.
Power Start
After my workout class, I'll have something to eat. I'll have scrambled eggs with toast and fruit or I'll have a Pressed smoothie. It's Green Light, but I add mango, and chia, and flax seeds.
Signature Look
I love a red lip, but reds are challenging. Sometimes they can be too blue or sometimes they're too orange. But the new Hourglass Unlocked Satin Créme Lipstick in Red Zero is really, really good for me. Sometimes I'll use it on my cheeks too. Also—and this is something I find really interesting—most red lipsticks are made from crushing up thousands of female insects. When I first heard that, I was like, huh. But this lipstick is vegan and cruelty-free as well, which is fantastic. It's also just a really great product.
I'll also use an eyebrow pencil because I've destroyed my eyebrows. I need to fill them in. My eyebrow pencil is always blonde. Browns are too dark and reds are too red. A lot of redheads don't have red eyebrows. Anastasia has a good one and Hourglasses has a good blonde one. I will use a little bit of foundation—just enough to even out red spots and stuff. If I'm not working, I don't like a lot of full coverage. The Hourglass Ambient Soft Glow Foundation is great—that's a campaign I did with my daughter too. Then I'll just do a little mascara and that's my daytime look.
Self-Care Ritual
I have this thing called the BioMat. If I'm really, really stressed or I'm really uncomfortable, I'll turn it on. It's a big heating pad with crystals in it. If I lie on it and I read something, I'm able to really relax—and it's good for my back. I also love to take baths. I'll take a bath with Epsom salts and some eucalyptus oil. I tend to like when the scents are a little medicinal—it's spa-like.
Signature Scent
Ooo, Kiehl's Musk Spray.
Cheap-But-Chic
Lip balm—and I'll change it up. I'll look for something new and interesting; I just love lip balm. I will buy small bags of potato chips. I fall for those fluffy socks and stuff, too.
Beauty Icon
Charlotte Rambling. She's just so beautiful and she always seems so effortless. There's something about her that is tremendously exotic, but also very human, you know? I just love how she looks and I love looking at her.
Hair Help
Well, my hair is very wavy, and I cannot blow it out myself. I like to get it blown out and then I try to make it last as long as possible. Sometimes I'll do that by tying it back or using a flatiron or something. When it's the summertime and I'm nowhere near anyone who could blow it out, I just sort of tie it back and let it air dry. And I'll wear a hat to keep it down.
P.M. Routine
If I have makeup on, I'll obviously take it off. I like to use an oil cleanser or one of those cream cleansers that you put all over and then take off with a warm washcloth; that's something that I learned on sets. It's really effective and it's a great cleansing routine. It takes off all the makeup really easily, you're not rough on your face, and the heat is good for your pores. Then, I'll do my same morning routine minus the vitamin C; you only do the vitamin C once a day. Then I finish the routine with an eye balm from Hourglass that I absolutely love—it's really fantastic and emollient. Kiehl's used to make one, but they discontinued it. I bought up all the dead stock until I couldn't find it anymore.
Lights Out
My husband and I like to look through and see what movies are playing before bed. We just watched Happening, and it's something that everybody should see. I actually watched it for the first time in September before I went to Venice. There's a film maker named Audrey Duwan and she actually won Best International Film at the Gotham Awards. Annie Ernaux, who just won the Nobel Prize for literature, wrote the book Happening—and its her story. It's a story about a young French woman in 1963 trying to get an abortion. The movie is so beautifully written, so beautifully performed, so beautifully directed, and it's absolutely mesmerizing. It's on Netflix now. It's extraordinary. I can't recommend it more.
Shop Julianne's Favorite Products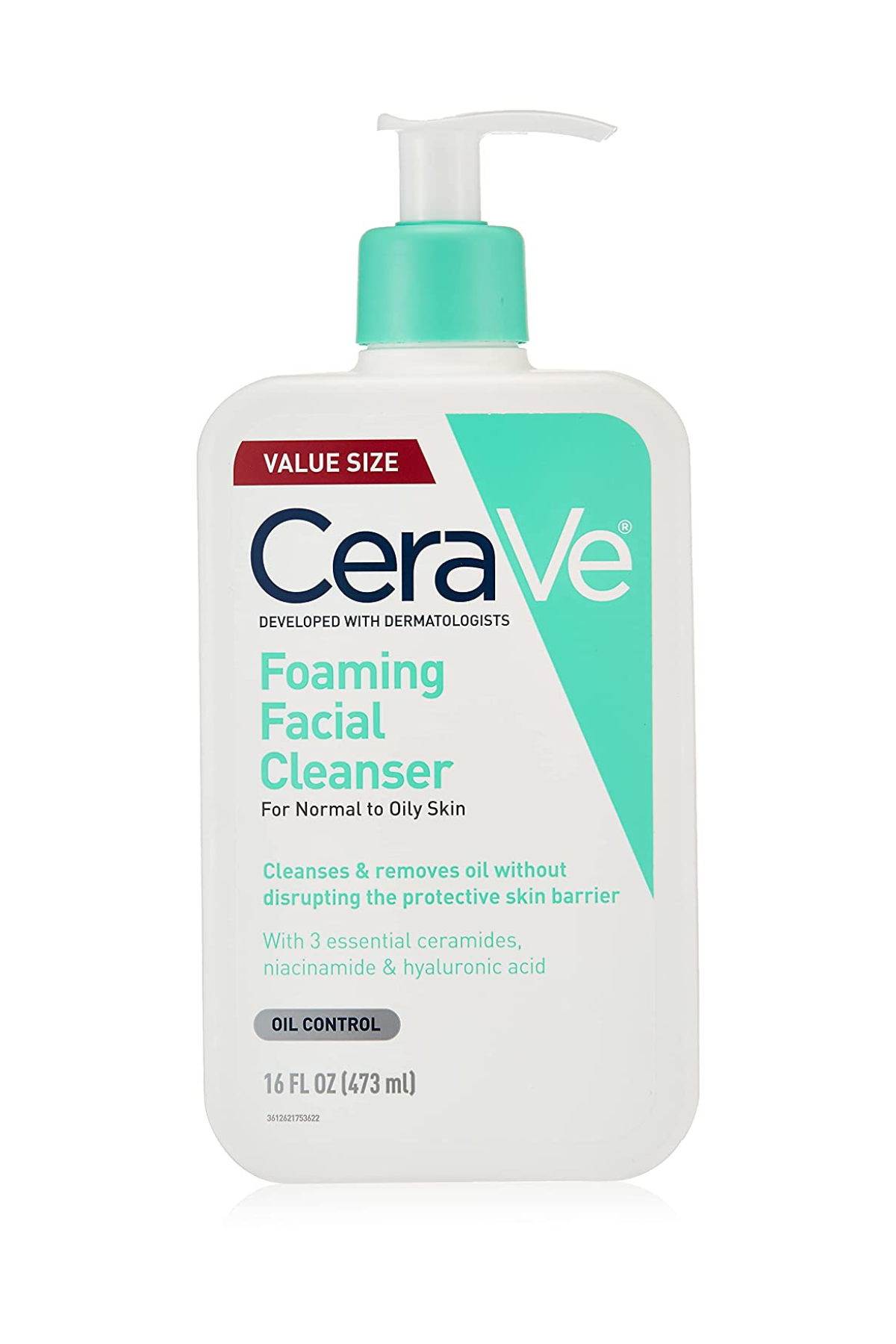 CeraVe Foaming Facial Cleanser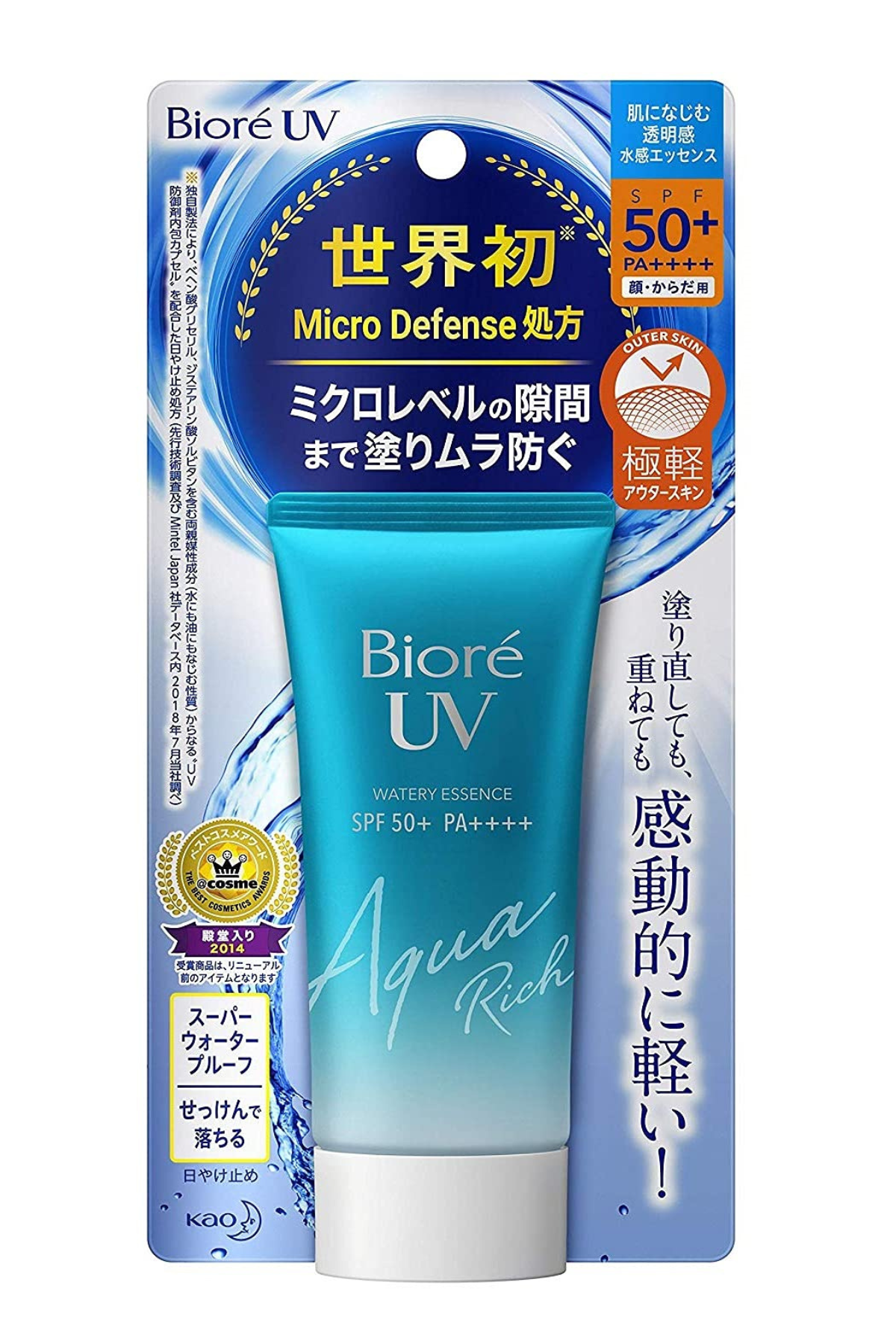 Biore UV Aqua Rich Watery Essence SPF 50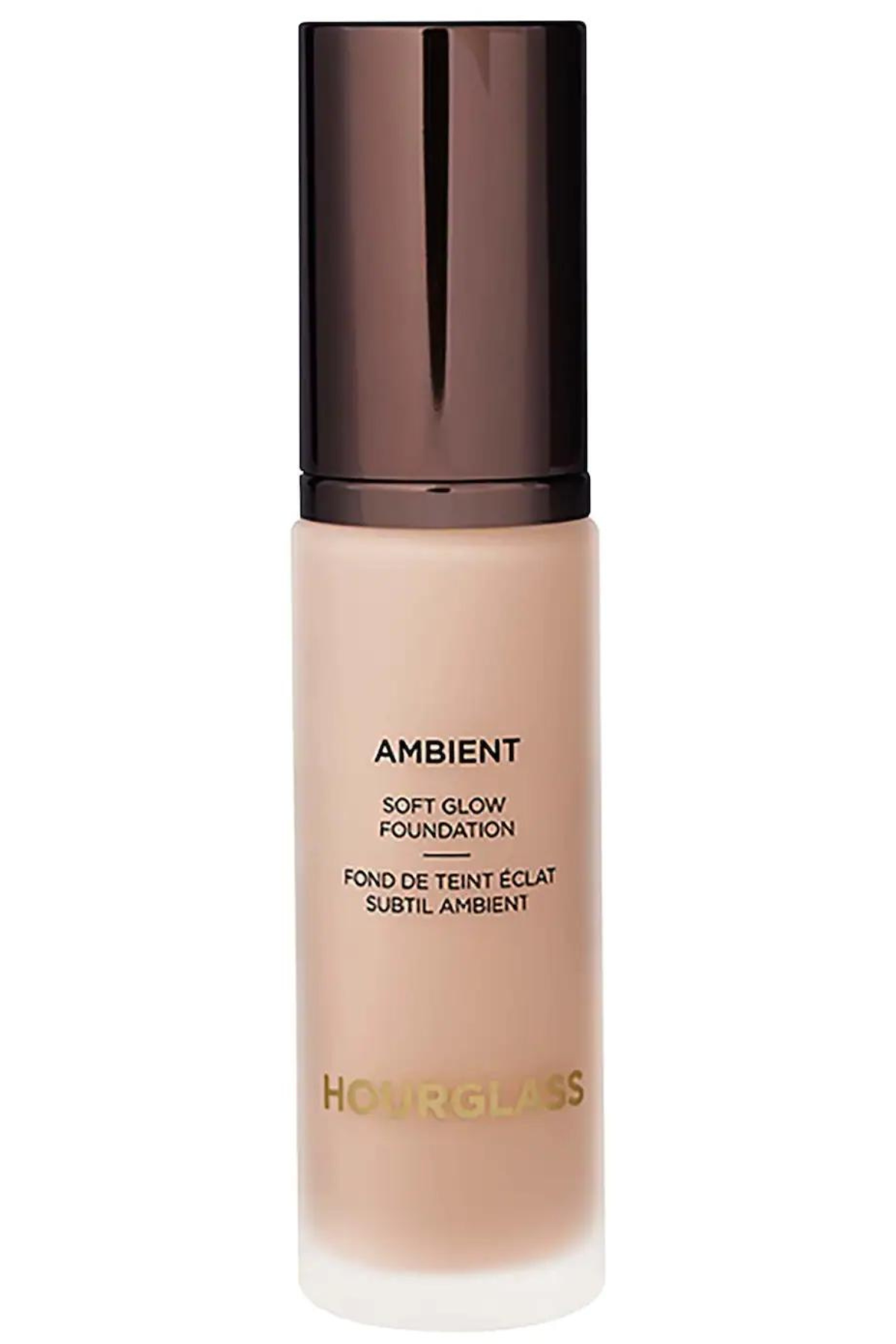 Hourglass Ambient Soft Glow Foundation
Celebrity news, beauty, fashion advice, and fascinating features, delivered straight to your inbox!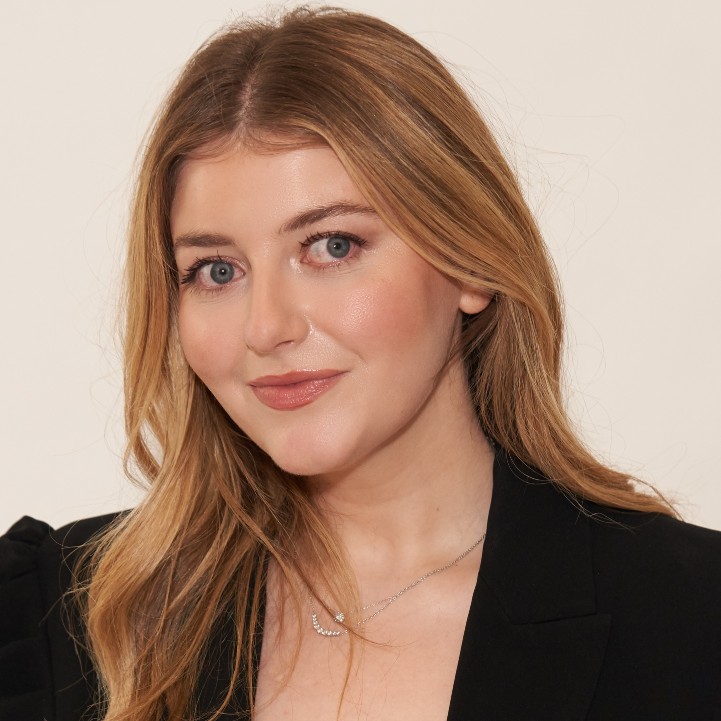 Samantha Holender is the Beauty Editor at Marie Claire, where she reports on the best new launches, dives into the science behind skincare, and keeps up with the latest trends in the beauty space. She has previously written for Us Weekly, Popsugar, Makeup.com, Skincare.com, and Philadelphia Wedding. Follow her on Instagram @samholender.