Selena Gomez Has a 30-Second Zoom Beauty Hack For You
It doesn't involve perfection. But it does include some blush.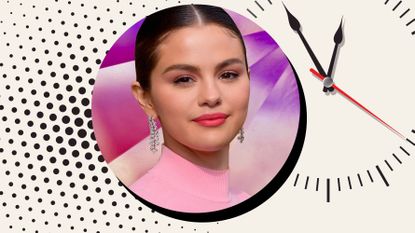 (Image credit: Matt Winkelmeyer/Hanna Varady)
Welcome to Beauty Around the Clock, Marie Claire's weekly peek into the daily lives of some of the most game-changing women in their industries. Ever wonder how they get it all done in a day? Here's your answer.
There's really no arguing the influence of Selena Gomez, the 28-year-old multihyphenate from Grand Prairie, Texas, with 195 million Instagram followers (outnumbering KKW and Beyoncé by millions). So, when she announced her latest project—Rare Beauty, a brand that she says puts "the emphasis on the community and being there for each other and not trying to be perfect"—on Instagram back in February, it was hardly surprising that the brand racked up more than a million followers ahead of its September launch (and now has 2.1 million-plus). Here, Gomez shares a day in her life.
Rise & Shine
When I'm doing a movie, sometimes call times can be really early. When I'm writing and recording music, I usually don't even start until the evening, so I can sleep in later. The first thing I always do is drink a giant glass of water.
Morning Maintenance
I've never been the person to spend too much time getting ready unless it's for work or if a makeup artist is helping me get ready. I am notorious for driving my makeup artist crazy because he always wants more time than I give him. For skincare, I keep it pretty simple with a good moisturizer and sunscreen.
A.M. Hair Situation
Big and messy. I am kind of into it, though.
Power Start
Usually some version of an iced coffee or green tea.
Zoom Beauty Hack
I don't care too much; I just get on [Zoom calls] and try not to overthink it. If anything, I'll throw on one of the Rare Beauty With Gratitude dewy tinted lip balms or dot the Soft Pinch Liquid Blush on my cheeks to wake them up a bit. Takes me 30 seconds to do both.
Signature Face
These days, I love a strong brow. The Rare Beauty Brow Harmony Pencil & Gel is great because it's dual ended, so I can control how bold I want it to be. I usually use our Liquid Touch Brightening Concealer to make myself look more awake. And I've been practicing my liquid liner and have gotten so much better with our Perfect Strokes Matte Liquid Liner. It glides so easily—no dragging or tugging on your eyelids. Also, a bright lip.
Mantra
Surround yourself with people you can learn from.
Workout Mix
I don't love working out, but I find myself going on YouTube and doing workout videos—anything from old-school workout videos to more current ones.
Night-Out Look
Well … there really hasn't been any going out this year. But, if I already have a little something on, it doesn't take me more than 10 to 15 minutes to add to it. I'll throw on liquid liner and a bright lip. (Rare Beauty Lip Soufflé Matte Lip Cream in Inspire is my go-to red.) And I actually created our Blot & Glow Touch-Up Kit from nights out with my friends. As the night would go on, we would just add some powder to our faces, but we ended up looking a little cakey. This little kit is the size of an iPhone and holds these cute blotting papers and a puff filled with some radiant powder so you can blot away the grease and then add a touch of powder. It's my favorite thing.
Game-Time Soundtrack
Depends on my mood. It's a wide range, from Bob Dylan to Kid Cudi, Kacey Musgraves to Summer Walker.
Evening Wind-Down
I love the ritual of a bath in the evening—very relaxing.
Lights Out
[I usually go to sleep] around midnight. The last things I do are give my two dogs some kisses and hugs and usually watch an episode of Friends or Will & Grace.
This story appears in the Winter 2020 issue of Marie Claire.
RELATED STORIES
Celebrity news, beauty, fashion advice, and fascinating features, delivered straight to your inbox!