Hollywood Lashes: The Ultimate in Lash Extensions
How do you transform from an ordinary mortal into an honorary Kardashian sister? Hint: It's all in the lashes.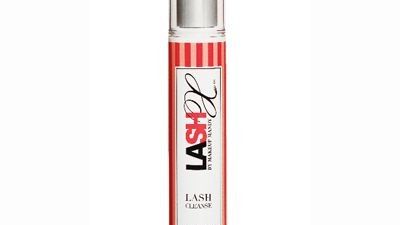 (Image credit: Courtesy of Makeup Many)
After all the Botox and fake-tan backlash in Hollywood these days, California girls are embracing a more natural look, except when it comes to the eyes. I blame it on the Kardashian sisters and their full, Bambi-level fringe. By making it seem possible (and even normal) to have such glamorous lashes 24/7, the Kardashians have raised the bar on what we expect from our own eyelash follicles, hence the popularity of lash-growth serums, from Latisse to L'Oréal Renewal Lash Serum.
So, how do the rest of us keep up? Well, like breast implants in the Baywatch era, lash extensions have become de rigueur for actresses, according to Hollywood makeup artist and lash expert Amanda Jacobellis. First at private appointments and now at her Makeup Mandy lash bar on Melrose Ave., Amanda has been enhancing A-listers' natural assets for seven years, a pioneer in the industry. She's acquired such a cult following that real-life (crown, title, and everything) princesses fly in just for touch-ups, competing for appointment times with local Hollywood royals.
Feeling a little skimpy myself, I booked an appointment with Amanda last Saturday to try her top-of-the-line faux mink lash extensions. Much softer than the usual fibers used for extensions, these faux mink hairs are the closest I've come stateside to the transformative service I got in Japan. At $500 for the full set (includes a 10-day touch-up; future fill-ins are $200 each), Amanda's handiwork doesn't come cheap, but she did say that they should last four to eight weeks depending on how fast my natural lashes grow. And unlike other extensions I've tried in the past, it's been one week already, and Amanda's mink hairs are still firmly in place.
So, what's Amanda's secret? Oil is the enemy of the surgical glue used to adhere the extensions to your natural lash, so touching your eyes with your fingers is a no-no, she says. And since most facial cleansers and eye-makeup removers contain some sort of grease, Amanda developed her own wash that's safe for lashes and extensions. Glycol/oil-, paraben-, surfactant-, sulfate-, and fragrance-free, Makeup Mandy LAshX Lash Cleanse is aloe-based and feels as gentle as water. This clear liquid gel also contains lash-conditioning ingredients like silk and vitamin B, so while I'm taking care of my extensions, I'm also strengthening my own hairs. Who knows, maybe one day I'll grow assets that match the Kardashians', but for now, at least I have my extensions.... Fake it until you make it, right? So Hollywood.
Editor's Note: Makeup Mandy also offers less expensive lash-application services, like Party Lashes that last for one night ($25) or one week ($50).
Celebrity news, beauty, fashion advice, and fascinating features, delivered straight to your inbox!