Beauty Icon Kate Hudson Spills Her Secrets
The actress's look-fab secrets run the gamut from granola to glam.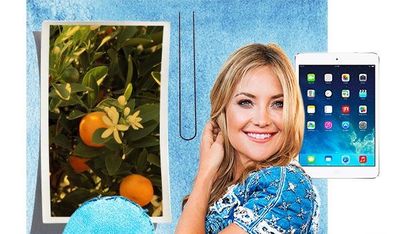 (Image credit: Marie Claire)
Kate Hudson's beauty regimen doesn't disappoint those of us who love her for her free-spirited flower child reputation: She makes her own fragrances, her idea of "spa-ing" is a soak in an outdoor spring, and her go-to skincare cream is sold at health-food stores. But the actress and face of Almay also knows her way around a makeup kit and finds inspiration for looks everywhere. "I'll see someone with white eyebrows and neon-green lips and go, 'Isn't she amazing?' My friends would probably be like, 'No, she's crazy,' but it's not in my nature to be judgmental."
1. Diptyque Candle, $60: "Candles fall under the category of slight obsession for me. I love a house that smells good, and I change scents seasonally. The Diptyque Eucalyptus is amazing for winter. I love the Lily of the Valley in the summer."
2. iPad Air, from $499: "My iPad went missing, and I'm hoping to get an iPad Air to replace it. Although, sometimes I find gadgets get in the way. One time my phone fell into the toilet, and I didn't have one for a week and a half, and I couldn't have been happier. We're so overstimulated and connected, sometimes it's nice when you're not."
3. Almay Color + Care Liquid Lip Balm, $6: "I have this in every color and choose one depending on my mood. Cantaloupe Cream—sort of a light coral—is my favorite for spring."
4. MoroccanOil Treatment Light, $43: "My hair is so unruly. Some days it's super curly. Others, half is straight, half is curly—then it's just better to put a treatment like this in it and go with a topknot."
5. Egyptian Magic All Purpose Skin Cream, $38: "My go-to skincare—I use it for everything."
"When I was 18, I took my mom to a natural spa in Bali, and we ended up in these baths that were just filled with all of these flowers. It was insane. We had one of the biggest laughs we've ever had. It was like, 'Uh, can I have some water with my flower petals?'"
6. Almay Shadow Softies in Seafoam, $5: "The packaging of this eyeshadow is great—and the light blue shade is really pretty."
7. Frozen Yogurt: "My family and I go for frozen yogurt all the time. I like the self-serve at Menchie's and Yogurtland."
"I wear a lot of natural oils. Neroli, orange flower, makes me very happy."
8. Wig Pin:"It's almost like a joke with my friends because they always see my hair in a high bun. I like to put it up with the big wig pins."
Celebrity news, beauty, fashion advice, and fascinating features, delivered straight to your inbox!
Jennifer Goldstein is the former beauty & health director of Marie Claire and co-host of the award-winning beauty podcast Fat Mascara. In her quest to uncover the world's beauty secrets, she's gotten tattooed in New Zealand, dug up turmeric in India, harvested shea nuts in Ghana, and squeezed enzyme-rich eggs from salmon in Norway. She can pluck eyebrows like a pro and has read the FDA monograph on sunscreen labeling and effectiveness—but she still can't get liquid eyeliner to look the same on both eyes.