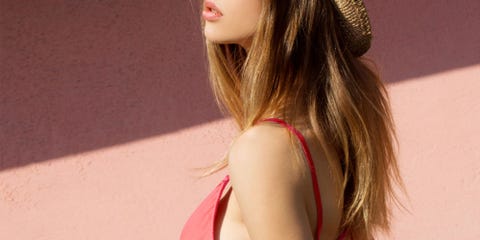 Raise your hand if you've ever felt personally victimized by a self-tanner. Same. It seems like no matter what formula you slather (or spray, or wipe) on, you will inevitably be left with weird streaks, blotches, and patches that scream, "HEY! This tan is fake!" But it's not your fault (well, it might be a little bit your fault)—self-tanners are finicky beasts that require a bit of patience, some trial and error, and, most importantly, a really good formula.
That's where I come in. I found five truly excellent self-tanners that, as long as you follow the basic instructions and tips outlined below, won't leave you looking like an orange, streaky mess—which means you'll be free to spend your summer doing something other than Googling "how to remove self-tanner." And, hey, even if you hate the results (but trust me; you won't), self-tanners fade after a week, anyway, so the commitment level here is pretty damn low. Get ready to have gorgeously bronzed skin.
This Super-Fast Spray Tan
South Seas Skincare Tahitian Mist, $28

Some spray-tans-in-a-can feel wet and uneven when you apply them, but this formula is fast-absorbing, lightweight, and leaves you with a completely even finish. It also dries down on contact, so you won't need to worry about leaving behind parts of your tan on your furniture. Just make sure to stand outside or in your shower when you spray it on—or you'll be left with gold walls and floors.
HOT TIP: The drier a self-tanner is, the more it clings to your skin—and, by nature, your dry patches—so make sure to slough away any flakes with a wash cloth the day you self-tan.
Banana Boat Summer Color Self-Tanning Lotion in Deep Dark, $8
Virtually all sunless tanners are made with lighter skin tones in mind, proving once again that the beauty world has a long way to go toward inclusivity. But Banana Boat has already made major strides with this hydrating, tinted formula that gives even the deepest of skin tones a rich, dark tan after about two or three applications.

HOT TIP: To keep yourself from getting blotchy creases in the crook of your arms and back of your knees (the places where lotion tends to settle before it fully dries), dust the areas with baby powder after you apply your tanner.
This Moisturizing Tanning Butter
Whish Self Tanner Body Butter, $30

A two-in-one lotion that leaves skin with a just-napped-on-the-beach glow and just-came-from-the-womb softness? Not a hard sell. Dry-skin haters can thank the formula's shea and mango butters for its creamy texture and moisturizing finish—a total rarity in self tanners—while faux-tan newbies can rest assured that the color payoff is truly even and subtle.
HOT TIP: Usually, sunless tanning works best if you first massage a tiny dab of moisturizer over your dry bits (i.e. knees, elbows, and ankles) to keep them from soaking up too much tanner, but this formula is so rich and creamy, you can go ahead and rub it right on.

This Beginner-Level Tanner
L'Oréal Paris Sublime Bronze Hydrating Self-Tanning Milk, $13
Think of this little bottle of lightweight lotion as a gradual self-tanner on steroids. Like most gradual tanners, it's diluted enough that it's virtually impossible to mess up, but unlike most gradual tanners, you'll actually be able to see a noticeable (and very realistic) glow after just one use.
HOT TIP: Use a sheer tanner like this three times a week to get a constant subtle bronze, or apply it as-needed to even out a fading spray tan that's gone patchy.
These Low-Lift Tanning Towelettes
Tan Towel Self-Tan Towelettes, $29

I know the idea of rubbing a wipe soaked with self-tanner all over your body sounds like a recipe for a messy, streak-filled disaster, but these low-maintenance towels are shockingly good at their job. Not only do they gently buff away dry patches as you wipe them on (dry patches = the ultimate enemy of a smooth tan), but—added bonus—their tea tree oil–infused formula will fight breakouts each time you use them.
HOT TIP: The final "tan" errs on the lighter side, so if you're looking for a deeper finish, try Tan Towel's dark version, instead.