What Makes Liv Tyler Rock?
The sultry—and newly single—star chats about dreaming of donuts and her struggle to stay slim.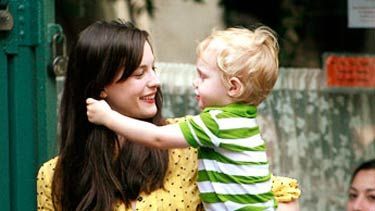 (Image credit: M. Thomas)
Paparazzi don't define "remote island" the way normal people do. Just ask Liv Tyler, who, not long ago, thought it was safe to wander out to the beach in Mauritius (off the coast of southern Africa, if you don't have your atlas handy) sans makeup and in a mismatched bikini. Alas, the cameras were there to capture the star, as they have been ever since she appeared, at 16, in a music video with her dad, Aerosmith's Steven Tyler. Lately, it's been even more of a flashbulb frenzy as the lush-lipped beauty, now 31, publicly weathers a split from her husband, British rocker Royston Langdon, father of their 3-year-old son, Milo. But Tyler has kept her cool throughout — a trait that clearly serves her well as ambassador for Givenchy beauty, a role that takes her around the world.
With two new films — The Incredible Hulk and The Strangers — out this summer, Tyler takes time to chat over mint iced teas at her Mauritian hotel about how she chills, even when the heat is on.
MC: How did it feel growing up in the spotlight?
LT: For the most part, living in New York meant I was pretty anonymous; I took the subway to school. I was just talking about this with Gwyneth [Paltrow, also a native New Yorker]. She remembers sitting outside on the stoop of her Manhattan brownstone after she'd won the Oscar [10 years ago], and then when she was breaking up with Brad — just hanging out. I didn't feel the same media pressures that teen stars must feel today.
MC: How has the recent scrutiny affected your confidence?
LT: If I'm feeling insecure, I'll say something, rather than bottle it up. I tend to wear my emotions on my sleeve.
MC: Has your body perception changed with motherhood?
LT: Pregnancy made me just think "wow" about the female body. It's a huge transformation and things are never quite the same, but you feel proud of your scars.
MC: Some actresses and models claim the weight just falls off after breast-feeding.
LT: Not for me! True, you're burning a lot of energy, but you're also absolutely ravenous. I developed gestational diabetes and had to follow a restricted diet. But the second Milo was born, all I could dream about was eating donuts.
MC: Did you feel pressure to slim down immediately?
LT: From pretty much the moment I got pregnant until Milo was a year old, I made a conscious effort not to work. I just wanted to be his mother and not obsess about myself.
MC: How did you eventually lose the weight?
LT: It was a challenge. I still work out with a trainer, David Kirsch.
MC: Any shortcuts?
LT: I didn't do fasts, but I love the Beverly Hot Springs spa—which is really like detox! It's an old bathhouse built on an actual sulphur hot spring in the middle of downtown L.A. You steam and sauna, and when they scrub you, sheets of black grime roll off your body.
MC: Do you worry about Hollywood's obsession with youth?
LT: I've just started to see little changes around my eyes, but I'm not too worried. I've always taken really good care of my skin — my mother and my grandmother raised me that way. I do masks and facials as often as I can — at Bliss Spa or Tracie Martyn in New York. I also love Crème de La Mer, which I put on my lips, and even use on Milo.
MC: Any beauty tricks picked up from your film sets?
LT: When I was doing stunts for the Hulk movie, I was sweaty, in dirt and rain. Dermalogica's powder cleanser made my pores shrink to nothing! Also, my hair used to look so dark on camera that I've started going to Marie Robinson at Sally Hershberger salon in New York for highlights.
MC: Biggest beauty regret?
LT: There's some famous picture of me, my dad, my sister Mia, and Axl Rose from the night I found out that Steven was actually my father. I had a corkscrew spiral perm — even the bangs were spiral.
MC: Was it a dream to snag the Givenchy contract and be compared to the designer's muse, Audrey Hepburn?
LT: I'm flattered, but we're very different in looks and spirit. Are they going to compare Justin Timberlake [the face of an upcoming Givenchy men's scent] with her next? What I really love is having some creative input in the makeup. The new mascara is amazing, and I love the lipsticks.
MC: What about perfume?
LT: I like a tiny bit behind the ears, so you have to get close to smell it. Absolutely Irrésistible, the new one for fall, has sandalwood and jasmine. It's sexy, more grown-up.
MC: And the best part of the Givenchy gig?
LT: I've been with them to Dubai, Russia, Japan, now Mauritius. It's amazing to meet so many different women, to experience their cultures. I've learned that all women share this: They love to talk about skincare and beauty tricks!
1. La Mer Moisturizing Cream
2. Givenchy Phenomen' Eyes Mascara in Black
3. A.P.C. Pouch
4. Rodin Olio Lusso
5. Givenchy Black for Light Mask
6. Givenchy Rouge Interdit lipstick in Illicit Raspberry
7. Coppertone Water Babies SPF 50 Sunscreen Lotion
8. On speed dial: Marie Robinson, colorist at Sally Hershberger in NYC, and Beverly Hot Springs in L.A.
9. Darphin Aromatic Renewing Balm
10. Bliss Triple Oxygen Instant Energizing Mask
11. Absolutely Irrésistible Givenchy Eau de Parfum
12. Dermalogica Daily Microfoliant
13. Tracie Martyn Alma Purifying Cleanser
Celebrity news, beauty, fashion advice, and fascinating features, delivered straight to your inbox!