What's in Tim Gunn's Beauty Bag?
Fashion's silver fox and star of Tim Gunn's Guide to Style is never not shipshape — right down to his specially laundered, lint-free black socks. Here, his meticulously chosen grooming arsenal.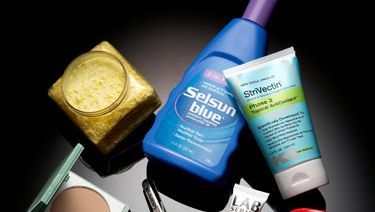 (Image credit: Jeffrey Westbrook)
1. L'Occitane Citrus Verbena Fizzy Bath Salts, $22: "I buy these in bulk because they never leave a ring in the bathtub — I'm a neat freak!"
2. Selsun Blue 2-in-1 Dandruff Shampoo, $9.69
3. StriVectin Phase 2 Topical Antioxidant, $109: "I'm the oldest acne-prone person you'll ever see."
4. Clinique Almost Powder Makeup, $22.50: "Project Runway's director of photography suggested I start using powder. I use this to get rid of the glazed-doughnut look."
5. Tide To Go Mini pen, $2.99: "This has saved me from many embarrassing moments. I also travel with my trusty Tide Total Care detergent to ensure my socks don't fade or pill."
6. Gillette Mach 3 Turbo Razor, $8.99: "Shaving with this razor is like getting dermabrasion — in a good way."
7. Lab Series Age Rescue Eye Therapy, $26: "A Lab Series rep at Bloomingdale's recently told me she could really help me if I started a regimen immediately. I told her, 'Well, I've been using your products for 10 years. Imagine what I'd look like without them.'"
8. Mennen Speed Stick Deodorant, $2.99
9. Oral-B Satin Floss, $2.99: "Fresh breath and a clean mouth are right up there with being well groomed."
10. Ice Breakers Sugar Free mints, $1.99: "I'm never without a mint. There's no excuse for coffee or tuna breath."
11. Visine Redness Reliever Eye Drops, $7.29
12. Noxzema Shave Cream for Sensitive Skin, $4.49: "I like to surprise my skin, so I alternate between this and a Lab Series shaving cream."