We Tried Mary-Kate and Ashley's Favorite Skin Saver—Here's What Happened
It's toner time.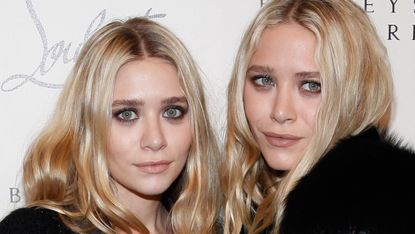 (Image credit: Getty Images)
As a beauty editor, I'm willing to try just about anything, especially when it's a product the Olsen twins have openly professed their love for. Like most of us, I'm a diehard Mary-Kate and Ashley fan—not just for their amazing style, but also for their perfect hair, perfect brows, and perfect skin.
While it's tough to find out exactly what they're putting on their porcelain faces, the Olsens have paid lip service to the benefits of Biologique Recherche's Lotion P-50, a facialist-recommended, cult-loved toner that contains lactic acid to kill bacteria and brighten skin. So, in the spirit of experimentation, I decided to give it a go. Here's what I discovered:
1. It Stings a Little
They say no pain no gain, right? While this wasn't as clenching-my-teeth-and-praying-it's-over agonizing as my first facial was (extractions are not fun), the lotion does sting when applied to your skin. My trick for coping? Imagine it killing all the bacteria—which is exactly what it's doing—and it'll make you feel like it's really getting the job done.
2. You'll Have Actually Noticeable Results
After a few days of using P-50, I did see a significant change in my appearance. I had fewer breakouts, less redness, and my skin did seem clearer. The stinging sensation unfortunately happened each time I used it, but the continued improvement in my overall skin tone was an unexpected surprise.
3. It Smells Great
Not only does the lotion kill bacteria, but it also exfoliates, removing dead skin cells and protecting the epidermis from dirt and oil that can cause breakouts. An added bonus: the light scent of something vaguely floral, which made me feel like I was back in my facialist's chair.
Anything specific you want us to test in our "We Tried..." beauty review series? Tell us in the comments!
Related Links:
Should You Shake Up Your Hair Color?
We Tried the Glossier Products—Here's the Lowdown
Celebrity news, beauty, fashion advice, and fascinating features, delivered straight to your inbox!