Hair Plopping: The Heat-Free Drying Technique That Will Give You the Curls of Your Dreams
Your curls are cool, your curls are ploppin'.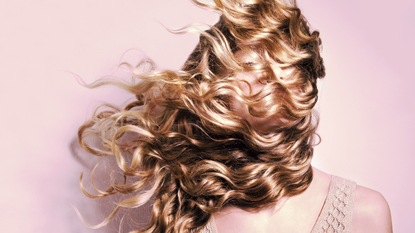 (Image credit: Archives)
I have FINALLY come to not just accept but embrace mycrazy, curly, cool (?!) hair (opens in new tab). That said, I'll never stop looking for ways to manage it, because the struggle to nurture and maintain it will always be so, so real—especially when it comes to finding ways to dry it that don't a) take forever and b) look weird. Wash-and-go hair will always be a pipe dream.
This is why I'm all over plopping, a new technique that's not so new: It's been around for a couple of years, but is gaining steam in the curl community. And as, ahem, unsavory as its moniker may be, it's got considerable draws, like being heat-free and curl defining, which is v. v. important as the humidity-laden months of summer draw near.
As far as how it works, it's essentially "plopping" your curls onto a microfiber towel or cotton T-shirt (Lauren Conrad swears by (opens in new tab) the latter) and then wrapping it on your head to dry. The technique allows your curls to stay intact, wards off frizz, boosts volume, and keeps you from that all-too-tempting habit of playing with your hair as it dries, which is what makes it frizzy in the first place.
To ensure we've got the science of plopping down pat, we looked to editorial hairstylist Kat Zemtsova for an expert play-by-play.
Step #1
Make sure yot wash your hair and apply a styling mousse, cream, or gel, likeAlterna Bamboo Shine (opens in new tab) ($24) or Oribe Supershine Moisture Cream (opens in new tab) ($49) that you usually use for the texture of your hair.
JavaScript is currently disabled in this browser. Reactivate it to view this content.
Step #2
Spread the cloth down on a flat surface, then lean over it and place your head against the surface, positioning the hair onto it so that all the curls are concentrated on the top of the head.
Step #3
Put the far edge of the cloth over your head to the nape of the neck. Grab the sides of the towel and start twisting them away from your face. It should look like two big twists on the sides of your head.
Step #4
Once you feel that the rolls are tight enough, straighten your body out and twist the rolls towards the back of your head in a bun. You can use a pin or a hair tie to secure it in place à la Princess Leia.
Step #5
Leave it on for a desired amount of time, usually about 20 minutes is enough for hair to dry.
Step #6
After you remove the plop, make sure not to touch the curls while they're still wet to keep the definition and prevent frizz.
If you're going the towel route, your best bet is to look to one that's designed specifically for hair, as your standard terry cloth style can draw out moisture and even roughs up the hair cuticles. We love the DevaTowel (opens in new tab) ($12) by DevaCurl, a pioneer of the plopping technique, as it's made of ultra-soft friction-free cotton that retains hydration and is more gentler on our coils.
JavaScript is currently disabled in this browser. Reactivate it to view this content.
You should also check out:
The Celebrity Guide to Wavy Hair (opens in new tab)
12 Mindless Ways You're Ruining Your Hair (opens in new tab)
The Complete Guide to Growing Out Your Hair (opens in new tab)
Lauren is the former beauty editor at Marie Claire. She love to while away the hours at coffee shops, hunt for vintage clothes, and bask in the rough-and-tumble beauty of NYC. She firmly believes that solitude can be a luxury if you've got the right soundtrack—that being the Rolling Stones, of course.