Karlie Kloss in Her Own Words: An Essay on Beauty, Confidence, and Keeping It All Together
The mega-model opens up.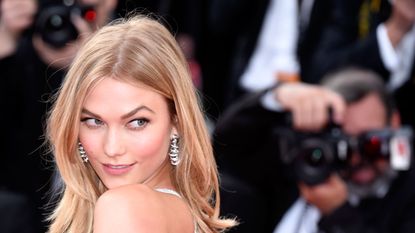 (Image credit: Archive)
The interesting thing about beauty is that it means different things in different cultures around the world. For instance, I've been told that a long neck is a sign of beauty in South Africa. But for me, it's not just about appearances. When I do charitable work, that's when I feel most beautiful.
My mom taught me that you have to take care of yourself mentally, physically, and emotionally because beauty comes from within. In my case, it all starts with exercising. I usually work out four or five times a week, and I like to mix it up so I don't get bored. I'll strength-train with my trainer, Justin Gelband, and then get in some cardio or take a ballet class to work on my flexibility. Dance has always been an incredible physical and mental escape for me. An hour-long run or exercise class helps me feel better on the inside, and that makes a difference in how I look.
Eating healthy and getting a good night's sleep are also important. I drink fresh juices a lot. And before I go to bed, I always make sure to drink a large glass of water because I feel like it helps flush out any toxins from my body. Taking care of your health and happiness is really the best way to pamper yourself and feel beautiful."
1. "I travel around the world with my tennis shoes!"Nike Free 1.0 Cross Bionic, $95; nike.com.
2. "I rely on good cleansing." Clarisonic Mia 2 Cleansing System, $149; sephora.com.
3. "The juices from this shop in New York City are so good." The Butcher's Daughter Green Juice, $9; thebutchersdaughter.com.
4. "These products are incredibly moisturizing, and they always make my hair feel so fresh after a shower."L'Oreal Volume Filler Thickening Shampoo, $4.99; ulta.com.
5."It's amazing how much volume this mascara adds." L'Oreal Voluminous Million Lashes Mascara, $8.99; ulta.com.
This article appears in the August issue of Marie Claire, on newsstands now.
Celebrity news, beauty, fashion advice, and fascinating features, delivered straight to your inbox!