6 Surprising Beauty Tricks We Learned from Kim Kardashian's Makeup Masterclass
If you're going to sleep in your makeup, at least do so on a black satin pillowcase.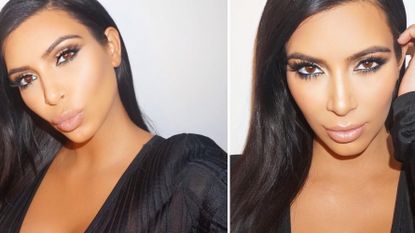 (Image credit: Marie Claire)
For a while there we thought we were among the lucky few who'd gone to Kim Kardashian Makeup School, but as of this past weekend, we're now amidst thousands. On Saturday, Kardashian's longtime makeup artist and contouring pro Mario Dedivanovic opened up his makeup bag to an audience of 1,000+ people for a masterclass on how he gives the reality star her signature, flawless look—and suffice it to say, it's a process.
It's no wonder the entire seminar, in which Dedivanovic had Kardashian herself on hand so that he could give the audience a comprehensive step-by-step, clocked out at 4 hours. While the large-scale tutorial came at a hefty price, with tickets ranging from $299.99 to an eye-watering $999.99, you can get a piece of the action, with our 6 biggest takeaway tips from Kim's live bare-face-to-full-on-glam transformation and dish session with Dedivanovic.
1. Apply your makeup in a precise order
When your regimen is as elaborate as Kardashian's, you need structure and order to keep it streamlined. And while she's willing to carve out plenty of time to get ready—she usually sets aside two hours for hair and makeup, she said—she's got it down to a science. If you're going to recreate her routine, do so in this order, according to Dedivanovic: Moisturizer, brows, foundation, eyeshadow, concealer, eyeliner, mascara, more eyeshadow, fake lashes, contouring, and lips.
2. If you're going to sleep in your makeup, do so on a black satin pillow case
Yes, you read that right. Kardashian admitted that she'll break the cardinal rule of beauty in a pinch by sleeping very carefully and doing so on a black satin pillowcase (or try Slip's Pure Mulberry Silk Pillowcase in Black, $79.95). After her strategic slumber, she does a quick mirror check and foundation refresh.
"You just have to try to sleep as gently as possible, keep your eye makeup and then redo your foundation," she said. "If I sleep on a plane, I'll go in the bathroom before I get off to make sure my lashes aren't all weird and crunched up on one side."
While we do love ourselves a beauty hack, be forewarned: sleeping with a full face of makeup disallows your body to rejuvenate your skin after the day's wear and tear, says celebrity esthetician Renée Rouleau.
3. Cream eyeshadow is your best friend
It's Dedivanovic's secret weapon as he uses it 1) By applying it to the inner lids to make eyes appear larger and 2) As a primer for powder eyeshadow to make it last longer.
We love Charlotte Tilbury's 'Eyes to Mesmerise' Cream in Jean ($32).
4. Don't forget to use foundation on your ears
It may seem like overkill, but it's just as important as applying foundation on your neck to keep the finish fluid and not cake-y.
5. Take your Instagram selfies on a digital camera
When Dedivanovic completed Kardashian's look, her assistant "rushed over" to hand her a digital camera for a selfie, at which point a woman shouted from the audience, "Kim, what camera is that?"
"It is discontinued," Kardashian replied. "I need to ask them to make it again. This is how it makes all of [my] pictures so flawless."
All this time we wondering how her signature selfies were free of superbly-unforgiving pixely lowlight. Now, we know... Stay tuned for the camera's make and model, as an endorsement from Kim is reason enough for any brand to bring back a discontinued model.
6. Invest in these 4 *magic* products
While Dedivanovic's product roster for Kardashian's look was an unequivocal laundry list, here's what we'll be adding to our must-haves list in our respective shades.
1. Nude Lips: Kevyn Aucoin Flesh Tone Lip Pencil, $25; bloomingdales.com.
2. Foundation: Bobbi Brown Skin Foundation Stick, $44; sephora.com.
3. Contouring and Highlighting: Charlotte Tilbury Filmstar Bronzer and Glow, $68; net-a-porter.com.
4. Brows: Anastasia Beverly Hills Bold Brow Kit, $36; ulta.com.
Lauren is the former beauty editor at Marie Claire. She love to while away the hours at coffee shops, hunt for vintage clothes, and bask in the rough-and-tumble beauty of NYC. She firmly believes that solitude can be a luxury if you've got the right soundtrack—that being the Rolling Stones, of course.