Isabella Rossellini on the Weirdly Coincidental Story Behind Her Signature Scent
Sometimes (happy) accidents happen.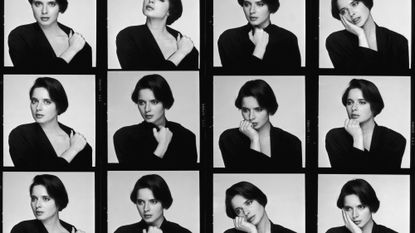 (Image credit: ARHIVES)
Marie Claire Newsletter
Celebrity news, beauty, fashion advice, and fascinating features, delivered straight to your inbox!
Thank you for signing up to Marie Claire. You will receive a verification email shortly.
There was a problem. Please refresh the page and try again.
When I was younger, the traditional way women wore fragrance was to choose one perfume and stay faithful to it, so it became almost part of their personality. My mother [actress Ingrid Bergman] always wore L'Air du Temps by Nina Ricci. When I smell that, of course I still think of Mama.
My scent has always been Trésor—it's like my second skin. And it means so much to me because of the story behind it. When I was about 30, I started modeling for Lancôme, and a few years later, they decided to do a fragrance. It was a very big bet at that time, because back then, the classic perfumes were only done by couturier—traditional designers, like Dior and Chanel—not by cosmetics companies. They asked me to serve as the spokesperson and let me be part of the process.
Based on images and ideas from Lancôme, perfumers from fragrance houses like Firmenich and Givaudan would present different samples of what the perfume might be, and little by little they narrowed it down to three finalists. One of them was this beautiful rose scent that I really loved—it was so original, so warm. I wore it every day because I wasn't sure if it would be the one. Then, all the finalists ended up testing well with customers, so the company asked me which I liked best. I said, "Of course you know what I think! The one I've been wearing for the last three months!"
Once it was chosen, I had lunch with the perfumer, Sophia Grojsman, and she told me she had actually created that particular fragrance years earlier, after seeing my mother's film Casablanca. It's not that she chose specific notes inspired by it; it was more about the mood, the warmth, and the irreverence of the love story. So she made the scent and saved it, thinking that one day there would be the right client for it. When she presented it to Lancôme, along with other options, she didn't even tell them the inspiration. And I didn't know that story the whole time I was wearing the sample. Still, we happened to choose each other—it was the perfect marriage! To this day, it brings back that feeling of participating in a decision, its success, and the memory of my mother.
1. "I once did a shoot for Lancôme's red lipstick with Herb Ritts, in the desert. It was me on white sand, and the only color was the dot of red on my lips. He had a huge helicopter hover just above me to film the commercial. It was the most terrifying moment in my life—I'll never forget it!"
2. "The perfumer who created Lancôme Trésor was inspired after seeing my mother's film Casablanca—the warmth and mood and irreverence of the love story." Lancôme Trésor Eau de Parfum, $102
3. "Most women of my generation and my mother's generation had a signature scent—it became a part of their personality. Hers was this fragrance by Nina Ricci." Nina Ricci L'Air du Temps Eau de Toilette, $62
This article appears in the July issue of Marie Claire, on newsstands now.
Celebrity news, beauty, fashion advice, and fascinating features, delivered straight to your inbox!